Contest for pet Lovers on Steem |Photography +Writing Contest |The diary game || 50 STEEM IN PRIZE POOL
As the diary game game is growing really fast, lots of wonderful entries are flowing every mintues, we are getting to see so much from different countries and places, so thank you everyone for joining the diary game and sharing your daily life with all of us!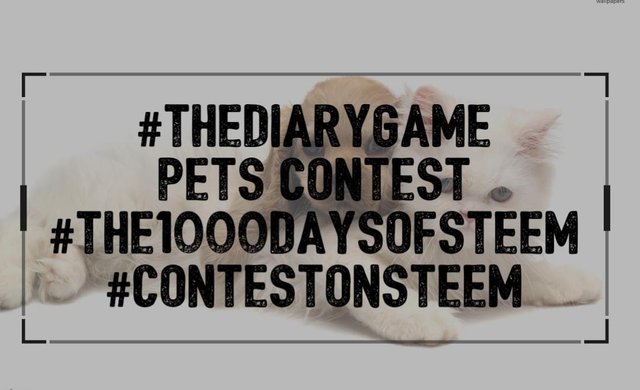 Upon the suggestion by steemit team @steemcurator01 I'm here to organize this Contest Just for pet lovers on Steem And this contest will be open for everyone Means anyone can participate.
Rules are quite simple..
Make a post Stating all the details about your pet with #iampetlover as one of your first five tags.

Add some Photos of your pet in the post. (Mandatory)

Also add some photos of yourself with your pet. (Mandatory)

Also add what country you are in.

You can write your post in any language.

Make sure you add at least 350 words in your post

It would be great if you post Recent photos with your pets

Also mention my name at the end of your post, so that i get notified and visit your post instantly.

Also share your post entries on your social media Twitter /Facebook with #iampetlover, #thediarygame #the1000daysofsteem and #steemit also tag @steemit

Make sure you put links /Screenshots of social share in the comment section of your ow post.
In case, you are a pet lover but don't have a pet? Don't worry engage with your neighbors or if any of your friend have them you can simply post about them
What sort of details you have to add?
Add details like, what's your pet name?,What breed?, What sort of activities do they perform? , From where did you purchase/find him/her?, Is he /she fast or lazy? Do they listen to you when you call them? Do they eat anything special other than pet food?, what's your best memory with your pet?, Be creative as much as you can, post selfies with your pets anything.
Prizes
There will be 5 winners At the end of the contest sharing this prize pool of 50 STEEM
RANK 1 - 15 STEEM
RANK 2 - 12 STEEM
RANK 3 - 10 STEEM
RANK 4 - 8 STEEM
RANK 5 - 5 STEEM
If anyone want to sponsor they are most welcome :))
This contest is open for everyone, and will run until the end of diary game season 2 i.e 25th September
I'd appreciate every Resteem and upvote :)
Thank you for all the support :)