Steem Cameroon Admin Meeting Resolutions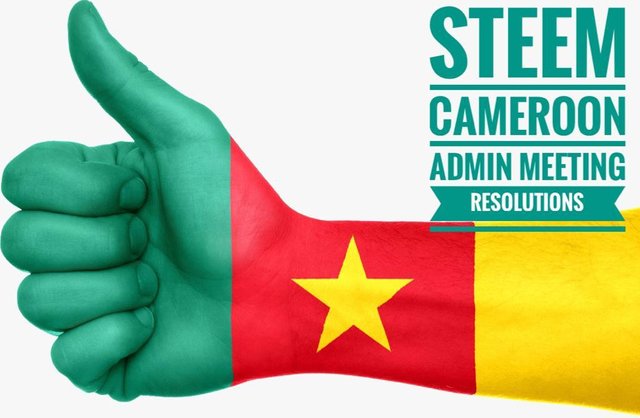 STEEM CAMEROON ADMIN MEETING RESOLUTIONS
During the week, members of the community raised a series of concerns, and below are resolutions arrived at after having deliberated for over 12 hours on Monday 07/02/2022:
1. CURATION
With respect to curation, all posts in the Steem Cameroon Community will be curated with the @steem-cameroon community account based on their delegations. Those who have delegated high will receive high upvotes and vice versa.
The CRs will continue to provide a booming and steemcurator04 weekly report via their weekly reports that are posted in the Steem-POD community. Cameroonian steemians are encouraged to read the reports and make constructive criticisms. @steem-Cameroon will receive at least 05 upvotes per week meanwhile the Admins are eligible for 01 upvote per week.
Cameroonian Steemians will benefit from @booming and @steemcurator04 upvotes only if they are members of any club (#club50, #club75 or #club100), are loyal, and abide by the Steemcurator04 and Booming Conditions listed in this post: https://steemit.com/hive-195150/@steem-cameroon/4bdpst-booming-and-steemcurator04-upvote-recommendation-conditions
Steem Cameroon has 25 Booming upvotes to be distributed to Cameroonian Steemians per week. It's normally supposed to be 35 but if we subtract the upvotes for the admins and the community account, 25 will be left for members of the community.
In case there were just 10 Cameroonian steemians who are eligible for Booming and Steemcurator 04 Upvotes during the week, the members' upvotes will be doubled during the week to ensure we utilize all the upvotes. This implies members can have 2 upvotes per week if there are no eligible members to submit their posts for upvotes.
Plagiarized posts of oldbies will immediately be muted and never curated for any reason.
2. CONTESTS
Four Contests will be henceforth be run in the community starting with immediate effect and managed by the following admins;
Three editions of each contest will be organized per month so that the admins can have a week's break during the month during which they can work on other community issues such as monthly delegation rewards, delegations, and membership as well as their personal stuff.
3. MEMBERSHIP
Members of Steem Cameroon community are Cameroonian newbies who are less than 1 month old or steemians who have delegated to the community. You may also delegate 25% of your post payout to be a blogger of Steem Cameroon community
Nonmembers' posts will hence be muted in the community.
4. FAVORITISM AND CORRUPTION
The Steem Cameroon Team strongly condemns community members who referred to them as being corrupt and warns @chiabertrand and every Steemian who defamed their characters. In case such actions repeat, the steemians concerned will either be suspended or dismissed from the community. The members are therefore required to apologize to the CRs and MODs.
The Team apologizes for ignorantly having favored a few Steemians and promise to continue being strict, just, and fair in the distribution of upvotes. However, comments about why members are not being rewarded will be not be tolerated and if members abide by the Booming and Steemcurator04 conditions and provide quality content, they will continuously be rewarded.
The team is open to constructive criticisms and will always respond to Steemians' worries as soon as they can. They will be recruiting two more MODs to join the team so that we can better serve.
Remember to read to and understand the content of this post: https://steemit.com/hive-195150/@steem-cameroon/4bdpst-booming-and-steemcurator04-upvote-recommendation-conditions
5. STEEM CAMEROON ANNIVERSARY
The steem Cameroon Anniversary was postponed to a date yet to be announced and the Admin team in collaboration will members will discuss a new and convenient date for the anniversary celebration.
6. WHATSAPP TO DISCORD MIGRATION
Steem Cameroon will be moving from WhatsApp to Discord by the 30th of March 2022 to be able to accommodate all Steemians since the community already has more than 250 members. In preparation for this move, the WhatsApp Group will as from next week be opened only from Mondays to Thursdays while the Discord Channel will be opened all week.
7. OTHER MATTERS
If there are any other matters or worries about our community, members are encouraged to contact the admins for a quick resolution of the issue. A suggestion box or channel will be created for Steemians to suggest or propose ideas on how the Admins can better serve them or how they can grow the community.
For Steem Cameroon by @thegreens