Booming and Steemcurator04 Upvote Recommendation Conditions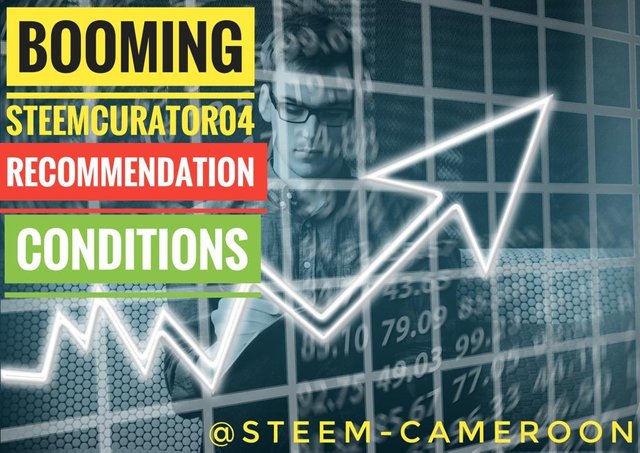 Booming and Steemcurator04 Recommendation Conditions
Steem greetings,
To be eligible for a @booming or @steemcurator04 upvote, Steemians of the Cameroonian community must;
Be a member of Steem Cameroon community via delegation or Newbie status (All members are labeled)
Be loyal and committed to building the Community's SP
Be a member of any Club (#Club5050, #Club75 or #Club100) i.e must be powering up +50% of your weekly or monthly earnings.
Be actively posting in the Steem Cameroon Community. A minimum of 4 posts per week is required. One way to make our community trend is by regularly posting in the community.
Have a CSI Score of above 8. We can not be recommending you for support when you are not supporting others. If you have SP and you are not voting with it or do not have time to vote with it, make sure you delegate all the SP to @steem-cameroon
Be upvoting and resteeming all @steem-cameroon posts. Our community requires all members to upvote and resteem all community posts; and when necessary, leave a comment. This is the only way to make our community trend on the blockchain.
Be strictly against plagiarism and any form of writing fraud on the Steem blockchain
Never participate in vote-buying and/or spamming.
Your level of Reputation is put into consideration
We are encouraging all community members to always read CRs and MODs weekly reports to know members who benefited from Booming and Steemcurator04 upvotes as well as to ensure transparency and fairness in the distribution of the upvotes.
Cameroonian steemians who respect the aforementioned conditions should receive at least 03 - 04 Booming and/or Steemcurator04 upvotes per month.
Steemians who do not get a #booming and/or @steemcurator04upvote within a 10 days period should kindly contact any of the admins via WhatsApp or Discord.
For Steem Cameroon by @thegreens