Steemit Engagement Challenge Week # 3 |My experience with The Diary Game, by @Faizanwrites07 | Club5050
Hello (Hola) to everyone. I wish happiness for everyone here. It is an honor to be writing in the Steem Venezuela community for the very first time and I am feeling excited too. As far as, I have seen the posts in Steem Venezuela and other communities all the people are very decent and energetic. Today, I am here to write on the topic of "My experience with the Diary Game" to participate in Steemit Engagement Challenge week 3.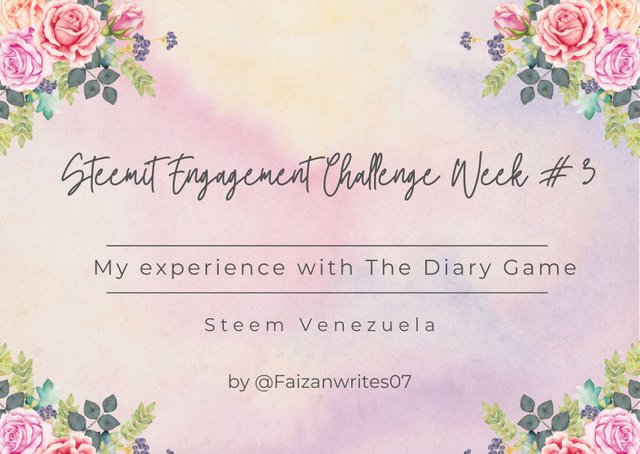 edited with Canva

My experience with the diary game:
My experience with the diary game is an amazing one. As from the start when I first joined the steemit platform, I used to write diaries so often and I feel blessed that my work was supported and appreciated by the curators. Today when I read the topic, It seriously brought my first experiences with this platform and the diaries I wrote.
When we were kids and were studying in school, I still remember that I used to write a daily diary of my all day in which I have to write from the start of my day to last as to sleep at the night. The feeling was amazing but at that time I never thought that there will be any platform where we will be having a Diary Game and where we will be posting our diaries and the bonus part will be that our diaries will get rewarded by the curators and the teams.
I really can't find words in which I can say my sincere thanks to my Cousin brother @azizulhassan, who introduced me to this platform of Steemit and more than me he was excited for me, as he might know that I like writing and here I can do my writings as well as grab the rewards. Indeed I am Thankful to him.
After joining, I introduced this platform to some of my friends too and they joined but most of them can not manage their time from their professional life to write and post here. I know they will be back soon. One of them is @kareemalizai.
Assaying the Diary game, the best things that happened to me after writing diaries and taking part in the Diary games, I now have a habit of taking pictures of any special moment of my life during the day, even if I am not posting that here I still have the benefit the I capture a good moment of life with me and I can refresh my feelings whenever I see that photographs after a point of time.
Now, as I have been writing on this platform for more than a year now I still have the craze for diaries and I still try to read and watch other people and learn about their language, culture, and rituals. This thing is an amazing part of the Diary game I must say. Now, I will be mentioning the advantages and disadvantages, etc.
Advantages:
There are so many advantages of the diary game but I will be mentioning some of them here,
The dairy game reminds us what have we done all day, and by reviewing it we can change the negatives of our lives into the positives.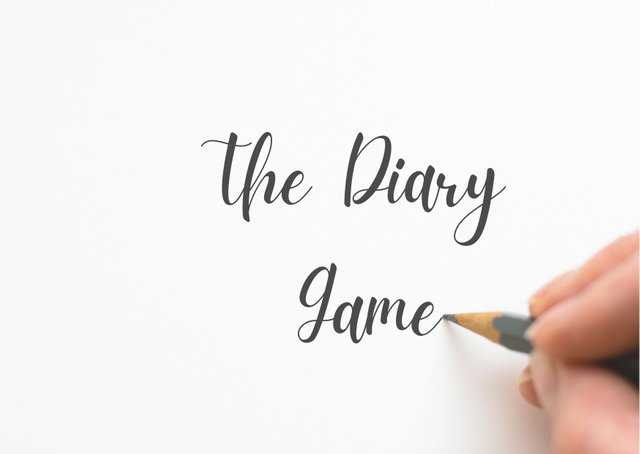 Edited with Canva
The diary game helps us to be clear, and write what we have done ourselves so we do not have any confusion in it. And by this, we are writing our own real-life stories of the days we spent.
It has helped us that we can capture any beautiful moment of our lives in the cameras and we can then refresh our memories by watching them later.
Through the diary game, we have so many friends from so many countries with whom we never met but still share our daily day stories and make each other happy through the happy and blessed moments we spent.
The diary game can have a very positive effect on our brain as it can help us memories things that we have done during the day, also it can help us make our writing and reading skills better.
Disadvantages:
There is no disadvantage that I can mention here, but the only thing I would be mentioning here is that I took a lot of photographs during the day and now I have got the hobby of taking pictures of every new or nice thing. Due to this reason my cell phone always finds itself short of space. :)
What and How it changed my life:
By joining the steemit platform, My life is changed in so many ways. And if we specifically talk about the diary game, it changed my daily life from morning till night Before this I would hardly recall what I have done the whole day and where I went, etc, but now I remember and recall everything because of the things and places I have been to during the day are captured through my cell phone.
I love writing, reading and watching nice photographs of things and places. Here, due to the Diary game, I came across all of them at once and still going. I knew about new places, new things, new rituals, cultures, etc. Above all these parts, when one is going through his student life, then the tough part is to be financially strong and can manage the necessities as well as the things you want in life. Steemit and the diary game helped me in that very well and I have been rewarded for the content from which I was able to manage my lifestyle.
There are so many other things as well but for now, I have to stick to the ones mentioned above.
This was all I have for today and I hope you sweet steemians will like it.
Thank you for reading till the end!
I invite my friends @kareemalizai, @azizulhassan and @ mahishines to participate in this challenge.

Regards:
Special Mentions:
@anasuleidy 
@adeljose 
@albenis 
@inspiracion 
@saracampero 
@miyexi 
@ rypo01 
@ wilmer1988 
@ tocho2 
@ edili24