SUT - Steemit New User Tracking feature - Release 0.1.0 - Deployed now.
Steemit New User Tracking (#SUT)
As I am currently working on an experiment project i.e. New User Tracking. I would like to share an update on the same.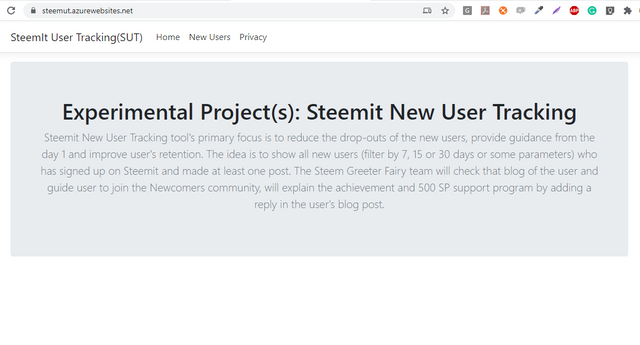 Steemit New User Tracking: Home Page
Release v0.1.0
Here is the Steemit New User Tracking application link - steemut.azurewebsites.net
#SUT is live now with the below features.
New users list is displayed in a grid view.
It's displaying the accounts/users who have published at least 1 post. Although, I have observed that the Spam accounts registration number is way higher than genuine accounts.
Account, Post link, Last Active On, is Greeted, Greeted By, Notes, is Spam Account, Registered On details are being displayed.
A basic spam detection probability logic (see explanation below) is implemented and the isSpamAccount checkbox is displayed as checked.
Steem Greeter team can update the isGreeted, GreetedBy, and Notes fields if they find the post valid or they could mark that as Spam.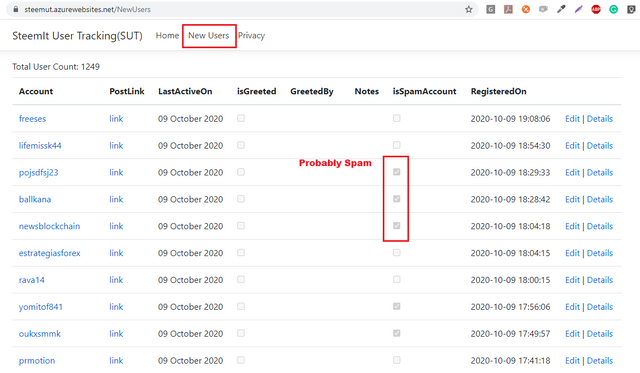 New Users List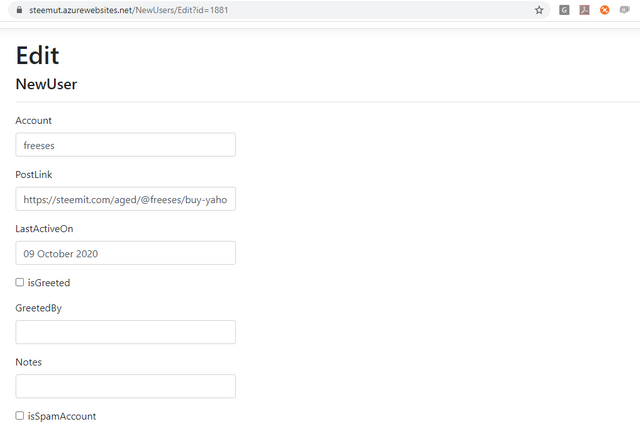 New User: Edit Screen
Spam Detection Logic
It checks hyperlink (http://) count more than 5 to flag as a Spam post
It checks post body content length of fewer than 25 characters.
Some observation
I found few new users have just posted with "I am a new user OR from xxxx - country".
Post contains less than 5 hyperlinks, sometimes only one but no meaningful content.
I need to improve this logic for better Spam detection.
---
The Steem Greeter Fairy Team
Greeter Fairy Team can go through the list of new users/their posts and can greet them if they find it valid/non-spammy. For now, I would suggest to keep maintaining it in the existing spreadsheet. I am planning to test and add relevant features to avoid spreadsheet in the future.
Next Steps:
Add Search parameters by account name/date or date range to start with.
Background Job to keep updating this New User's list on a daily basis.
Add background job to keep checking New Users post in case they publish their first post after 7 days, maybe till 2 weeks.
Show New Users list on a new page who has not posted any blog yet.
Develop a complete feature page to maintain the Greeted Users list by The Steem Greeter Fairy Team (avoid spreadsheet).
The next set of activities will be defined later once the above is accomplished.
I will publish a separate post with the details outlining the Azure hosting environment, SQL Server Database DTU limit, and basic tier cost of #SUT application.
That was all the updates related to the Steemit New User Tracking application. I would really appreciate any feedback/suggestions on this.
Thank you!
Cc:-
@steemitblog
@steemcurator01
@stephenkendal
@shortsegments
@cryptokannon
@rishabh99946
@sapwood
**Note: All the screenshots are taken from Steemit New User Tracking application which is managed by me.
---
10% of the reward from this post will go to @bestofindia.
To know more about the Best of India community & its objective, visit this post