Communities and Cross Posting Made Ridiculously Simple for Everyone!
When I first joined steemit, I found it pretty difficult like every new user to get going, to get curation, to earn anything significant. I kept posting original content kept reading blogs of more established users and learning what steem, steem power, sbd etc etc were. Yes, even these were extremely confusing for me at the start. When I first joined steemit back in mid 2017, I knew no one. There were no communities trying to help and curate new comers or give them a boost. I had no idea discord existed!
So you understand how lonely and how lost in the sea I was! I had to learn everything by myself. And after I solved some of the mysteries of the steem blockchain, I thought, well there will be many others like me who will have no one to teach them. I decided to make a post explaining all the complicated stuff in a very easily readable way for beginners. I think the post was titled Steem, SBD and Steem Power Made Ridiculously Simple for Beginners. And this was in fact the post that lifted my steemit career! I got some nice upvotes, made like $17-18 (might not seem much, but at that point when I was about to quit steemit, that was Jackpot!). It actually became a series of posts! Yeah, I have a habit of making series-es, as you have seen in my blog!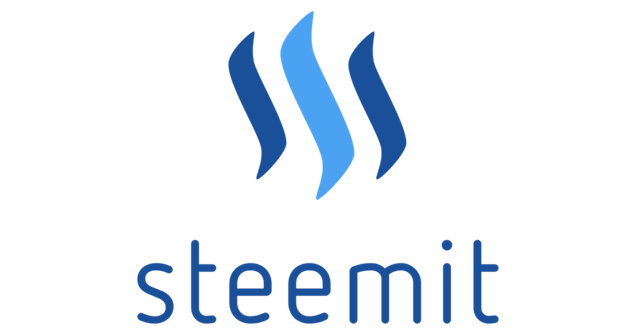 Why the Long introduction?
Well with so many new features and so much confusion even among regular steemians, it seems like a good idea to reach back to my roots for once! Why not bring back the Ridiculously Simple series! A reboot if you may!
So let's dive in then!
Where the hell did my posts go? Not to your blog!
First things first. Now there are a lot of front-ends to the steem blockchain, not just steemit.com
What are front-ends - basically anything and every other platform you are using, @esteem, neoxiancity.io, steemstem.io, steempeak.com, beta.steempeak.com, busy.org, dtube, 3speak, you name it! They're all different front-ends on the steem blockchain.
Up until now, anything you posted on any of these front-ends would show up on you steemit.com blog. But from today on wards it won't. As simple as that. Why?
Because steemit.com has separated your blog and posts. Anything you post on any front-end will be in the posts section. Only what you post/do from steemit.com website will appear in your blog. If you want the other posts to show up on you blog too, you have to resteem that post from the steemit.com website. Remember? Only what you do from steemit.com will show up on your blog.

Communities
This I guess a lot of people are already familiar, with thanks to the beta testing on the steemit beta site prior to the launch. Communities are basically like your facebook groups. Instead of posting something to your wall on facebook, if you post it directly to the group, it makes it much easier for people in that group to come across your post. And now we have communities that focus on curating good content posted to their communities, hence the urge to post directly to the community. To make thing even clearer, say for example a community of science, like @steemstem, will only be curating good science content. So if you have good science content, post it to the steemstem community where people are looking to read science contents and you'll have much higher chances of getting an audience for your content. So for your science, you won't be posting in a community that appreciates art, right!
That's basically the concept of communities. Posting content for like-minded people! Your photography, post it to a photography community and so on. You have some original good content and can't figure out which niche it fits, post to the OCD Community where they're looking for a diverse range of original content. You get the idea.
How to post to a community
You directly go to the community feature on the steemit website, find your community of interest and subscribe. If you click on My Communities you'll see the communities you've already subscribed to.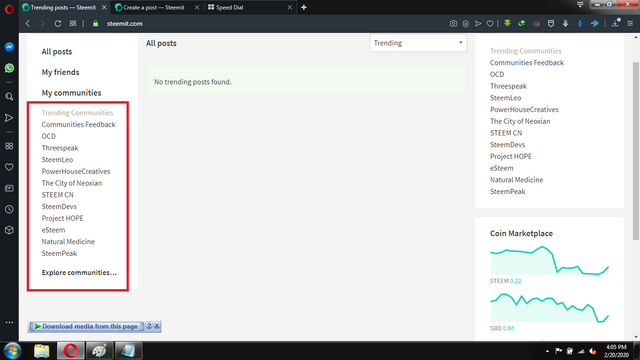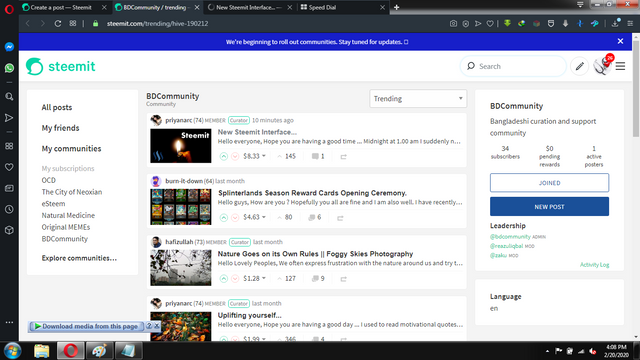 Click on new post and post directly to the community.
You go to your blog and write a post as usual, just add the community hive tag (you can find this from anyone in the respective communities' discord) as your FIRST TAG. Whatever is the first tag, that's the only community you're posting to.

Some communities have their own front-end. The two I'm aware of and have used are Neoxian City and SteemStem. If you're using such front-ends, your first tag will automatically be the tag of these communities. So for example you love posting using these interfaces, but for this specific post you wanna post in another community, what do you do! Up until now, there wasn't much you could do. You had choose either one of these communities because the First Tag is what mattered and you can have only one first tag.
This is where Cross Posting comes to the rescue!
Cross Posting
Now this is getting everyone go nuts! Some out of excitement, some out of confusion!
First thing, This feature is available only on the Steempeak Beta website.
Now what exactly is cross posting? This in simplest of terms, allows you to post to Two different communities. How do you do it, I'll get to that in a bit. Stick with me for a while!
So say for example you posted something to one of the front-ends that you enjoy or have a lot of friends. But your content is also suitable and like to get you more readers and maybe curation from another community as well, who appreciates content like the one you have posted.
Now you login to the Steempeak beta website and go to your profile and find the post you wanna cross post.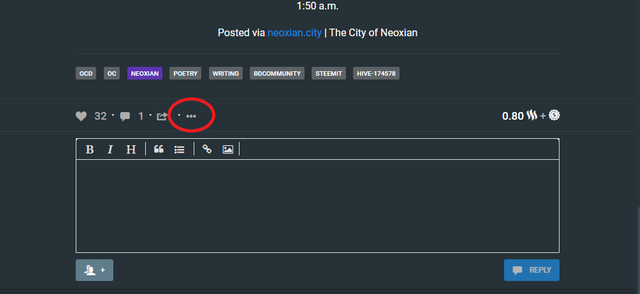 Click this and select Cross Post.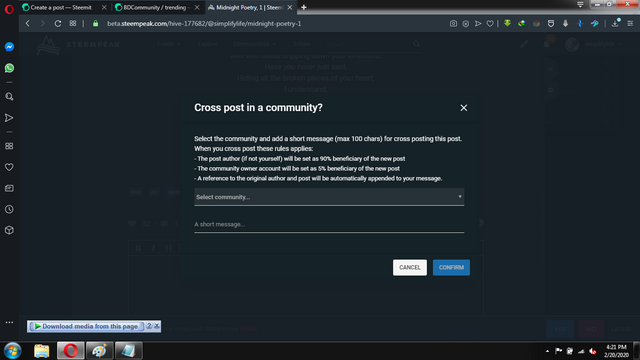 Select the community you wanna cross post this in. Then Write something about the post or why you wanna share it to this other community or anything meaningful. Keep it very short. Then Click confirm. You're done!
You need to understand that after you have cross posted, the post are going to appear in two differrent communities and you upvotes and curation value in one community is not going to show up in the post in the other community.

This is one of my posts shared in the neoxian community.
Here's the post cross posted to the OCD Community.

One thing you must be aware of is that, when you cross post to a second community, whatever author reward you get from curation in the cross posted community, 5% will go to the second community by default. Note however that, whatever you earn from curation in the first community will not be affected.

You can also cross post for someone else. For example you come across a great post in a community and you feel there's another community out there as well who would appreciate this content, you can cross post that post to a second community and you don't need any permission from the author (I think) but it's nice to let him know that you enjoyed the content and wanna share to another community.
When you do this, whatever comes from the curation reward, 5% goes to the second community by default. You get 5% of the payout and the original author get 90% of the payout. Again, the payout from curation in the first community it was posted to, remains unaffected so it's a win-win for the author! Here you have the option to choose to not accept the 5% that you would be given and select Burn option which will appear when you're cross posting someone else's post.
Finally, when you cross post something from steempeak beta, it is NOT going to show up on you steemit.com blog. It will be in the posts section!
I guess that's all I have to explain for the moment! If you enjoyed this and found this helpful, feel free to cross share the post to different communities! Make sure to follow me @simplifylife I'm a doctor and I post a lot of cool day to day medical and health related stuff. If that's something that interests you, go check my blog!
P.S. : This post was posted directly into the BDCommunity and will be Cross Posted to the OCDCommunity. So please do not cross post to any of these communities.
Until Next Time!
Peace!