GHANAIAN FOLKTALE SERIES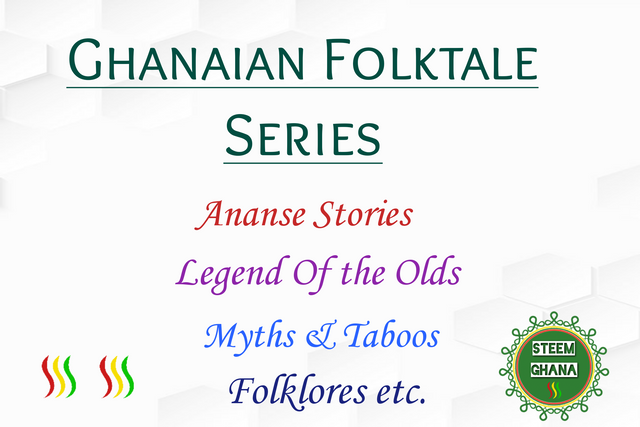 ---
INTRODUCTION
---
Aside the ongoing diary game, my town in ten pics, bitcoin booming and better life activities on the steemit, we have decided to introduce a new contest series for our community.
The entries made for this series can be set to 50/50 rewards. We are also urging our community members to set @steem-ghana as a 10% beneficiary to all rewards. This will contribute to our funds as a community for us to better organise our future events. Also it would give room for some SBD allocation to our account to prevent any power downs.
This post will guide you on how to go about it.
---
ABOUT OUR FOLKTALE SERIES
---
In our Ghanaian traditional societies, the major form of cultural preservation is by the word of mouth. This comes in various forms such as Ananse stories, legendary stories of the old, myths and taboos, etc. Most of us grew up with these stories as kids and they tend to stay with us for a lifetime.
Here is an opportunity for us to share what we know concerning such stories which have been preserved and passed on from generation to generation. We also hope this will give our steemians something else to write about and raise the number of active posters in our community.
Rules
No plagiarism.
At least 300 words.
Post through Steem Ghana Community.
No more that one entry per day.
Title should take this format : Ghanaian Folktale Series - (Topic) - (Date)
Set a 10% beneficiary to steem-ghana.
Include these hashtags ( #ghana, #folktales)
We would like to call on the support of the steemit team (@steemcurator01) for this initiative and would like to say thank you for all the love and support you've rendered as well.
Thank you!
by @njaywan
CR, ghana
---
cc: