Top3 Contest - Least Favourite Movies or Favourite Movies to Sleep Through.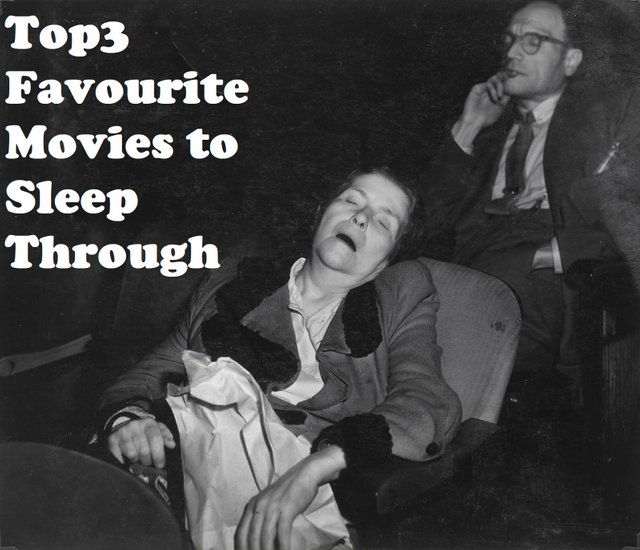 This is my entry into this month's Top 3 contest.
| | | |
| --- | --- | --- |
| No | Nomination | My Reasons for the Nomination |
| 1 | | I am notorious for falling asleep watching films. Even films I enjoy tend to get the sleep treatment, so when thinking of this category, one way that I could classify this topic was - the film that I have attempted to watch the most, but fallen asleep during! The winner of this category goes to Twilight. I have attempted to watch it 6 times and still have never reached the end! |
| 2 | | My second nomination has a bit of a back story. A few years ago, whilst visiting Bali, I decided to partake in a very hazardous adventure - I stepped down a step outside of a restaurant, and ended up in hospital after my ankle ended up on top of my foot! A very slow recovery time, meant that I was not able to even put my foot on the ground for 2 months and therefore my mobility and my general day-to-day life was hampered in every possible way. The one thing that I was able to do was venture to the cinema with @cheese4ead and sometimes @monorosado on the weekend. This trip consisted of a very slow trip on crutches to the car, the wheelchair in the boot and parking in the Lady Parking Disabled Space, right next to the door. Out of the car and into the wheelchair, a nice lunch in a restaurant and then into the service elevator up to the cinema on the top level of the shopping mall. Now, given that this became a weekly event for a fair few months, my choice of films became quite limited. Some of them were quite good, but my memory of London has Fallen and the classic line of Gerard Butler when asked if he wanted a cup of tea, was that "I don't know about you but I'm thirsty as f**k" just about sums up the terrible film and memories of a horrible few months of my life! |
| 3 | | Now, this may be controversial to many and will definitely be frowned upon by my own family, but my third nomination has to be Star Wars. I have been surrounded by these films in my family since I was a child and I always prided myself as never having watched a single one. However, a few years ago, in Bangkok for my birthday (January 1st, so very little was open), I had no other choice but to go and watch one - The Force Awakens. So, I can say that I have watched one, but I am just not interested in the whole thing, so therefore, a group of films that I do not like. |
I hope you enjoyed my nominations.
crypt0wid0w

Curation Trail
We have a curation trail for @yourtop3, which you can follow here to continue to add to the prize pool and the growth of the competition. Don't forget to log into steemconnect.