Development Achievements 12 - Steemit Assisted Village and Build a Mushalla AL-Qariah in Aceh.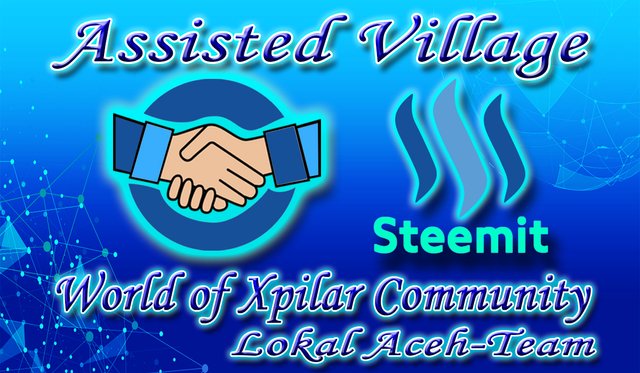 ---
Steemit Assisted Village and Build a Mushalla AL-QARIAH
With Photographer Steem Blockchain
World Of Xpilar Community
---
Achievement Activities. Date : 19 s/d 21 Juni 2021
---
Today, June 19, 2021, I will show you the progress of building a prayer room in Buket Village which we are doing slowly with World Of Xpilar Members in the local Aceh-Team joint and local residents.
This achievement is of course thanks to the support of all friends, especially from the Donors, the voters of this post and my personal post, to get Steem and Sbd, so that the achievement of Mushalla Completion and Children's Education is complete.
This achievement, a continuation of Achievements 11, until the building that you will see is formed, in the arrangement of the images below of course.
In this activity, I want to show you all some of today's activities, in doing the installation of Steel Frame on the roof. date above and in today's image.
Even though the sun had not yet risen, I was accompanied by several members of World Of Xpilar, walking over time to the mushalla, to do some additional activities, before the completion of the entire Steel Frame section of the roof. to help the installation process to be faster in its implementation in the field.
below, is a picture when we arrived early to the location of the prayer room:
---
PHOTOS IN TRAVEL PICTURES
---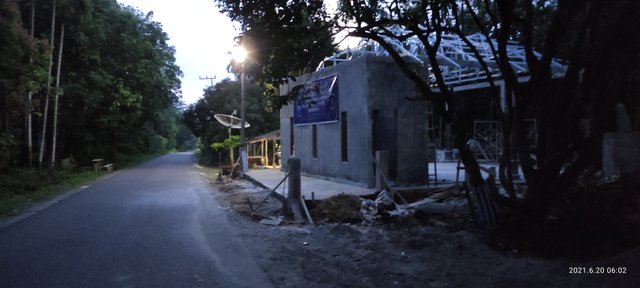 ---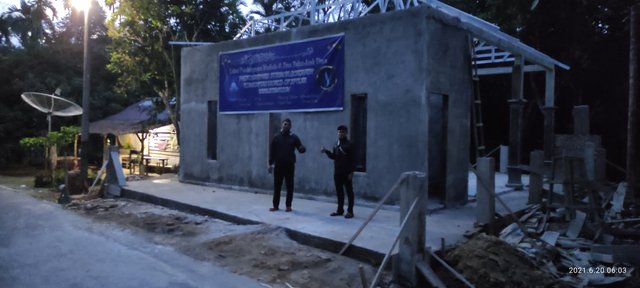 ---
PHASE 2 STEEL FRAME ORDER HAS ARRIVED
---
As I mentioned earlier, we ordered the roofing Steel Frame order in two stages, and this second stage has arrived, which has been awaited by several members of the World Of Xpilar, who are members of the Local Aceh-Team.
below, is the picture :
---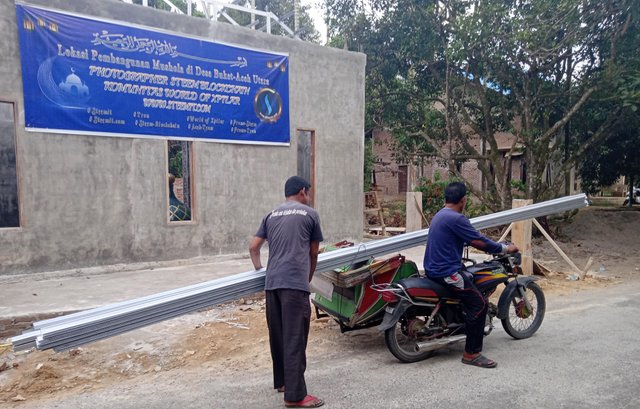 ---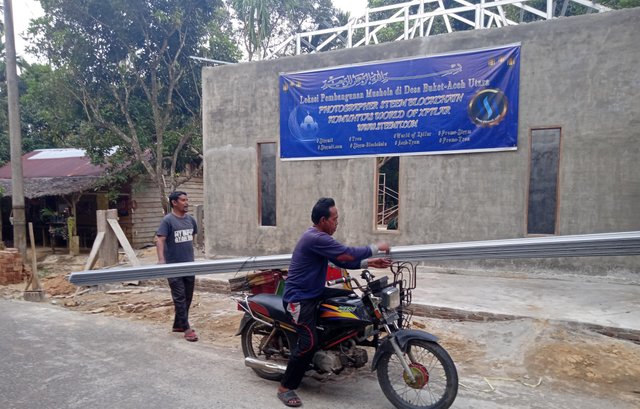 ---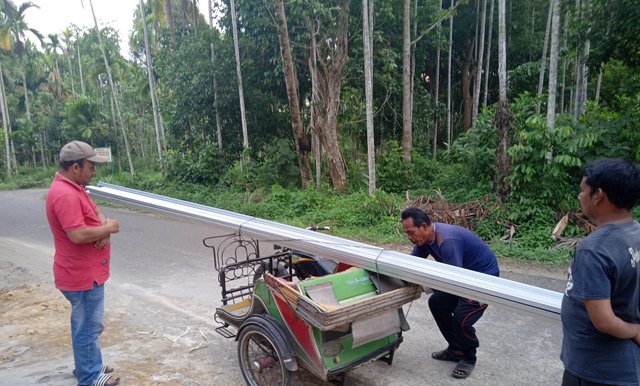 ---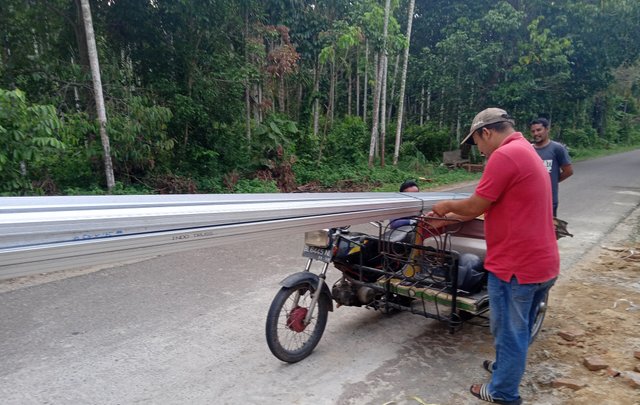 ---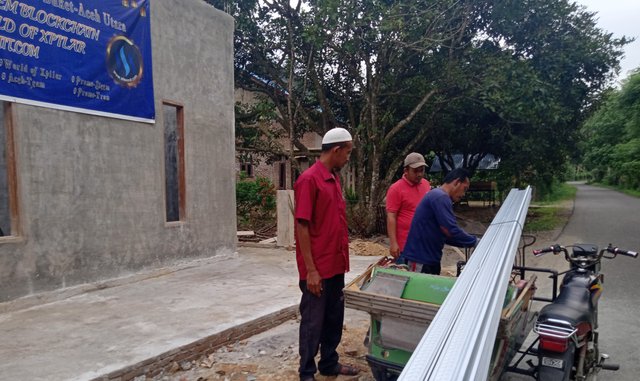 ---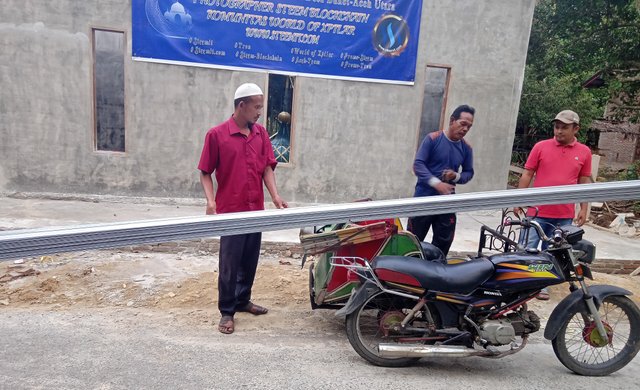 ---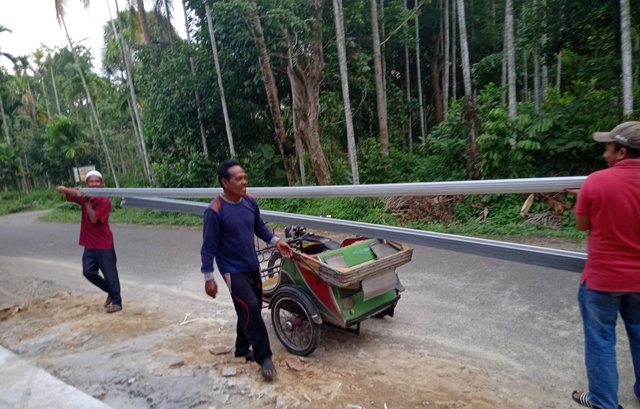 ---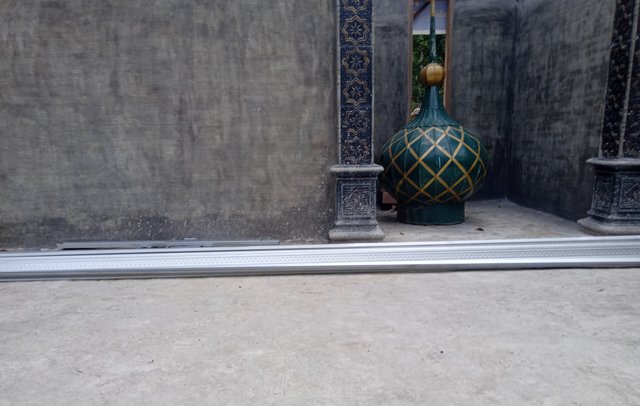 ---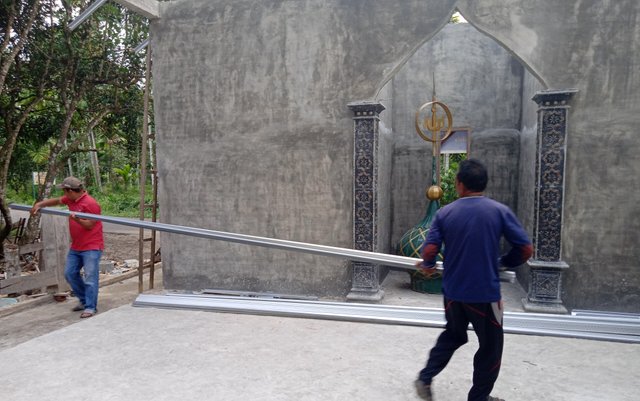 ---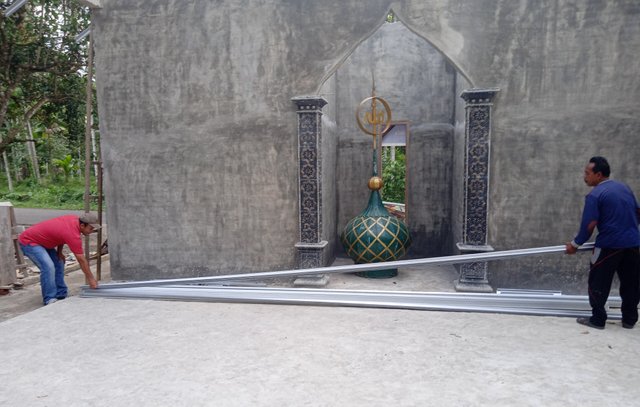 ---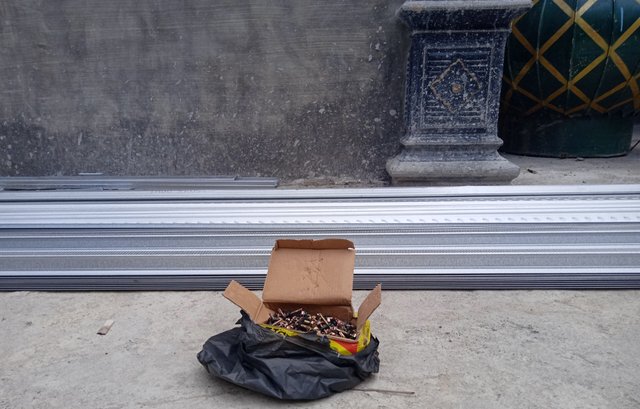 ---
ROOF FRAME INSTALLATION ACTIVITIES
---
After the goods arrive, then additional activities, which lack a steel frame, continue to be adjusted, before being installed, in certain parts that are not ready.
below is the picture :
---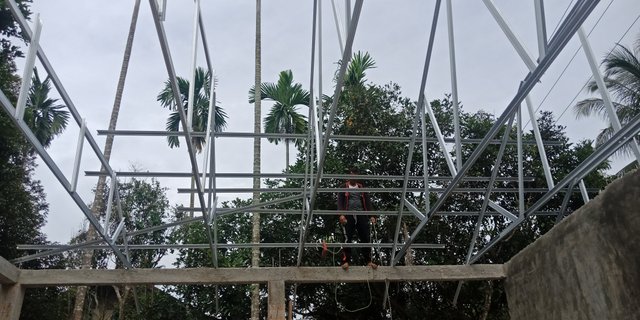 ---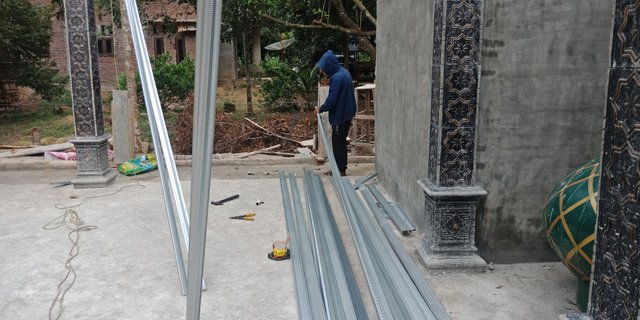 ---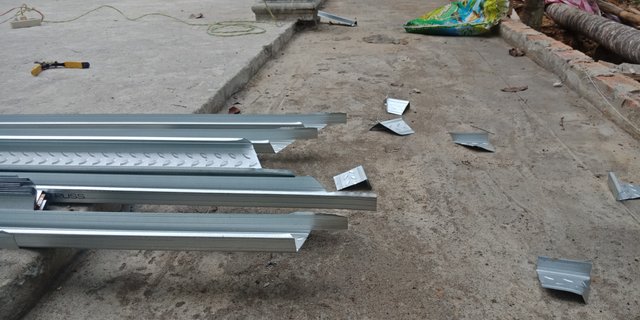 ---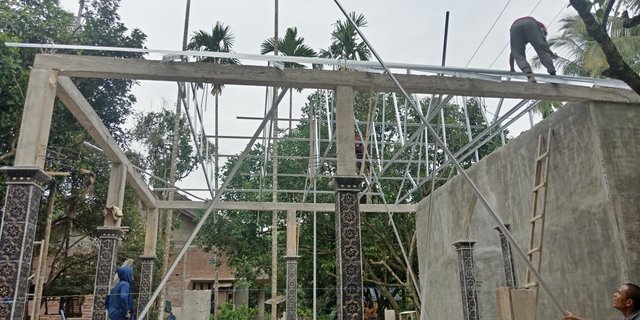 ---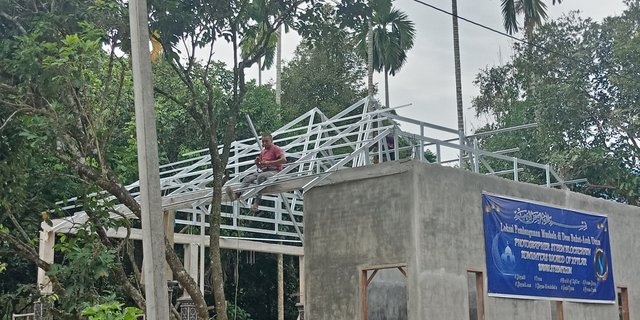 ---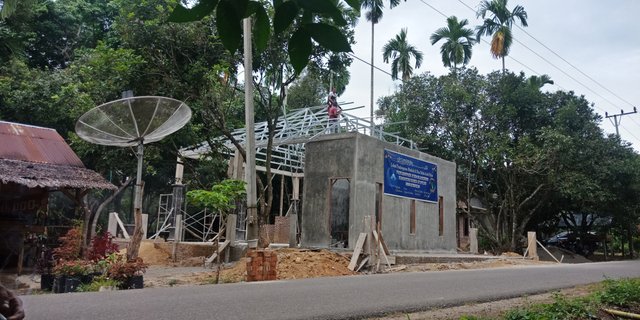 ---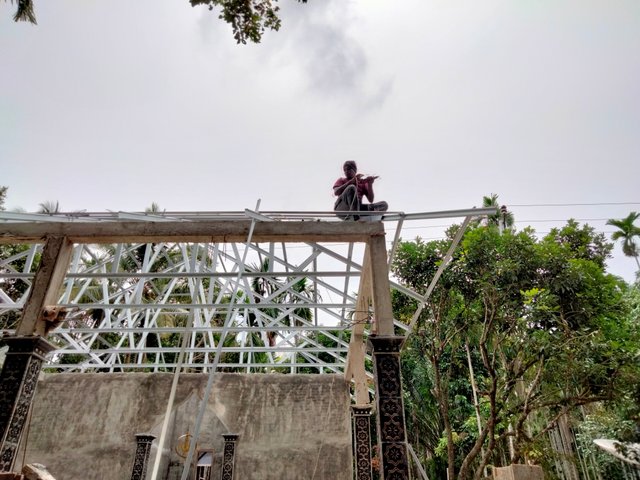 ---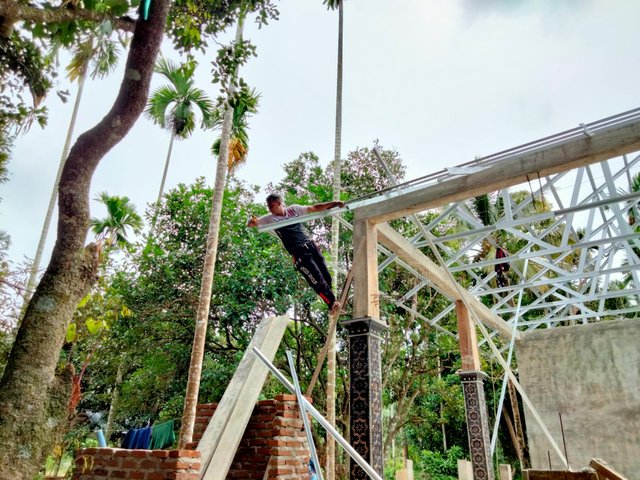 ---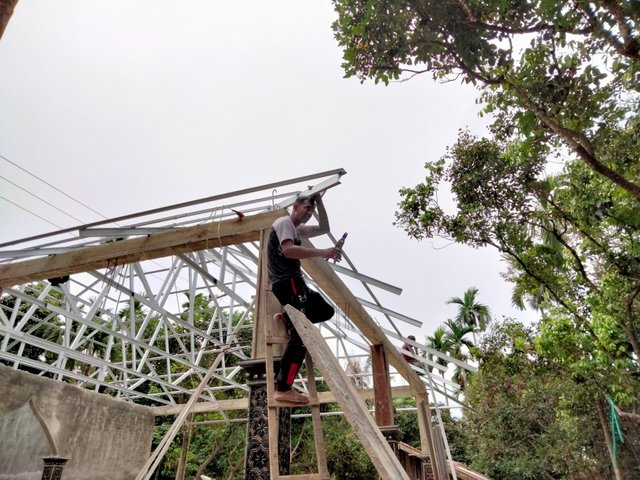 ---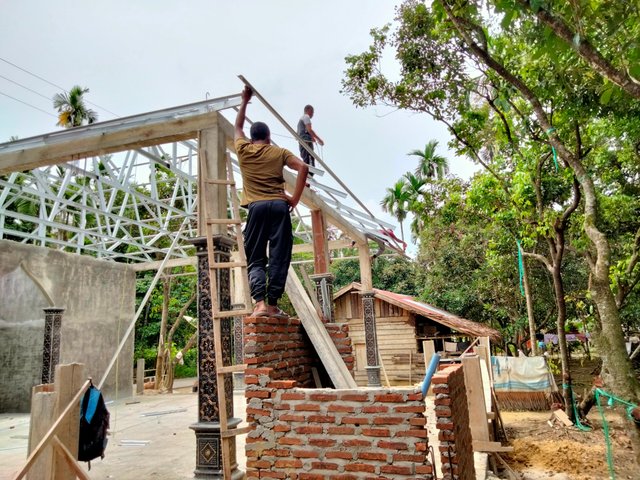 ---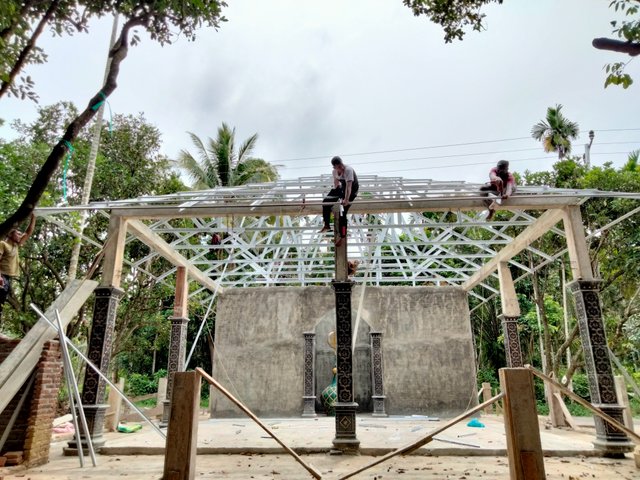 ---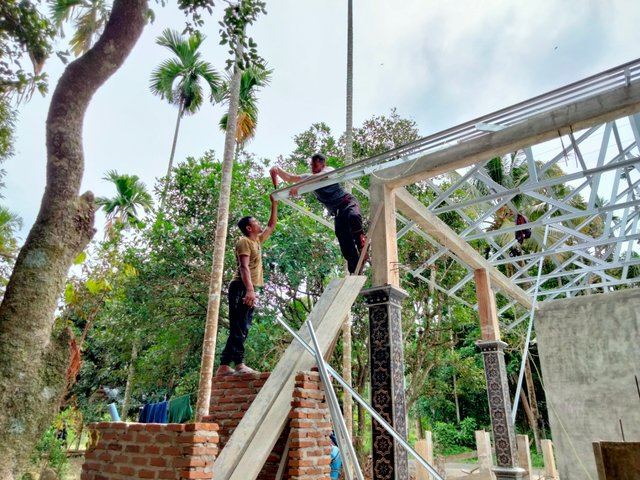 ---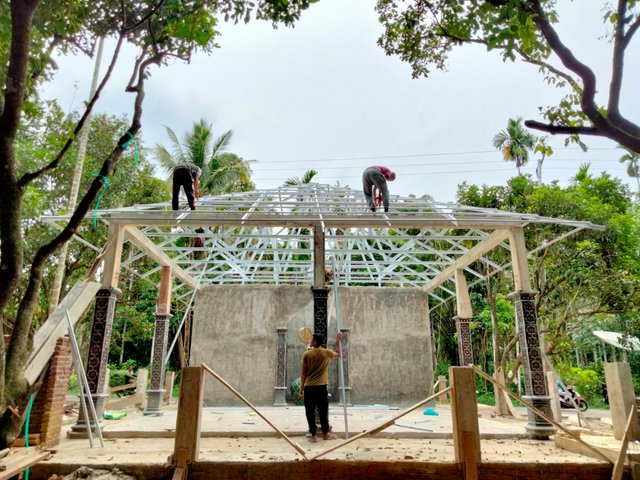 ---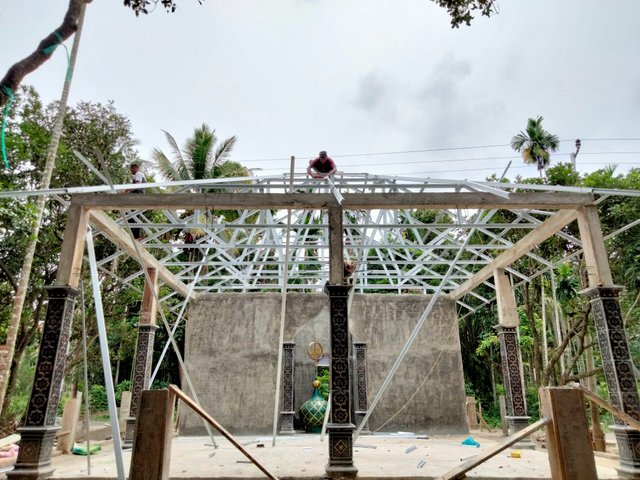 ---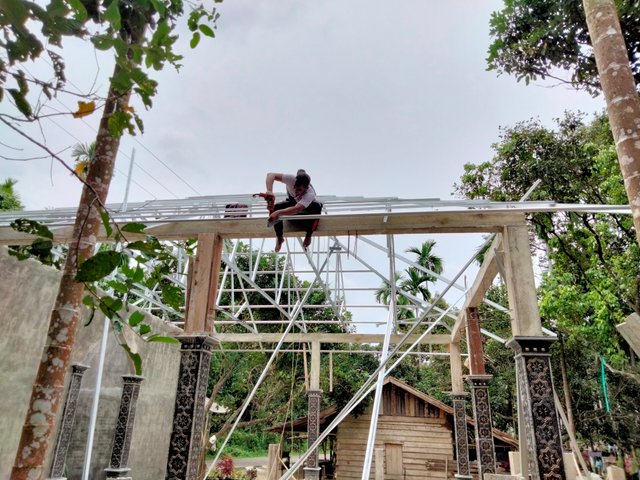 ---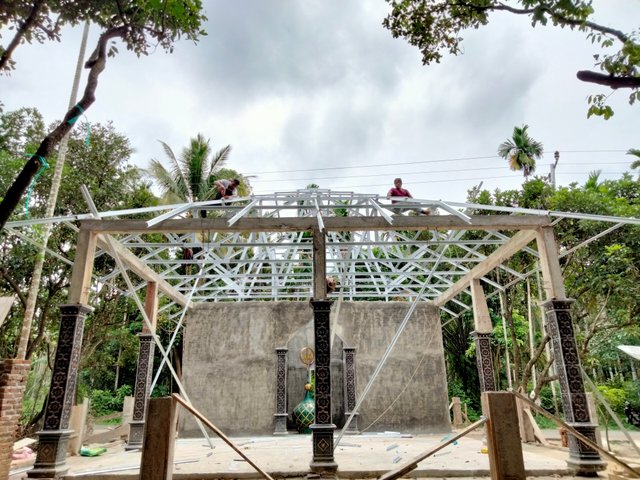 ---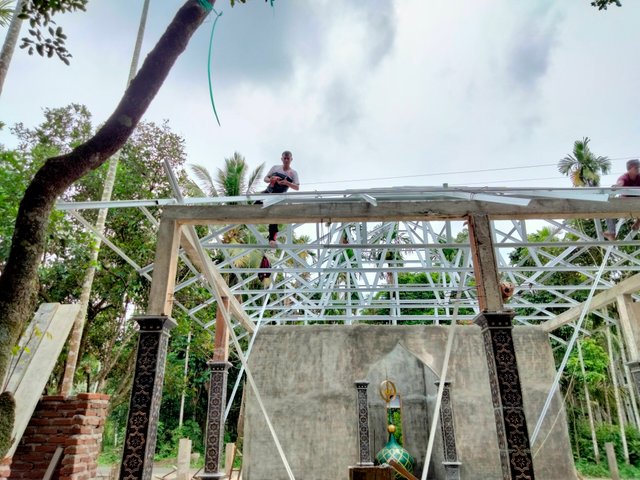 ---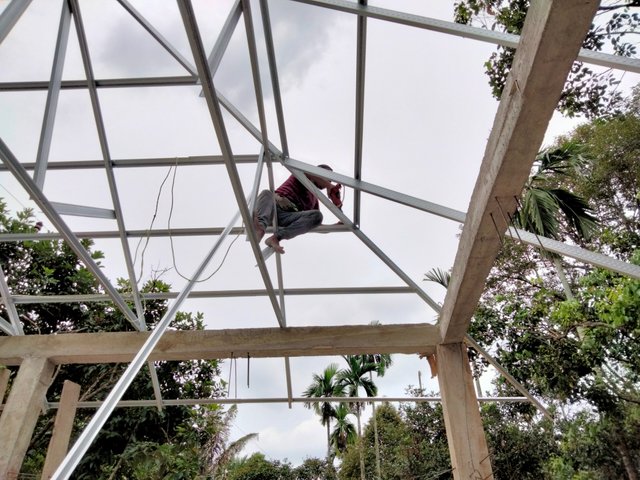 ---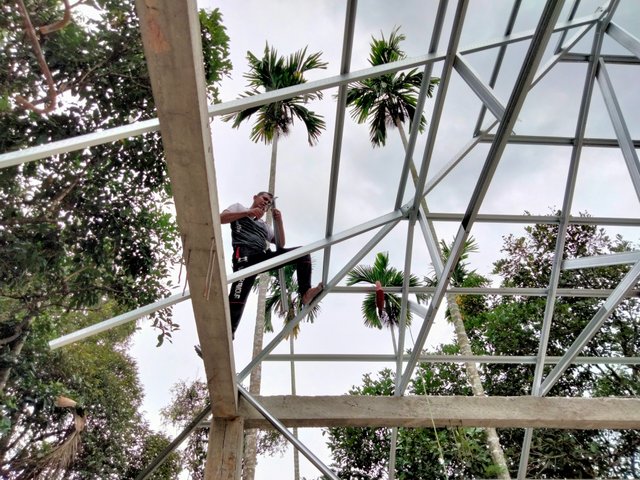 ---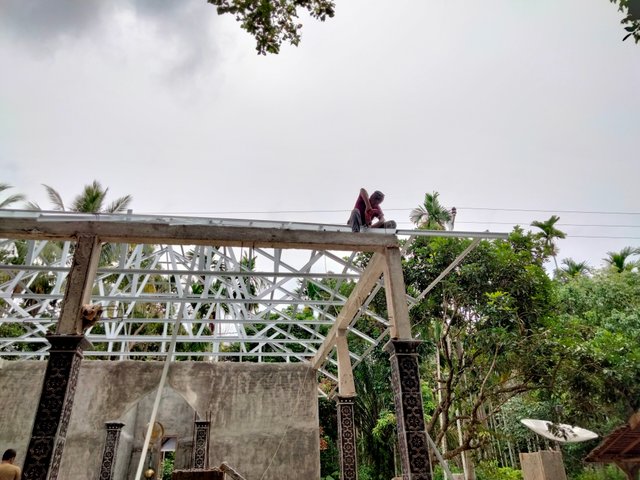 ---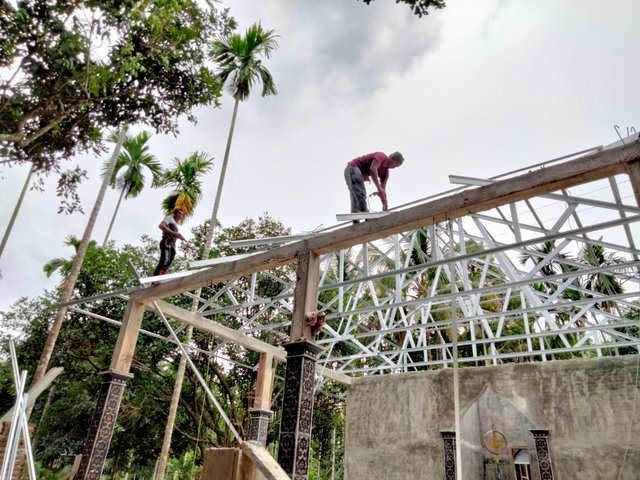 ---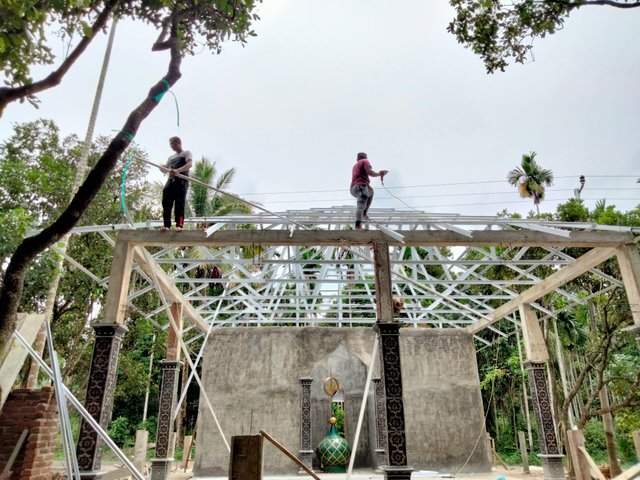 ---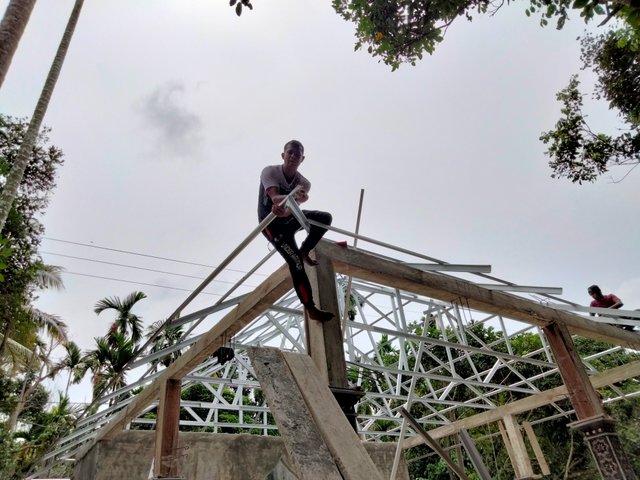 ---
ROOF FRAME WORK COMPLETE
---
After everything is finished, then below, complete the whole installation of the steel frame, for the roof to be installed.
let's see below :
---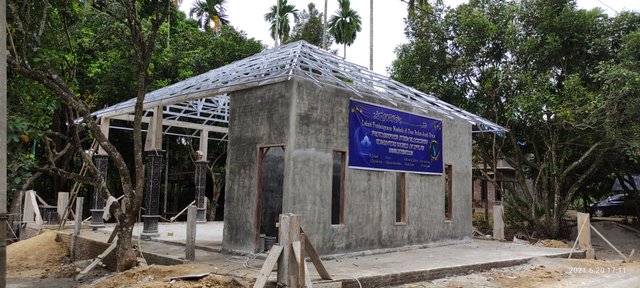 ---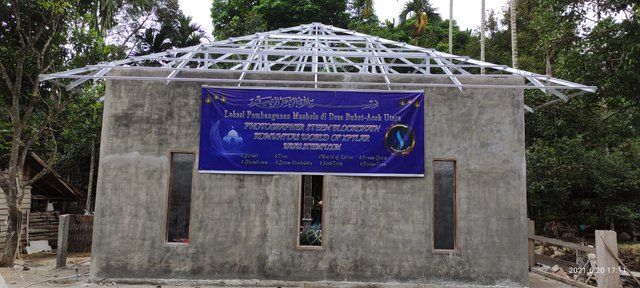 ---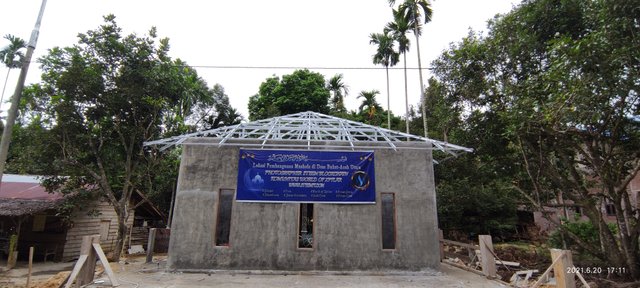 ---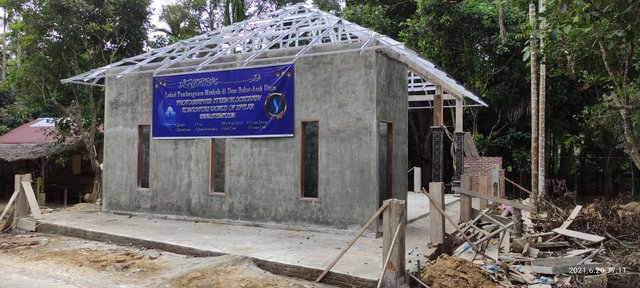 ---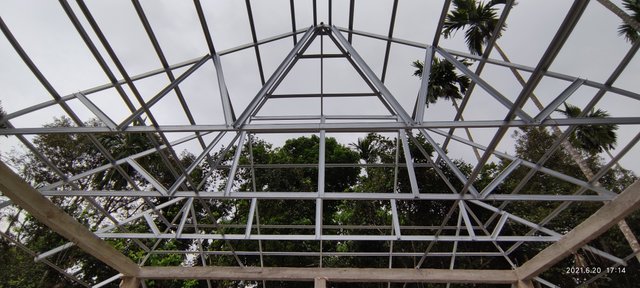 ---
---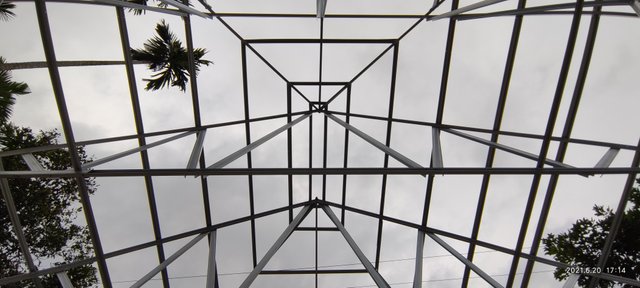 ---
SPECIAL GUEST IN STEEM HISTORY WITH World Of Xpilar Community
---
Below, you will see, what the local residents do, when welcoming the Mushalla and the place for children's education for their village to be built, All of the educators of these children, voluntarily come to this place, with full hope, so that the Mushalla and educational place for them, so that they can be completed quickly.
In the photo below, all of them are local residents, who are still under the guidance of foster parents or teachers, in this village, before returning home, they want to give thanks, enthusiasm, to all, donors, who have built a prayer room and children's education place this. in Meraka village.
below, at a glance the location of children's education in the village, the location of the prayer room and the place of children's education. let's see it below :
---
CHILDREN'S EDUCATION PLACE NOW
---
You can all see how the condition of children will grow as they gain knowledge and a place, so that they can gain knowledge at an early age, which will grow with passion in their hearts and minds.
even though our fingers and eyes can't see, what we have seen in the past few months, so, even this I want to share with you all, that we all have children who are undergoing education and a proper place.... how about children - the child in the picture below. ... We will continue to move forward and fight, so that the place of worship and this child's education is completed and we will smile together.
let's look in the lens of the picture of the life of the children in this village :
---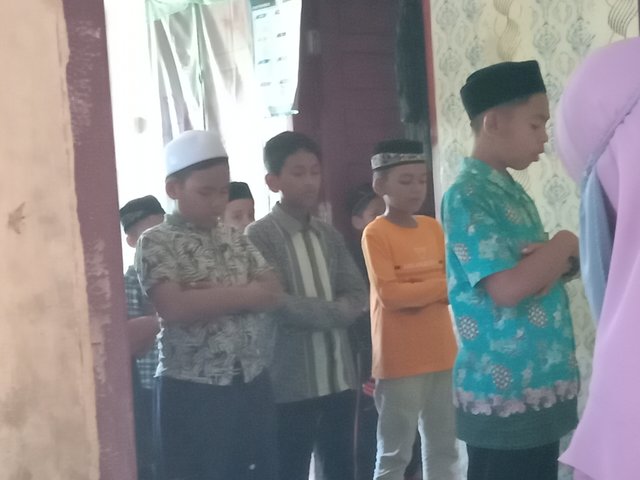 ---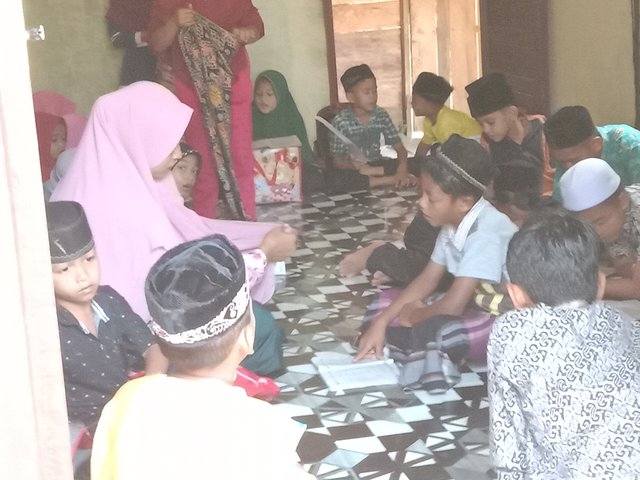 ---
---
HOPE AND PRAY
---
Days and times will continue, and time will answer with us in the real world, which is that ... the ability of a village will rise and develop after this village has a place of worship and a place for children's education.
Deep in the rural interior, not an obstacle for them to walk to the place where this prayer room was built.
Let's take a look at some of the lens images of their hopes and prayers, which they want to convey to the Overall Supporters in the Construction of the Mushalla, which are beneficial to all the villagers. " Bouquet Village - North Aceh Regency
let's see below:
---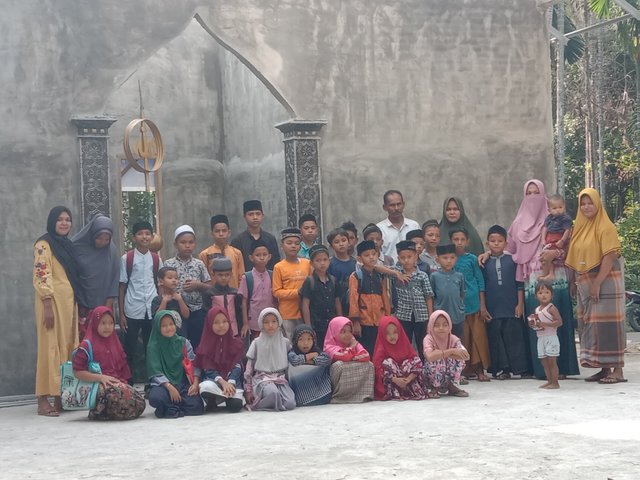 ---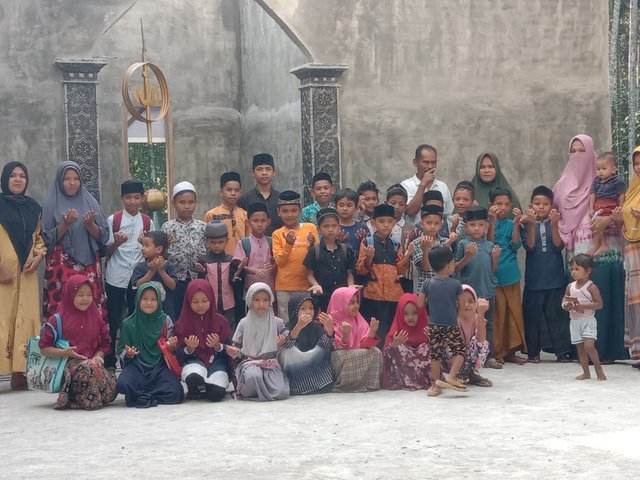 ---
as you have seen and read, then, after we only hope, hopefully this development will not have any obstacles in the field, including costs and energy.
In the conclusion above, the installation of the steel frame above has been completed, and then, some further work. which will continue, such as:
Zinc Roof Installation
Install Ceramic Floor
Wall paint
Precisely, all activities will continue until the prayer room is finished. while ,waiting for payment in the next post. to use the next purchase of Materials.
That is what I can say, in achieving the construction of a Mushalla and Children's Education Center in this village. I hope that in its development, this village will get more support from all Steem users.
Thus, the brief explanation above, in the joint activity of building a place of worship and an educational place for children in Buket Village, I hope you will be happy to see them.
Requesting assistance from:
Team Steemit
All home-building investors
All steem investors
All Steem users.
Hopefully this project submission will receive support from all parties.
A big thank you, from me representing the World Of Xpilar Community
who have helped in the form of field workers, during this development, including the people of Buket Village
---
Hilsen
@sultan-aceh
Person in Charge of Development
World Of Xpilar Community
---
100% Vote for this Post
Will be given for the Financing
Mushalla Development and Children's Education in Buket Village
Steemit Fostered Village
---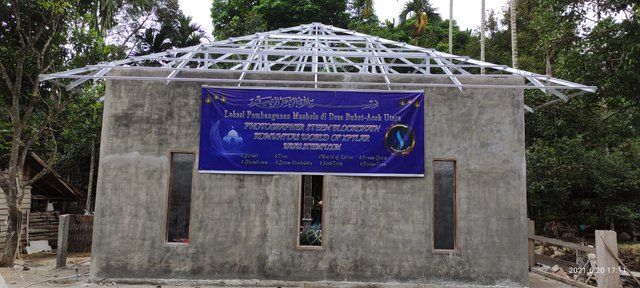 ---
Donation List Development Achievements 12
---
---
Donation List Development Achievements 11
---
| List- Name | STEEM | SBD |
| --- | --- | --- |
| 1. Contest Committee Week XIX - WEEK XX | - | 16.544 |
| 1. @digitals-photo | 60 | - |
| Total | 60 | 16.544 |
---
Donation List Development Achievements 09
---
---
Donation List Development Achievements 07
---
---
Donation List Development Achievements 04
---
---
---
Donation List
---
---
---
DONASI FROM BUKET VILLAGE PEOPLE
---
| List- Name | Cement | Note |
| --- | --- | --- |
| 1. Cement | 11 | Villagers |
---
Management
---
---
Development Information
---
---