Friday Challenge: The Biggest Day of My Life: one day in Paris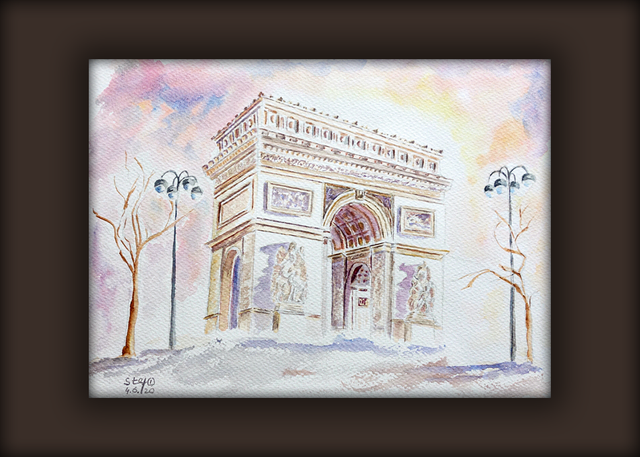 "Arc de Triomphe" by @stef1
*
Hello my dear Steemians and Art Fans,
That was very busy week and I had so little time for doing Art, nevertheless I thought that I prepare something for this Friday challenge.
When I heard the topic I thought that this is a dream that probably everyone would have, starting with childhood time when we read all the adventure books like A. Dumas The Three Musketeers we all dreamed to visit France and Paris once in our life.
But another reason was an impressive architecture many of them, one of my favourite is The Arc de Triomphe de l'Étoile, when we see the holiday this is one of the place with the flag placed in centre of the arch.
That is why one of the surprise that my hubby made a spontaneous trip for weekend to visit beautiful city of Europe.
That was my dream to do this painting already for many years but never had time therefore this is now my contribution to the challenge that I specially made and was working last 3 days and finished last night.
I hope this is still not too late to submit it and that you like this version of Watercolor painting.

My step-by-step process: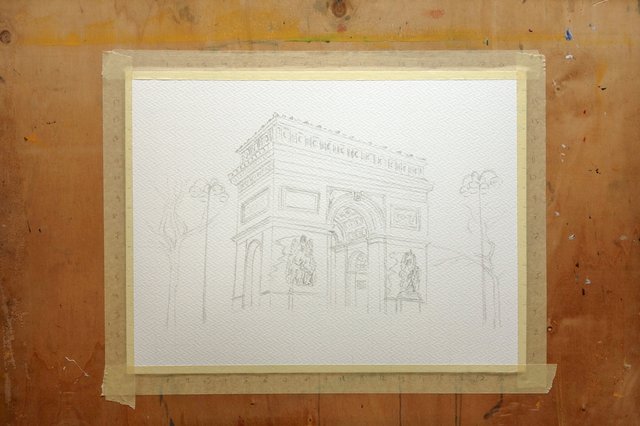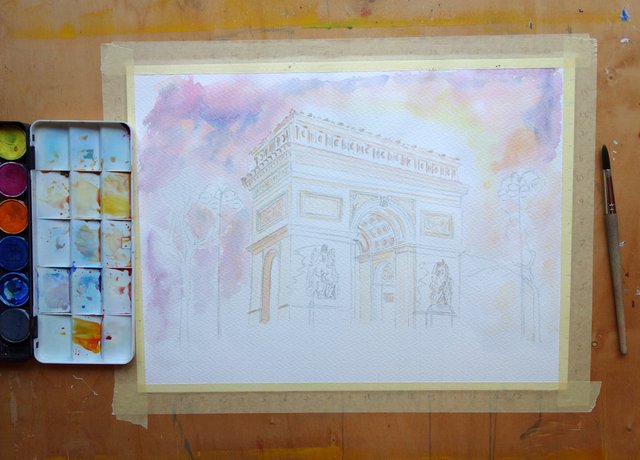 The finished painting: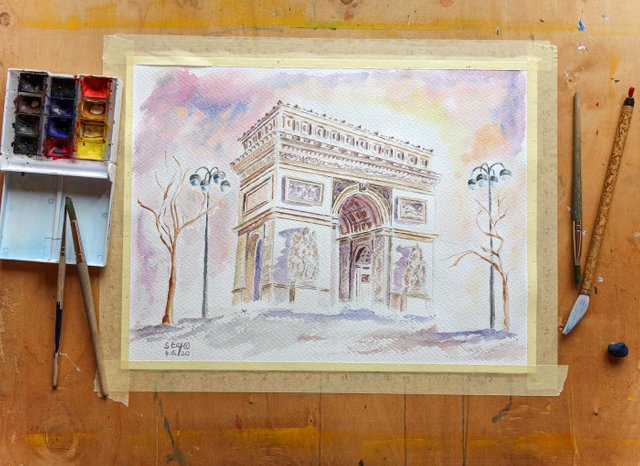 Watercolor painting "Arc de Triomphe" by @stef1
Rough watercolour textured paper 30x40 cm, paper weight 300 gsm, watercolours colours in pans and tubes, flat and round brushes
---
*
---
I hope you enjoyed my post and thank you for viewing :-)


---
---

Litecoin : LUpfhNEjsfCXfjX21zo3hW3jYsdNAPgf2c

Ethereum : 0x1f3D5b5F315C97b7cb3b3d852a4a6CA9473A4DdD

Dogecoin : DRpuNZmjZbrkSzRKFeyKVza2DSvUks1Hpi

Dash : XejGN8iip9XtZotX3xThF1pnwCjU4xZhVD

TRON : TSUjtkDrSVpnighYXe48W6mZPUexdYxaR9
---
---