FINAL REPORT: Community Curator for Visual Art and Photography @steemcurator08 - and The Last Goodbye
---
Hello my dear Steemians and Art Fans,
---
*
For the last three months from May to July 2020 @steemcurator08 was curating Visual Art: different Art styles and Photography, the same time we curated "world of xpilar" community because we are part of it and German Community because it is still our mother land.
I believe everyone familiar with this painting of mine that we decided to use as a logo for Visual Art curation @steemcurator08 but it will not appear anymore in connection with it.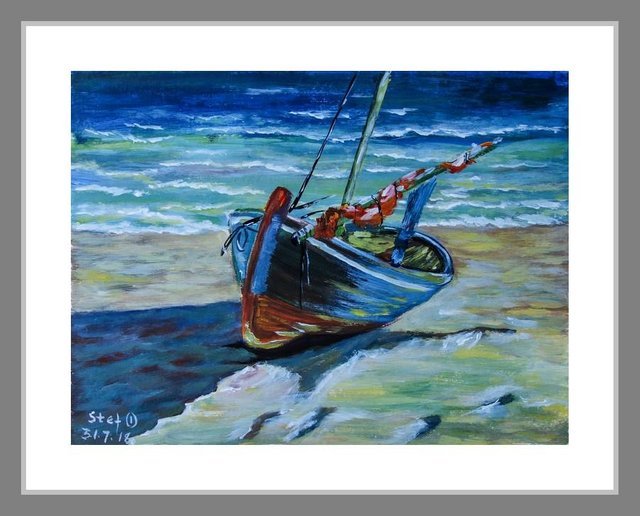 We wanted to thank and the Steemit Team, Eli Powel with @steemitblog and @steemcurator01 for this great opportunity and the same time such responsibility to carry out this task. Many asking how do we feel now, actually we feel like we are having Holiday because last 3 months were hard working, daily searching through Steem blockchain, upvoting, commenting, guiding with advises and to appropriate teams, running our own contest alongside my full time job and my hubby's full time restoration man project.
We, @stef1 and @myskye and our project @art-venture will still keep Upvoting and Supporting Artists and Photographers, now with less Upvote Power but we will keep organizing Contests, Showcases as before.
Today's post we decided to build up differently to show that Art, the same like Music has no borders, when curating we can't say that we curate this Artist because he is from Africa or Asia but we will not curate another one because he is from Denmark.
No! Art speaks the language of Visual Art, Emotions, with this post we wanted to show how wide was the range our CURATION with @steemcurator08 and that we know almost every single who we are putting on this list.
We wanted to appologize in advance if we miss any Artist, because there are really very many of them. We included the most active users because otherwsise it would be not enough space.
*

---
Now we would like to share with you our activity of the last week.
---
As always we would like to express our appreciation for the amazing tools that is provided by @steemchiller and his "Steemworld" program that made the curation process easy and let us keep an eye on our Upvote power and finally to do Statistic.
We would like to thank all those Community Curators who are searching through the Steem and supporting users in their area of Curation. That is wonderful job you are doing and bringing a littl bit of hope and happiness to simple users.
*
Here it is how our working day look like:
Searching through the different tags there are 16 Tags, last 2 years since we created @art-venture project we are looking through all these tags in order to find extraordinary and talented people who need some spotlight in order to shine.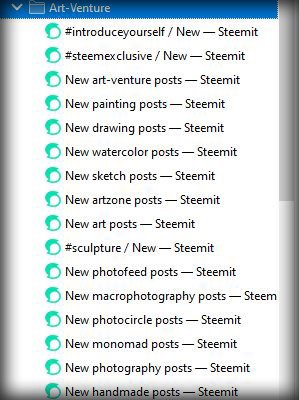 *
We are part of fast growing community "world of xpilar" that is run by a one of the active supporter of all minnows @xpilar, since we started to promote it many Artists and Photogrpahers started to post via this community.

Checking for recent re-post or copy/paste.
Plagiarism using reverse image search machine.

Running our own project @art-venture with regular Contests and Artist Showcase.

Visiting the users Internet website to make sure that the works are their own: we always glad to be able to visit the users own websites and view their works, to read about them and communicate. Only via communication we can make people interested in engagement and interest in blogging.

Our achievements past 7 days @steemcurator08:

We left with @steemcurator08:
2,087 Comments and got 738 Replies!!! (last week: 1,952 Comments and got 677 Replies)

111 Followers (last week:107 Followers)
Reputation 49 (last week: 48,2)

*
---
Art on Steem
---
Professional Photography
Russia
@boddhisattva, absolutely amazing landscape photogrpahy, architecture and nature
@sharker, from Russia, professional photograph with love to nature, animal and life around us.
Bulgaria
@lightcaptured, professional Photographer from Bulgaria, can create stunning images from simple everyday life
Lithuania
@axeman, from Lithuania another impressive professional photograph, who actually produces the photography of any style and any subject
---
Artists
---
Professional:

These are our Steemian Artists
Nigeria
Venezuela
Russia
@mister-omortson, from Russia, amazing watercolor Artist with his favourite topic of landscape and seascape
@singa, from Russia, amateur Artist in her heart who loves Art and makes her way improve herself
Ukraine
@curly-xu from Ukraine, great Artist but the same time Art Teacher she is teaching children to create Art and sometimes we can see the group of her stuidents with their works
@sweettais from Ukraine, who I know for last couple of years, she was 19 when she joined she is grown up on Steemit, very persistent and active in her Art and Art Contests
China
@winniex, from China who is drawing daily one of the participant of @wherein-"world of xpilar" contest
@llllyyyyllll, from China, who is such impressive Artist working with Oil and watercolor and of course Portrait is his favourite field, he is a winner of @wherein-"world of xpilar" contest
South Korea
@veronicalee, one of the eldest Artist on Steem blockchain, nevertheless very active and creates beautiful watercolor works
UK
@inasart, our fellow country man from Birmingham, UK, we know Ian for last 3 years, he likes to experiment with different Art styles, mediums and just having fun creating Art
@kevmcc, another our country fellow man from Glasgow, Scotland, with his impressive alien style Art
Germany
@wulff-media from Germany, nice watercolor and gouache painting
@anneadam from Germany, creative Artist, pencil, watercolor, pastel

---
Here are few of Artists where either they have not mentioned their country or only one Artist from certain country:
---

---
Bloggers who we noticed and followed:
---

There are many, many other user who we have not included but we know much about every single of you.
At the end @steemcurator08 Visual Art curator wanted to say Good-bye with this beautiful song.
---
*
---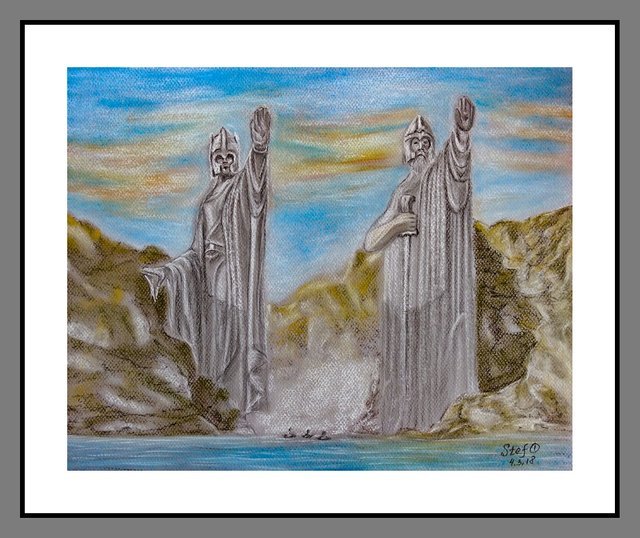 soft pastel "The Argonath" by @stef1


*
---
---

Litecoin : LUpfhNEjsfCXfjX21zo3hW3jYsdNAPgf2c

Ethereum : 0x1f3D5b5F315C97b7cb3b3d852a4a6CA9473A4DdD

Dogecoin : DRpuNZmjZbrkSzRKFeyKVza2DSvUks1Hpi

Dash : XejGN8iip9XtZotX3xThF1pnwCjU4xZhVD

TRON : TSUjtkDrSVpnighYXe48W6mZPUexdYxaR9
---
---