Lecciones de un abrazo | Lessons of an embrace [Esp-Eng]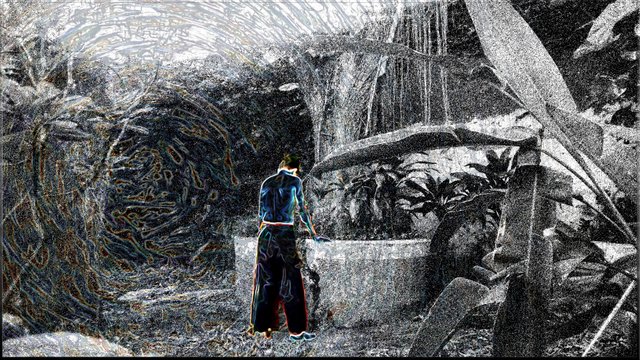 Cuando me pongo a pensar en la más poderosa sensación que he experimentado no dejo de pensar en tus abrazos, era como sentirte penetrando por mi pecho y también por mi cabeza. Me gustaba mirar la comisura de tu boca con esa curvatura particular que imaginaba que era la forma perfecta de los frutos más antojables. Nos dejábamos llevar en los rincones de los parques y por debajo de la mesa de los restaurantes.
When I think about what is the most powerful thing that I have experienced, I can't stop thinking about holding together with you, it was like feeling you penetrating my chest and deep into the bones of my head. I liked looking at the corner of your mouth with that particular curve that I imagined was the perfect shape of the most desirable fruit. We let ourselves be carried away in the corners of the streets, the benches of the parks and under the table of that restaurant.
No se suponía que deberíamos de encontrarnos como lo hicimos, claro está que a la vista de todos resultaba extraño, aún más para ti y para mí, dado que nuestro encuentro se dio en aquel territorio institucionalizado, lleno de reglas y contratos relacionales, tú tenías aquel novio atlético, adecuado para tu edad adolescente, yo viniendo de aquel rompimiento tan terrible, los dos sujetos a los códigos del aula de clases.
We were not supposed to encounter, of course it was strange for all to see, even more for you and me, since our meeting took place in that institutional territory, full of relational rules and contracts. You had that athletic boyfriend, suitable for your young age, I was coming from that terrible breakup, we both subject to the codes of some kind of classroom.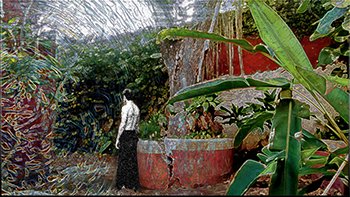 ---
---

---
Fue una de las etapas más salvajes de mi vida, poco me importaban las cosas y al mismo tiempo todo a mi alrededor se acomodaba de una manera que ni yo mismo me esperaba. Nuestro viaje con tus padres, tu presencia que todo lo llenaba en los proyectos importantes, nuestra rebeldía ante los ojos filosos de los juicios medrosos de los ociosos circundantes. No nos estaba permitido, sin duda, darnos esos abrazos ni mirarnos con aquellos ojos.
It was one of the wildest stages of my life, things mattered little to me and at the same time everything around me settled in a way that I didn't expect. Our journey with your parents, your presence that filled every important project, our rebellion before the sharp eyes of the fearful judgments of the surrounding idlers. We were certainly not allowed to hug or look at each other with those eyes.
Deben haber sido unos meses de intensa furia, o tal vez solo fue uno que quedó ardientemente impreso en mi memoria. Tus visitas a mi casa fueron tal vez pocas pero se han extendido por todo el baúl de los momentos que más alteran todos los ritmos de mi cuerpo. Te recuerdo cenando en mi mesa, riendo acostados en el piso, también enredada entre las sábanas o caminando de la mano por las calles de aquel barrio, yo "el flojo", tú "la vaga". No podíamos avanzar un par de cuadras sin volver a abrazarnos por un rato.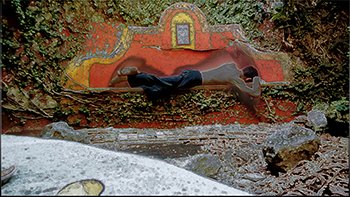 ---
---

---
It must have been a few months of intense wildness, or maybe it was just one that was strongly imprinted on my mind. Your visits to my house were perhaps few, but they have spread throughout the trunk of the memories that most alter every rhythm of my body. I remember you dinning at my table, laughing lying on the floor, also tangled between the sheets or walking hand in hand through the streets of that neighborhood, I "lazy", you "hazy". We couldn't go a couple of blocks without holding together for a while.
Yo te llevo varios años y desde que te vi supe que llegarías muy lejos en lo que te estabas proponiendo y sé muy bien que lo has logrado. A mí, como regularmente me pasa, me esperaba un viaje de cambios, ese que me ha traído al lugar definitivo en el que ahora estoy, como todos en nuestro mundo, encerrado. Salgamos o no, yo te llevo conmigo en nuestro abrazo apretado.
I have lived several years more than you, since I met you I knew that you would go very far in what you were proposing and I know today that you've achieved it. As it happens to me regularly, a journey of changes awaited me, the one that has brought me to the final place where I am now, like everyone in our world, in a lockdown. Whether we go out or not, I take you with me in our tight embrace.
---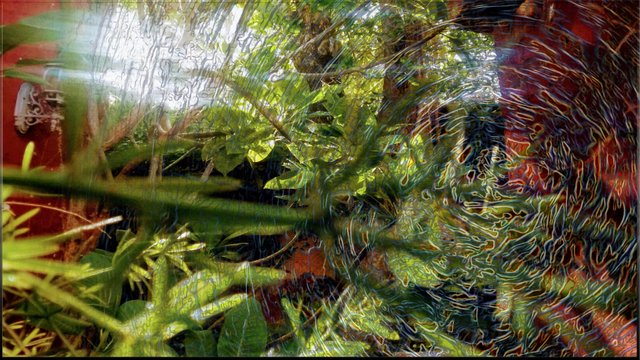 Fotografía y edición digital originales | Original photography and digital edition


@LeVeuf

Este trabajo por Miguel Ángel Canto está bajo una licencia Creative Commons Attribution-NonCommercial 4.0 International License
.