⚽ WOX FPL GW22 Update, Contest Winner and Prize Changes 🏆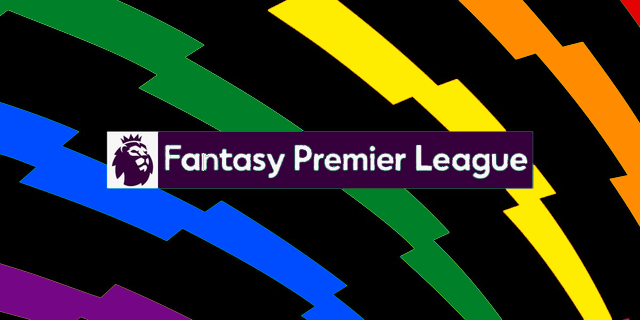 A slightly longer title than usual so that I can share a change that I'll be making to the prizes...
The changes are related to my desire to reward the players who are more engaged with the game and with the Steemit league - who take the time to update their team, read my updates and particularly comment.
The first change which will start from this post is that if you are the highest Gameweek scorer, you need to reply to this post to claim your prize which I will then transfer. This is still only eligible for teams that have officially entered and users who are actively posting and commenting on Steemit. This will prevent me from transferring STEEM to people who have left the platform or who ignore notifications from me.
The other change is that the Gameweek prizes will operate on a sliding scale, keeping at 15 STEEM for the most engaged users and reducing to 5 STEEM for those less engaged (and 10 STEEM for somewhere in the middle). Anybody complaining that they only win 5 STEEM instead of the maximum 15 will get nothing.
If a prize isn't claimed for a particular Gameweek, I might even roll some of it over to the following Gameweek (+5 per week to the pot).

Gameweek 22 Round-Up
With Ronaldo being this week's most captained player, many of us will be feeling frustrated about how the Gameweek went. Particularly those who played their free hit with the expectation that there'd be plenty of extra Double Gameweek points on offer - only for Arsenal v. Spurs and Burnley v. Watford to get called off after the deadline.
Perhaps incredibly, the top 6 top scoring teams this Gameweek hadn't entered the league and it appears that this Gameweek's top scorer has demonstrated why my new rules are required, having powered down and left the platform over 2 months ago.
Irrespective of that, @tymes2 has the opportunity to claim this week's 5 STEEM prize having scored 67 points with the following team: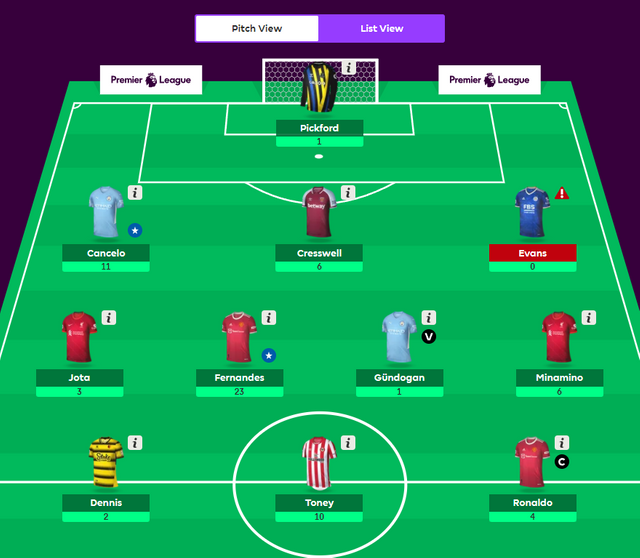 Congratulations @tymes2 - please reply to this post to claim your prize 🏆

Overall Ranking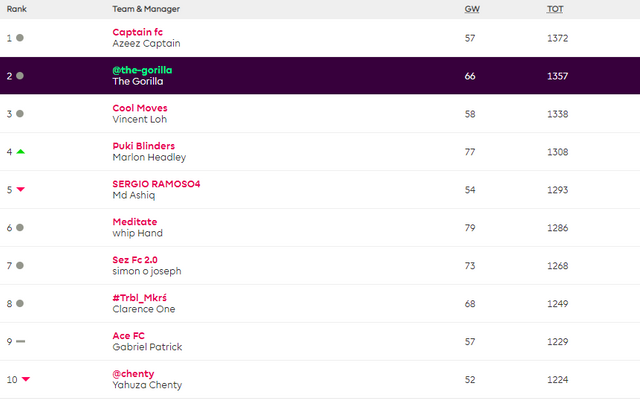 There were no changes in positions for the battle for the prizes. @captain36 continues to lead @the-gorilla with the gap reducing slightly to 15 points. @chenty still holds 3rd position in the prizes despite dropping to 10th after another random joined the league.

Head-to-Head League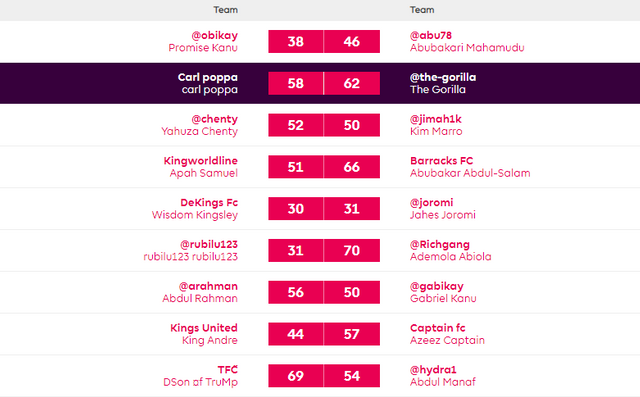 I must say that I'm a mightily relieved gorilla after Ivan Toney's last minute consolation goal gave me a narrow victory against @avagh's 9-man lineup. With league leader @captain36 comfortably beating Kings United (🤷🏼‍♂️), I wouldn't have held any hope of catching him.
With @chenty narrowly beating @jimah1k in their match-up, there's no change at the top.

@arahman is up next for the Man City of Steemit (@captain36) and we'll be seeing if @arahman's Gameweek 22 wildcard can carry through to Gameweek 23.

New Entrants Still Welcome
With 16 Gameweeks still to play and over 250 STEEM still to be won, we're still accepting new entrants to the league. Details of how to join can be found in this post.

Please Share Your Thoughts
I'm always interested in reading your views about Fantasy Sports or Sport in general either in the comments or via your own post, remembering to post in World of Xpilar and using the tag #woxsports or #woxfantasysports.
This is a sub-profile of @the-gorilla