Sliced Nativity - Sand sculpture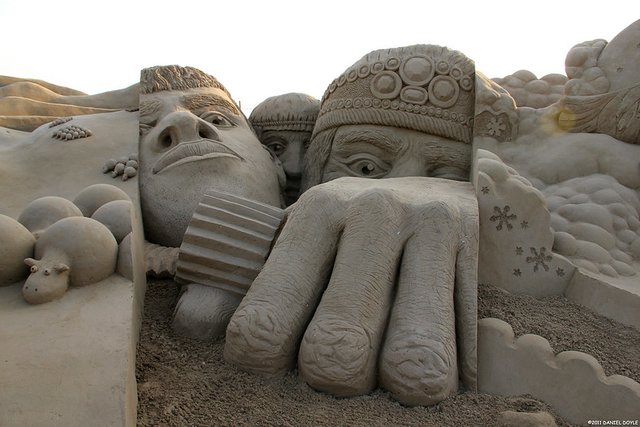 I was back in La Pineda, Catalonia for the yearly nativity sculpture and all excited by the fact that my wonderful girlfriend Clodagh would be joining us on the last few days so that we could have a little holiday in Barcelona after the work was done.
I had big plans on my mind but, this pile of sand was not it. Of course, I'm sure you're only here to find out more about the sculpture so, I will start with that just in case you feel mislead by opening my post.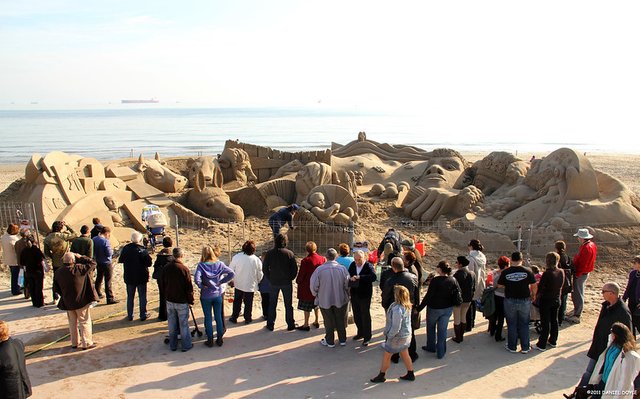 A piece of cake
It was quite an experimental nativity this year with the concept being that we would each make our own sculpture based on the characters we chose and rather than try and make them all fit together we would do the exact opposite and divide the sand pile into slices, like a big pizza or cake and each sculptor could do whatever they wanted in their piece of the pie while making sure that there was a definite line between them and their neighbour.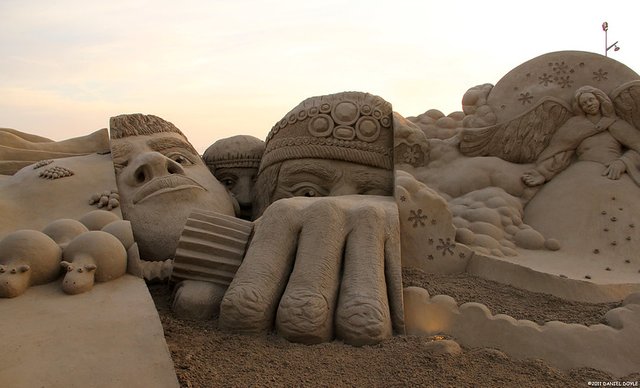 Different topping
My characters were the three kings and I was happily nestled between Bruno Macdonald and Ludo Roders. Their styles are usually quite soft and so for contrast, I wanted to be in the middle to break them up. We marked out our borderline and then each did our thing with little interaction. This was good for me as I had a lot on my mind.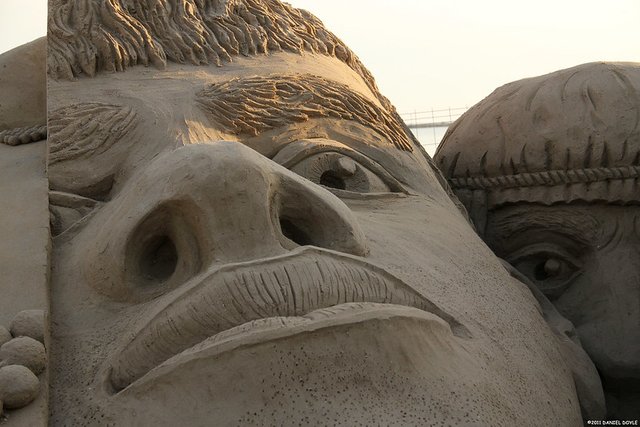 Crib's eye view
With my Kings I wanted the viewer to be seeing my work from the baby Jesus' point of view, like you were looking up at these three visitors looking down on you. I am not sure if I achieved the desired effect but it was fun trying. There was a lot of exaggerated perspectives and looking up nostrils. As I said I had other things on my mind so you will have to forgive me this one if it is not up to standard.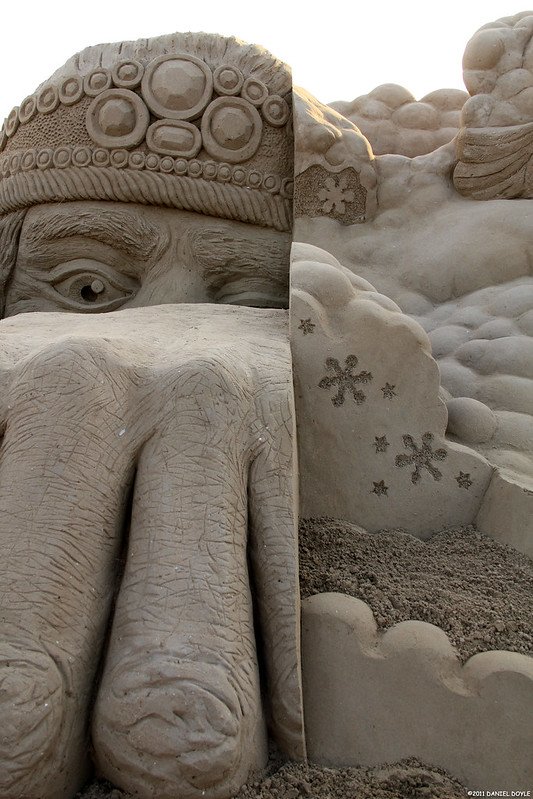 Drawing the line
What I did like is the dividing line between the sculptures. It looked like an optical illusion with the three worlds just stuck together like separate parts of photographs. The contrast in form and finish really made each one stand out from the other. Getting the lines straight was pretty difficult and in the end, it only really worked from dead-on.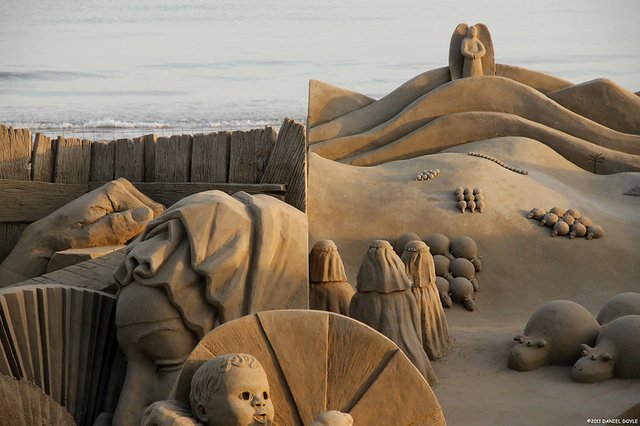 Other parts worked equally well, especially between Bruno's and Martijn Rijerse'. The baby Jesus was carved separately in his own little crib at the centre of all the pieces, to give the whole thing context. I will do another post someday with more info on the other pieces at the project.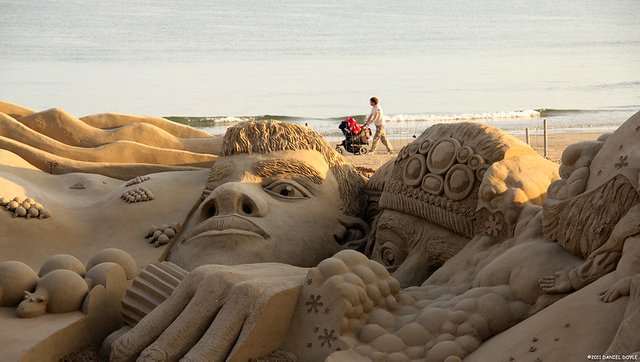 Sand family
As sculptors and friends, we have known each other since we were quite young and over the years some of us have gotten together and started families that were now being brought to projects. A new generation of sculptors being raised around the sand with new creche facilities needing to be included.
The sculpture finished up nice enough and the love of my life, Clodagh arrived from Ireland. We packed up our things and headed to Barcelona for a few days holiday.
What has this to do with sand?
When I started documenting my work. I only really wanted to write about the sculptures themselves but I soon realised that my life that was going on in the background had some bearing on the sculptures I created. As I started writing about these stories I began to look at my blog as somewhat of a memoir, something that gives a better understanding of me as a person. I understand of course that this is probably boring to many people so if are reading just for the sculpture you can stop reading now.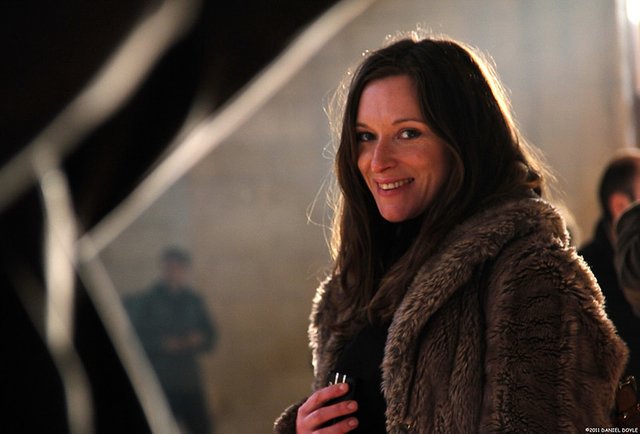 A new beginning
If you are still with me let me tell you what happened in Barcelona. Clodagh @clodaghdowning and I had been dating for a few years and as well as being the best of friends we were mad for each other.
In Barcelona, I brought her to my favourite place on earth which is Gaudi's amazing Sagrada Familia and told her I wanted to read over some lines I had written for a film with the pretext that the acoustics in the Basilica would help me get a better handle on it. Being an actress and also used to my crazy ideas Clodagh agreed.
The script revolved around two spies meeting in the church to hand over a top-secret package. During the exchange, the characters talk about how large the commitment had been to begin this building knowing that it would not be finished in their lifetime. This always intrigued me as an ephemeral sculptor. The dialogue had little hints along the way, all pointing towards how important this package was to the spies.
My character was the one with the package and he was reticent to give it away too easily until he was sure she wanted it for the same reasons as he did.
Finally, the conversation drew to an end and I was ready to hand it over but just as I did Clodagh was to tell me my shoelace was open. I knelt down to tie it and broke out of character. I said now that I'm down here I wanted to ask you something.
This part, I hadn't scripted and in a not very well prepared way, I said 'Clodagh I've been thinking pause... I don't want to be your boyfriend anymore pause...I want to be your husband, will you marry me.
We were both laughing and crying so much I can't actually remember her answer but I took it as a yes.
A ring was given, although it didn't fit. It was a token one I picked up from a jeweller in Holland. Although I did try to judge her size I was way off. Anyway, I knew I wanted to get her a proper one and do it together.
In the amazing space of this wonderful sculpture by Gaudi, with the rainbow light streaming through the tree-like columns from the stained glass my life was set on a new and exciting journey with this amazing lady by my side.
We are eight years married and now have a wonderful little boy who is the fruit of our love.