Steemit.com vs. hive.blog | who is stronger?
---
It's time to compare Steemit to Hive again. How did the websites develop?
Es ist wieder an der Zeit Steemit mit Hive zu vergleichen. Wie haben sich die Websites entwickelt?
Data are summarized and expressed in a single KPI for both sites.
Hier werden Daten zusammengefasst und in einem einzigen KPI für beide Websites ausgedrückt.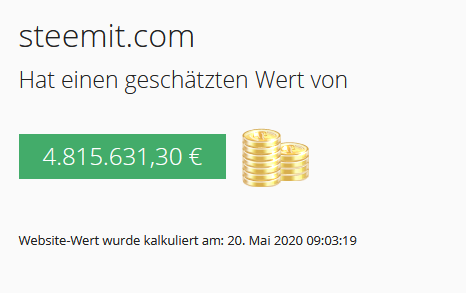 This value is a summary indicator of the general visibility of steemit.com
Dieser Wert ist ein zusammenfassender Indikator für die allgemeine Sichtbarkeit von steemit.com
---


It is interesting to see the development of the MOZ values for the authorities, both the domain authority and the authority of the homepage
Interessant ist die Entwicklung der MOZ-Werte für die Autoritäten, sowohl der Domain-Autorität als auch der Autorität der Startseite
---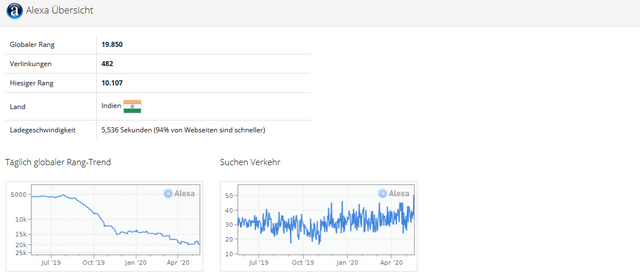 Steemit's traffic has dropped somewhat. The Alexa trend is currently pointing down.
Der Traffic von Steemit ist etwas eingebrochen. Der Alexa-Trend zeigt aktuell nach unten.
---
Kommen wir zu Hive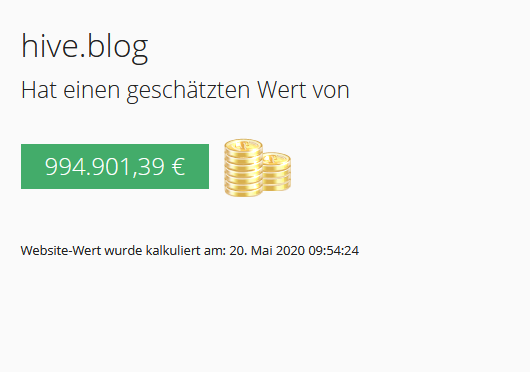 The value for Hive has increased. This is usually the case with new websites.
Der Wert für Hive hat zugelegt. Bei neuen Websites ist das meistens so.
---


The MOZ data are disappointing for HIVE. In terms of authority, Steemit is much stronger. Here I also have to emphasize that the values for website and domain authority are only increasing very slowly. The time factor plays an important role.
Die MOZ Daten sind für HIVE enttäuschend. In Sachen Autoriät ist Steemit wesentlich stärker. Hier muss ich aber auch betonen, dass gerade die Werte für die Website- und Domain-Autoriät nur sehr langsam steigen. Der Faktor Zeit spielt hier eine wesentliche Rolle.
---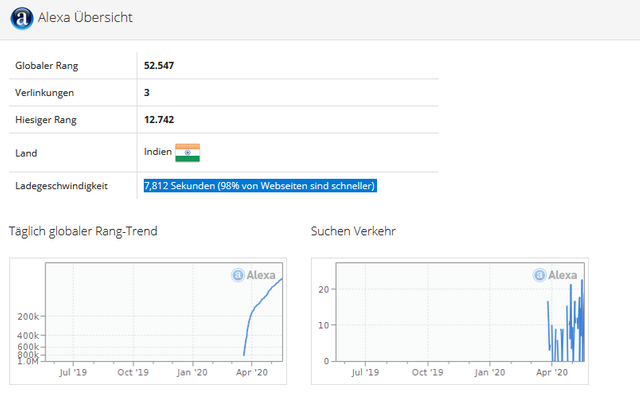 I was surprised at the traffic. I would have guessed that HIVE is stronger here than Steemit. The curve is steeply up, but the actual Alexa rank is much worse than that of Steemit. Alexa lists Hive at world rank 52,547 and Steemit at 19,850.
Beim Traffic war ich überrascht. Ich hätte vermutet, dass HIVE hier stärker ist als Steemit. Die Kurve von Hive zeigt zwar steil nach oben, aber der tatsächliche Alexa-Rank ist wesentlich schlechter als der von Steemit. Alexa listet Hive auf Weltrang Nr. 52.547 und Steemit auf Rang 19.850.
In summary, Steemit is still the class leader and Hive seems to lack the trust of search engines. Trust is a very important criterion in SEO and, of course, in marketing.
Zusammenfassend kann ich sagen, Steemit ist immer noch der Klassen-Primus und Hive fehlt scheinbar das Vertrauen der Suchmaschinen. Vertrauen ist in der SEO und damit natürlich auch im Marketing ein sehr wichtiges Kriterium.
| STEEMIT | HIVE |
| --- | --- |
| | |
I don't understand why this post is shown in ART, I wrote it in my blog.