Art and Creativity: The Need to Make "Tourist Trinkets?"
Most of the time, the work I do is incredibly intricate, detailed and time consuming.
One might debate the extent to which it actually constitutes art; the "Art vs. Craft" debate is pretty old. I don't really care very much... this is my creative expression.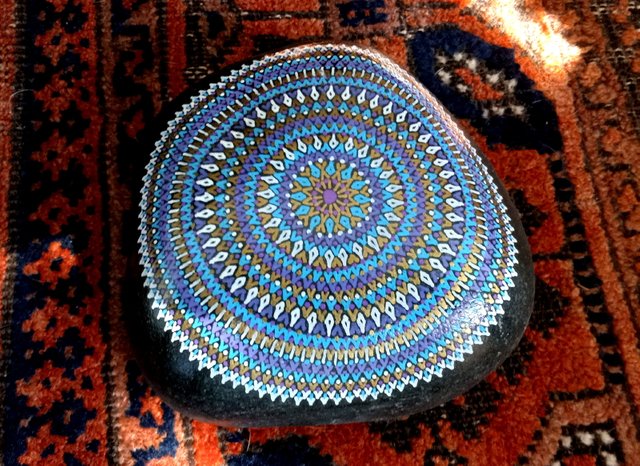 One of my large mandala stones. Takes about 40-50 hours, from start to finish. Price, typically in the $200-$275, depending on complexity.
Of course, most artists like to also sell their works.
One of the things I do with Alchemy Stones is set up a vendor booth at arts and crafts fairs, juried art shows, renaissance fairs and other events.
The pervasive challenge is to actually make the sales. After all, the booth is not free, sometimes it cost as much as US $200.00 for a weekend, just to participate.
Not that many people are likely to spend $225.00 for a painted stone... as the one in the main photo would set you back. Keep in mind that I probably have 40-50 hours of work in it, so if you break that down, I'm paying myself $4-5 an hour. You get paid $8 an hour as a "junior burger flipper" at a fast food restaurant.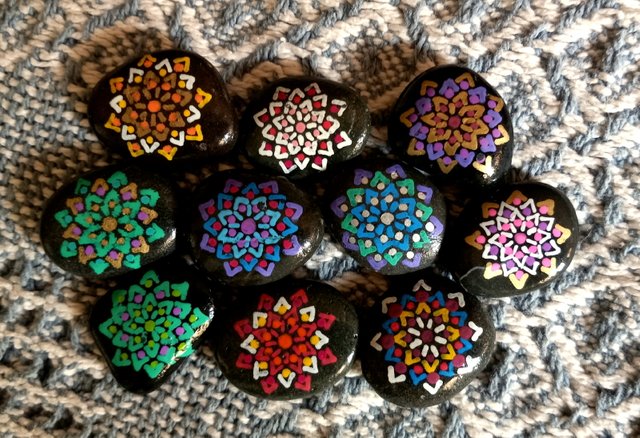 Tiny versions; about 20mm or 3/4" across. Still entirely hand painted. Price: $5 each
Anyway, to make sure that we do make a fair number of sales so we can at least pay for our booths... I do make a number of "small trinkets" that sell for $4.00-$8.00.
Is that what we call "selling out?" Or is it merely a necessity, in order to make being creative more or less "self-funding?"
I think it's the latter, but not everyone agrees. What do YOU think?
Thanks for stopping by and looking at my post!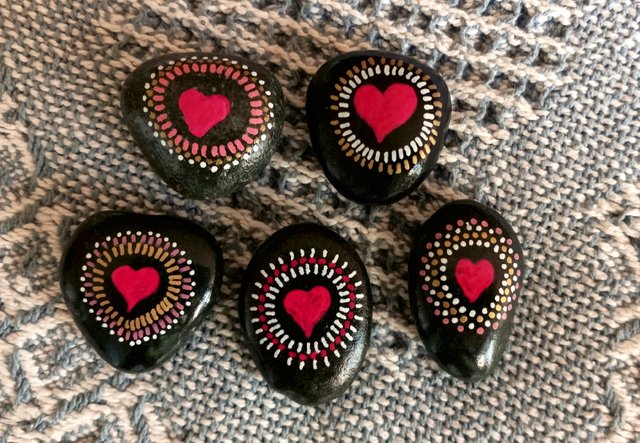 The "pocket hearts" are also completely hand painted, and were created specifically for shows. They are $6 each and ironically the best-selling thing I make.
Thank you for supporting independent art!
Because I am trying to make some semblance of income — a living, even — I now add this footer to all my posts, in the hope that someone, somewhere, might decide to take a further look at my work, and perhaps consider supporting independent art.
My Alchemy Stones Patreon appeal, as little as US $1.00 makes a difference!
Alchemy Stones web site and blog
Of course, your upvote is also greatly appreciated, and it doesn't COST you anything!