Introducing Membership Levels System of Steem Infinity Zone
Steem Infinity Zone community is a community that is formed with the vision "To Educate and Empower People on Steemit without Limits". Now there will be a new labeling system SIZ is announcing that is SP level system of members. We are doing this to have clear view of our members steem power levels which will indicate their seriousness towards building their SP.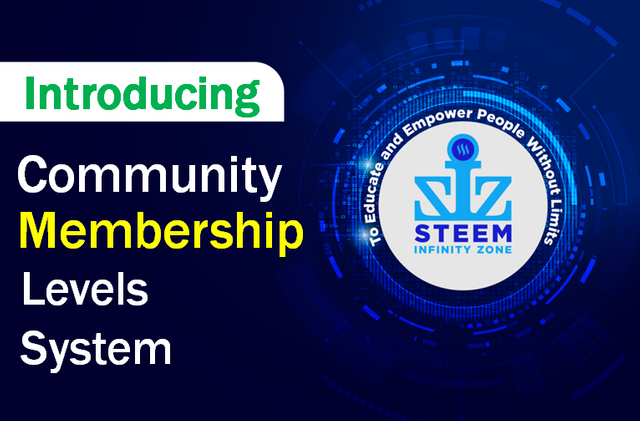 The main reason for promoting this labeling system at the SP level is to encourage the members to power up and invest in steem. In this way, the steem ecosystem will become stronger as well as their own account.
Our more concentration will be towards those members who are continuously powering up, participating in #spud4steem, and encouraging others to do so and have the maximum level .

Membership Levels Label
We will be giving membership labels at 3 levels according to below mentioned criteria.
| Labels | criteria |
| --- | --- |
| SP Level 1 | Steem Power 100-500 |
| SP Level 2 | Steem Power 500-1999 |
| SP Level 3 | Steem Power 2000 and above |
---
You will not get any membership label if you have not even powered up and have steem power less than 100 SP. So power up and increase your level and delegate us and get better chance of getting voting support and get a 200% curation reward.

This label only applies to members who have a commitment to power up and if a person is powering down then the label would be removed to null. Steem infinity zone's official account siz-official has itself powered up 11,429.165 STEEM and have 13,165.56 SP.
We are inviting you to power up and delegate us and get 200% curation rewards. It's the highest curation reward a community is giving to its delegators in the entire steemit platform.

Delegate to @siz-official and Receive up to 200% Curation Rewards
Quick Delegation to SIZ
50
100
200
300
400
500
1000
2000
3000
4000
5000
10000

Let's add value to make A Better Steem Ecosystem for everyone

Steem Infinity Zone Team
@cryptokraze | @vvarishayy | @suboohi | @arie.steem | @qasimwaqar

Click Here to Join Official SIZ Discord Channel