Appreciating SIZ Staff Efforts | Moderators Salaries Payout Structure
Greetings to Everyone!!
Steem Infinity Zone was established about 6 months ago with the vision to educate and empower people on steemit. We are extremely happy and proud to reach among the Top communities in short span of time and greatly thankful to our loyal and active members who played vital role in making SIZ an active community. At the same time, we are much thankful to steemit team for recognizing and support our community.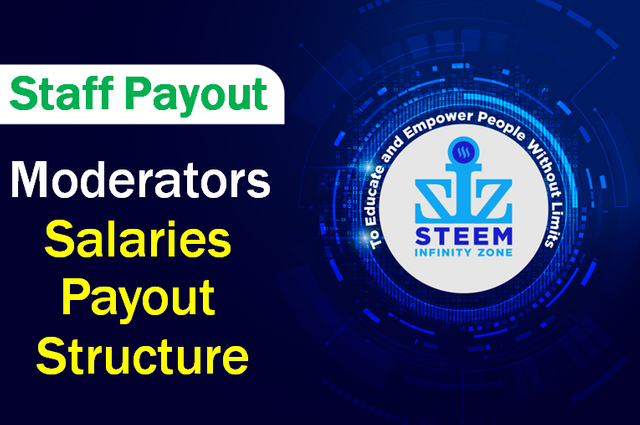 We must say that it was not an easy journey and it took time, efforts and dedication from many members, specially the SIZ Staff. We are lucky to have few of the great people in our Staff Team who have given their heart and soul to make this community better and improved. We have been providing little rewards to the moderators but it is the time to make it official and appreciate their efforts by providing SIZ Staff with Salaries.

Special Mention to SIZ Staff
We would like to mention @vvarishayy who joined as 1st and only moderator of SIZ and made great contributions to make sure that community get a good start. Then @suboohi joined SIZ as 2nd moderator and has made great contributions without any demand, specially towards community contests management and engagement handling.
In last month, we have two new people joined in SIZ Staff @ashkhan and @faran-nabeel who got these spots through their active contribution and dedication towards community. They are doing great work and proved their worth to be among SIZ Staff.

SIZ Moderators Salaries Payout Structure
We have decided to appreciate the hardwork of SIZ Moderators by providing them monthly salaries. The following payout structure will be followed to pay the salaries and it is formed according to the tasks being performed by the moderators. The salaries will be transferred to Moderators wallets on 15th of every month from Official Community Account.
These salary payout structure is not fixed and can vary according to support received to community and steem price fluctuation. We will try our best to provide these salaries to the staff members every month

Steem Infinity Zone has always been trying to make a better steem ecosystem as we have done through our various projects. We hope that Steemit team will appreciate this initiative of formalizing the payout structure of Staff salaries as this will make SIZ even more professional community.

You can delegate your SP to @siz-official and take benefit of our Delegation Rewards Offer of getting up to 200% Curation Rewards
You can also use these quick delegation links. Just click on the desired amount of SP you want to delegate and it will be done in process of 1 minute.
Quick Delegation to SIZ
50 100 200 300 400 500 1000
2000 3000 4000 5000 10000

Steem Infinity Zone Team
@cryptokraze | @vvarishayy | @suboohi | @ashkhan | @faran-nabeel
CC: @steemcurator01

Click Here to Join Official SIZ Discord Channel