Steemit Engagement Challenge S6/W1: list the outdoor games from your childhood, which are not world famous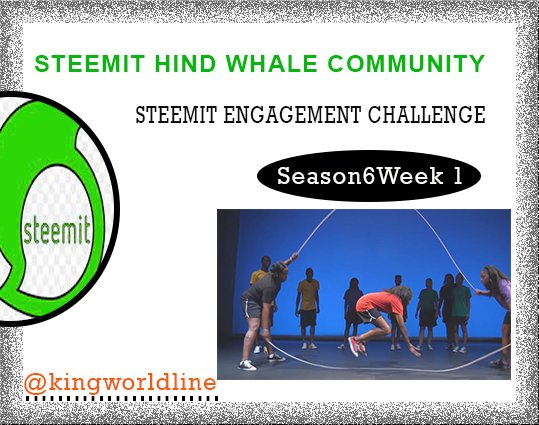 When we're young, we have the chance to explore a variety of outdoor leisure activities, and although we initially dismiss them as childish amusement, as adults we come to understand that these interactions help us to retain memories. We forget friendships that will last a lifetime with the people we play with and learn new skills with.
Playing outside helps us connect with the natural world. I often claim that my childhood was the happiest time of my life, and because of this, I have cherished recollections of playing with my relatives and friends as a child. Because of how magical my childhood was, I've come to realize that kids don't need to interact with technology to engage in enjoyable activities. By playing simple games like chasing a ball or building miniature mud huts, we can all have the most fantastic experiences of our lives, and when we think back on them, we instantly smile.
My early years were straightforward but exciting and colorful. In my case, there are several games that I played as a child, and as I reflect on their significance in my life and the memories they evoke, I'm saddened to realize that today's youth cannot relate to those games because they are enmeshed in technology and base their entertainment on virtual reality. Despite this, whenever a child is within my grasp, I usually chat to them about the classic games I played as a child in an effort to show them that they are not forgotten and that they might even be saved. This time, I'll talk about four games that were important to my childhood enjoyment.

1. The game of cashews

The ability to roast the cashews after collecting them makes this game quite intriguing. Although the game is straightforward, some concentration is needed.
There are at least two players in the game. The participants contribute a set quantity of cashew nuts, which are then placed inside a circle that has been created. They will then put some space between themselves and the circle before using the nuts to aim for the cashew nuts there. You have won if you target someone and they leave the circle. They continue doing it in this manner until the circle is cleared of all cashews.

2. Rope jumps

We only need the rope to play this game; nothing else is required.
The object of the game is to avoid getting tangled up in the rope when it passes through our feet. If that fails, it must not touch anything on our bodies either, as that would mean that we lose.
Consider the following: If this game is played individually, the player is in charge of spinning the rope. However, if three people are playing, two of them will spin the rope, and the third will be in the center to jump while they are spinning it. If the third person becomes tangled in the rope, they must allow another player to take their turn.
Jumping rope requires that you be in a roomy area with solid pavement, no objects that could interfere with the rope's turn, and no other elements.
It is important to note that, in addition to being enjoyable, this game also develops our physical stamina; in fact, it is used in various sports.
Personally, I really liked this game since I would get together with my friends and relatives to jump rope and have fun for a bit after finishing my homework.

3.The Rubber Band Game

The rubber band game is one of the childhood games that I think to be really fascinating. A minimum of two players are required for the game to be played. Everyone who wants to participate in this game needs a rubber band.
Those involved begin throwing the rubber bands on the ground one at a time to play. When someone throws their rubber band and it touches another rubber band, they are said to have won the game. He or she will thus pack every rubber band that is currently on the ground because that is what he or she has won.

4.The Marble Game

There is no limit to the number of players in this straightforward game. Other variations of this straightforward game include poking a hole with the heel of the foot, inserting a marble into the hole, and then counting how many times we can successfully pull the marble out again. Whoever gets the marble first earns one point. Depending on luck, the loser may be penalized by dropping a marble onto the losing opponent's hand. It barely aches, yet it hurts a little. The same thing is analogous to a box containing the agreed-upon number of marbles from the player and the opponent, which may be five or 10 apiece. It belongs to the team that successfully removes the marbles from the circle.

Conclusion

As a result of staying active, outdoor games during our youth not only help us recreate ourselves but also keep a healthy condition of physical health. In a similar vein, playing outside gives us a chance to engage with nature; as such, I think it's a great way to approach it. Playing these games gave me a lot of joy when I was a kid, and even though I'm an adult now, I wouldn't hesitate to do so again if I had the chance.
I invite you to participate in the Steemit Engagement Challenge before we part ways. Week 1 of Season 6 - to @obikay @buckyi4u, @davchi @gabikay and @gabikay.
Thanks for reading.