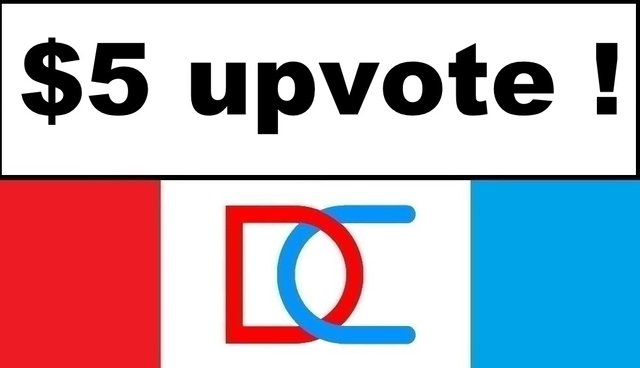 I'm @clixmoney the founder of @dcooperation !
I'm working hard to make @dcooperation always active and to never give up on this project.
---
I think if I will keep pushing, someday the community will be active anyway.
For now I'm supporting with the account more than 160 steemians and I will support even more ! I don't have time for manual curation always, that's why to make the account always active, I'm adding more and more steemians to he autoupvote list. But, I curate when I have time anyway to attract some new members.
I'm also a curator of @tipu and I can give up to $5 upvotes a day !
---

That means I can give 5 upvotes $1 each. Or up to $5 per one upvote if I'll comment with ''@tipu curate 5'' any post I want !
I usualy curate with that the new page in steemit, but I will also check if someone is creating our community or not. For now I see only @cryptokannon active there and that's why I'm giving her one 100% upvote every single day from @dcooperation and when I see her post not doing well, I give her a @tipu upvote. Sometimes even if she will post there and I see her active, I will give her the @tipu upvote anyway ! I'm really thankful to her because she's active in the community I'm building.
But, I would like to see more people active in our community. @dcooperation accept any type of content, the most important is to that content to be original. You can create a video on youtube and share it there, any pictures, any type of writing is accepted. I need the community in the top here : https://beta.steemit.com/communities That will help us to be noticed by more people to help us build this. You can create in our community at least once a week, or everyday, as you want. I check new posts there every single day !
There is also an other way to get the upvote from @tipu from me :
---
Sometimes I don't really have time to curate and I just give the upvotes to a random steemians or not upvote at all. So, if you are sure about your content, that's original and well formated, just join our discord server, tag me in the channel ''get-un-upvote'' and if I'll be online I will try to not miss you and give you that upvote. Or just create in our community and I will notice that anyway !
I'm setting this account completely to support steemians. I'm not even upvoting myself with it. Please help me to build this project and it maybe really something big in the future, where we will be able to give more rewards to steemians who deserve it.
You can always mention steemians who need some support and I will add them to the autoupvote list.
Also if you need to create a new steem account for free, for someone you invited, let me know about that !
---
DCooperation can create up to 2 free Steem accounts a day !

---
Feel free to follow our curation trail and to delegate to us some power to support. You can also donate any amount of steem, we will use it to power up the account.
Please subscribe on our community here and get an autoupvote : https://beta.steemit.com/trending/hive-177976
For more details about how our community will work : check this post
---
Promore your content to over 16,000 members in our facebook group !
We are in touch with @helpie and you may get support from them as well. In case your post is related somehow with promoting steem, we ask to use #promo-steem tag and you may get un upvote from @theycallmedan or @oracle-d.
All the earning of this post will go to power up our account ! We will never power down !