Binance Smart Chain is a Great Place to BUIDL: CUB growing wings for a Flight!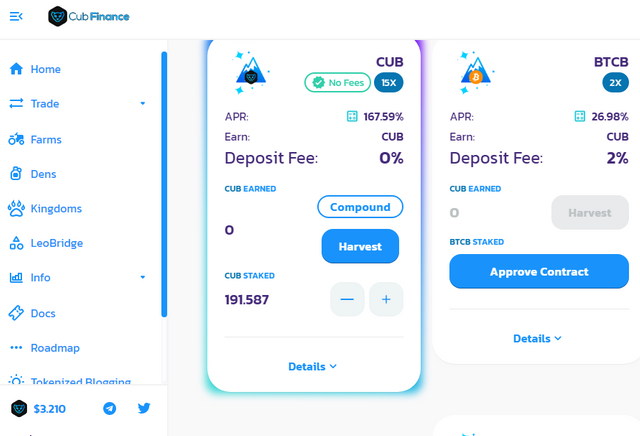 In a few hours, CubDeFi will be one month and I'm glad I can tell the story surrounding it's birth to it's present status in the cryptosphere. Just like yesterday, $CUB would be a month old yet, so far pooled a great affluence in the crypto space with awesome stats as follows:
Total CUB Supply: 1,581,362
Market Cap: $5,048,480
Total CUB Burned: 178,893
Total Value Locked (TVL) across all Farms and Pools: $16,268,549.31
The supply had long halved and we're preparing for a price activation to it's real value around $10 and more. I can tell how $LEO evolved from March 2021 after Hive fork and how the developments gave a facelift to the token to it's present $1 price and over $6million Market Cap.
Today, I am excited to have added 12 more CUB tokens to the CUB den bringing my total volume staked to 191 $CUB. Of all the feature in the CubDeFi, the atomic swap is my best take and it's seamless swapping LEO from Hive blockchain to CUB on Binance Smart Chain in less than a minute. This already gives a beautiful picture of how #Leobridge would make blockchain collaoration a lot more easy and seamless.
Turning 40 LEO to CUB and adding all the CUB swapped plus my initial balance farmed to the pool was an exciting move especially as I met CUB at a cheap rate of $3 each. That has been my recent moves to reinvest my earned LEO (from curation and content creation). Moving from Hive to Binance Smart Chain via CubDeFi is an experience every digital asset holder should have.
Every one earning LEO should understand the strategic place that CUB holds in the LeoFinance ecosystem and the roles it would play in governance as well as other developments that are coming into the LeoFinance ecosystem. For that, owning CUB should be a must and wrapping your LEO to bLEO should be a regular activity while CUB remains this cheap.
While I shared how I was staking then about 100 CUB in the Cub Den, many queries how long the 1,000x plus ROI would remain. Glad, it's going down as informed but yet 167% ROI is a very decent one to risk. My target is to hold at least 500 CUB before the activation season comes for the token and we begin top see a double digit price.