WHY YOU SHOULD CONSIDER supporting project.hope with delegation [100% dividents payout]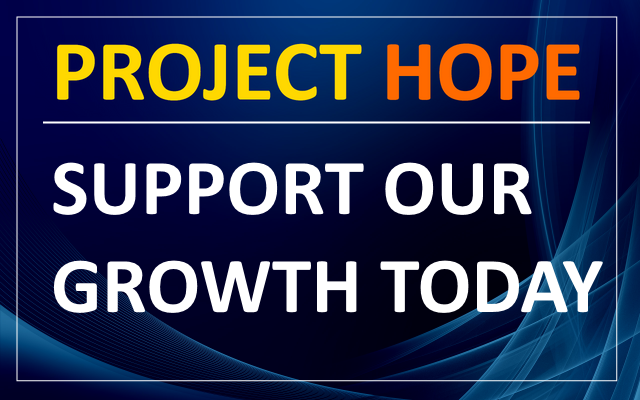 INTRODUCTION

Many of you, dear readers, are already familiar with Project.hope community existing here on Steemit (link here) and is quite aware of our history and goals we constantly pursue. We've been around on Steemit for over 3 years and during that time our community had some ups and downs. Within those years - we've tried to build our presence on Steem and HIVE blockchain just to decide to focus on one platform: Steemit itself.
And today we would like to share few basic details about our community, in hope that it would allow us to attract more supporters and delegators.
WHO ARE WE ? And what Project.hope is about?

We're one of thousands communities launched on Steem blockchain. And one of our biggest achievement is the fact that we're consistent. While most communities disappear after a while, PH have managed to be around and for over 3 years. Helping many new users to grow their accounts (as long as they posted on topics related to our community).
I think it is crutial to remind what kind of topics that are close to our hearts:
crypto, technology, blockchain, artificial intelligence,
economy, business, investing, trading,
marketing, psychology, etc.
Those of you who may like to learn in more details about project.hope shall check out links listed below at the end of this post.
WHY are we seeking more delegations?

We would like to be able to support quality content (related to topics listed above) created by more users. Our goal is to be able to upvote more publications posted within Project.hope community. In order to be able to achieve it - we simply need more voting power.
Otherwise we may be limited to currently supported authors.
It is important to point out that we DO NOT sell votes and our moderators are following process of manual curation.
CONSIDER SUPPORTING OUR EFFORTS with small delegation [100% dividents payout]

Perhaps some of you are to busy to carry on with manual curation and are considering delegating part of your STEEM POWER to project, which you will find valuable. While enjoying solid weekly payouts (dividents) being transfered to your wallet?
Hopefully our goals and proven 3 years of existance is enough to convince you that supporting our efforts with small delegation (even as little as 500 SP) is a good idea.
You can do it by using steemworld.org or directly by clicking on link:
https://steemlogin.com/sign/delegateVestingShares?delegatee=project.hope&vesting_shares=500%20SP
We provide all delegators with weekly dividents (100% rewards from manual curation)
Every weekend we're transfering dividents to all delegators. We may not be able to compete with projects selling their votes, but our manual curation does actually bring value to STEEM blockchain.
Currently we're providing all delegators with 100% of received curation rewards (approx 11% APR). Which I believe is still a solid offer worth considering.
ANY QUESTIONS?


If you have any questions then please drop a comment below or join our discord server where @crypto.piotr will greet you and will be there to provide required answers.
RESTEEM if possible


We would obviously appreciate every single resteem. Hopefully it will help us reach wider audience and attract more quality traffic.
Thank you :)

SOME VALUABLE LINKS:
Link to 500 SP delegation: https://steemlogin.com/sign/delegateVestingShares?delegatee=project.hope&vesting_shares=500%20SP
What does it mean to delegate your SP: https://steemit.com/hive-175254/@josevas217/let-s-talk-about-steem-power-delegations
Our community on Steemit: https://steemit.com/trending/hive-175254
Our discord server: https://discord.gg/uWMJTaW
More details about Project.hope: https://steemit.com/hive-175254/@project.hope/project-hope-economy-explained-2021