Project hope internal ANTI-PLAGIARISM department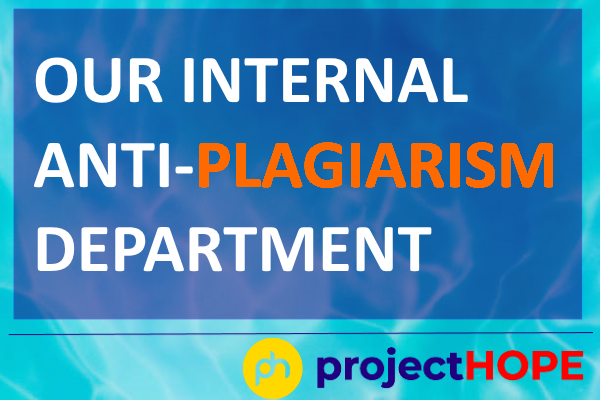 INTRODUCTION

Just 2 months ago we had to say "good-bye" to 2 users, who commites such a "crime" and I wrote about it in post called DIFFICULT DECISION.
Unfortunateely, it has been brought to my attention, that some new users within our community are commiting so called "post spinning" and plagiarism. I really dislike ending up in this position and feeling that I'm forced to do something about it. It's not a pleasent place to be.
INTERNAL ANTI-PLAGIARISM DEPARTMENT

Together with @gbanga and @juanmolina we've decided to create our PH internal anti-plagiarism department. Gbenga (many of you know this user already) will be in charge of this particular unit and I will be there with Juan mostly to assist him and to make difficult decisions.
I would like ALL of you, dear readers, to go throguht his latest post "Big Brother is Watching You - My Guideline to Not being Tagged a Content Thief" and read it carefully.
IMPORTANT REQUEST

This is very important for every member of our community to be educated and fully aware, that we cannot support content which is considered "stolen". Setting up link to source (original post) doesn't really change much in my opinion. Especially if content is simply copied + pasted.
In that case rejecting payout should be a MUST. And I don't think I should be the one "teaching" any of us how to behave, and that claiming financial benefits for work done by someone else is absolutely wrong. And it will not be tolerated.
So I would need to ask EVERY SINGLE ONE OF YOU to write a comment below:
"I fully understand, that plagiarism and post spinning isn't tolerated within Project Hope community and I will refer from doing so".
WHAT WILL HAPPEN IF YOU GET CAUGHT

In case if any of you would commit such an action and would get caught, PH will not be punishing and pursuing such a user. You won't receive downvote. However our support with come most likely to COMPLETE STOP.
That's just simple as that. I will request such a user not to post within Project Hope. Your plagiarized posts will be MUTED within our community and we will (hopefully) say peaceful good-bye to each other.
Obviously, we may consider giving "another chance" to such a user, based on his/hers performance and level of engagement within community. I believe that there may be some users, who are worth fighting for and educating.
BOTTOM LINE

However bottom line is simple: WE WILL NOT SUPPORT PLAGIARISED CONTENT and if anyone want to use other people's work - then please DENY YOUR PAYOUT while posting your publication. This is simply not way to go.
So please, read post by @gbanga and mostly read part "IMPORTANT REQUEST" above.
Link: https://steemit.com/hive-175254/@gbenga/big-brother-is-watching-you-my-guideline-to-not-being-tagged-a-content-thief
Yours, @crypto.Piotr
@project.hope founder