ARE YOU MINING RBS (RobiniaSwap) tokens? Do not sell it. DO THIS INSTEAD ....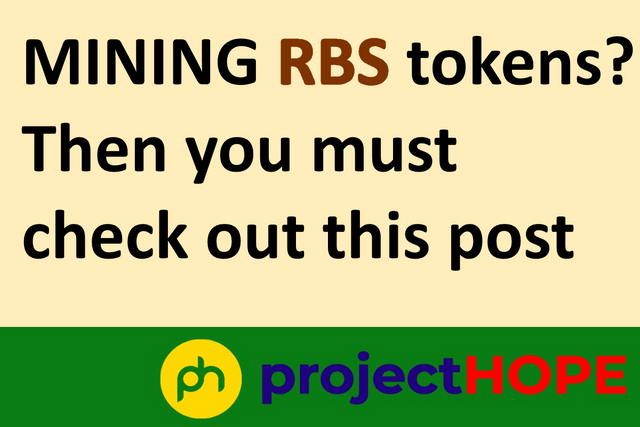 INTRODUCTION

My assumption is that most of those who will end up reading this post are well aware of the recent launch of RobiniaSwap and the partnership between their team and our Project.hope community. The majority of you were probably also involved in the process of mining RBS tokens. If you're one of those people, then I would appreciate it if you would go through this publication, share your thoughts and resteem it (to help us reach a wider audience).
MINTED RBS TOKENS

Some of you may have sold part of those minted tokens. Especially within the first days, while RBS price has been quite high and APR was very encouraging. Those days are "long gone". Perhaps it is a small exaggeration since the launch only took place over a week ago. But the truth is, the price of RBS is already almost at its lowest since the project started. And APR offered to miners is also much lower than it was just 10 days ago.
And the reason behind it is quite simple: some miners were dumping all minted tokens, which resulted in creating a growing selling pressure. I also did my part by selling some of them before I decided to do something else. Something, which I hope more people will follow, especially after reading this short post.
DO NOT SELL. Mint even more RBS instead ...

The truth is that APR offered to miners within the first one week has been insane. The amount of RBS tokens that were distributed between all miners was also very high. Which resulted in the presence of heavy selling pressure.
Right now, the amount of daily minted and redistributed RBS tokens are already way lower and the price seems to be reaching the bottom - at least it does seem to stabilize itself at the current level.
This post is to encourage all those of you, dear readers, who are participating in the process and are supporting efforts behind RobiniaSwap's team to AVOID DUMPING those minted RBS tokens.
Let's reduce selling pressure by STAKING our RBS tokens instead.
Currently, almost all of the entire Project.hope core team are working hard to help bring in more traffic and exposure to the RobiniaSwap project and we're all hoping that the price of RBS tokens will increase in the future. So, it greatly depends on us (miners and "early adopters") if this project will have a chance to flourish or receive more traction. Reducing selling pressure should be one of our main priorities at this stage.
HOW TO STAKE RBS TOKENS?

I found it quite easy to do. In a nutshell, all you need to do is visit https://robiniaswap.com/ website, go to "pool" and stake your RBS rewards. The one you harvested from staking bSteem earlier on.
It is similar to the way you've staked your bSteem tokens earlier on.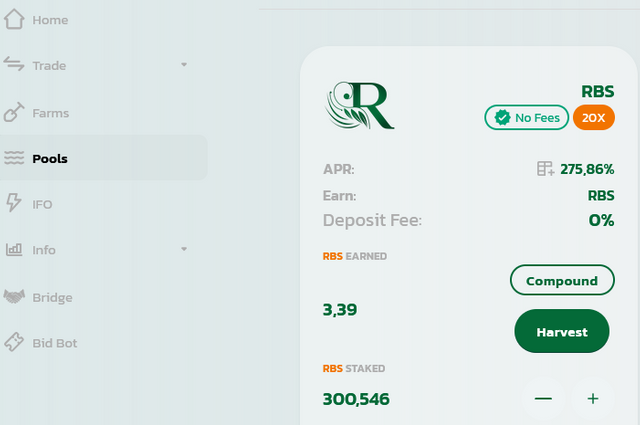 If you would like to read a more detailed guide, then allow me to recommend this publication by @josevas217: Reinvesting our profits in RobiniaSwap
RESTEEM if you can and join our ROBINIA Discord server

I would obviously appreciate every valuable comment and each resteem.
Also if you're not part of RobiniaSwap Discord server, then consider joining it.
Link: https://discord.gg/z87MaKWd
(I'm one of the members behind the "support group" and I will gladly help you out and reply to all your questions - assuming you would have any).
Yours, @crypto.Piotr
Project.hope community founder