JOIN my newest crypto QUIZ TODAY [for crypto maniacs only]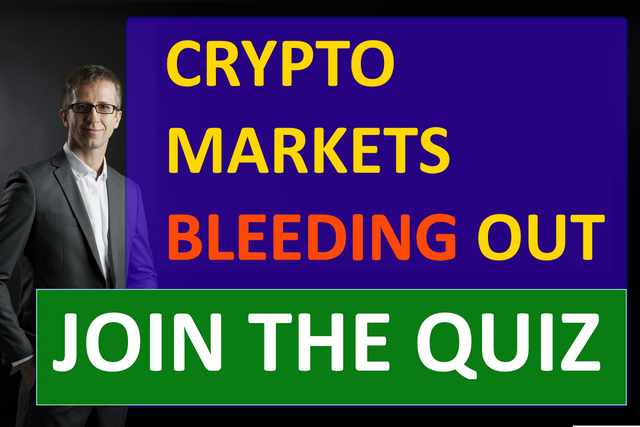 INTRODUCTION

This has been so far an interesting week. Pretty much all markets around the world turned into a bloodbath and crypto space was no exception. Bitcoin fell down all the way from 64k USD to 31k USD. Around 50% drop.
For many people, this situation seems to be a tragedy. Fear seems to replace greed. Almost with a blink of an eye.
And yesterday I had a talk about this topic with a few of our Project.hope members, just to realize that only some of them see the current crash as an opportunity. And most seem to be worried and seriously concerned.
My dear friend @ramsesuchiha even admitted "the truth is I am quite worried about that, it will be another 2018?
I personally would rather compare current times to 2017.
However, his question prompted me to organize some small QUIZ TODAY. And I hope I got you curious and interested already :)
My own "2 cents"...

Before I will explain the rules of our quiz, please allow me to share my personal view on the current crypto market condition:
it's almost the middle of 2021 and this is the first serious correction. The market was already very unhealthy. Driven greatly by the greed of many new investors who get scared easily. Such corrections are necessary and I consider it to be very healthy. After all, no markets can go forever ONLY UP.
RULES OF QUIZ

The goal of this quiz is quite simple and straightforward: I hope that it will reduce fear of some of you once you will look at the "market bigger picture" instead of focusing greatly only on the current deep correction.
Part 1) YEAR 2017
I would need to ask each one of you, to do some research and find out how many deep corrections (30% or more) did we encounter within the entire year of 2017.
And list them all (by mentioning how many % markets plummeted and what month did it happened).
Part 2) YEAR 2021
How many corrections deeper than 30% had happened in crypto markets so far in 2021? Including the current one. And in what month did those corrections took place?
What can you win?
5 randomly chosen people, who provide correct answers will be rewarded with 10 steem each (on the day of post payout).
Also, all the most valuable feedbacks will receive a 10-20k SP upvote on such a comment.
Side note:
Please drop a comment below, explaining how do you feel about current market conditions. I read and I appreciate all the valuable feedback.
who can participate?
Everyone is welcomed to join the following quiz. The only condition is that those who participate need to have at least 10 published posts and min. 100 comments so far (that is to reduce the number of fake accounts joining the fun).
RESTEEM please

I would appreciate every resteem, as it will help me reach out to the wider audience.
Yours, @crypto.piotr
@project.hope founder
check out our community: https://steemit.com/trending/hive-175254