ARE YOU WORRIED about the potential collapse of BINANCE?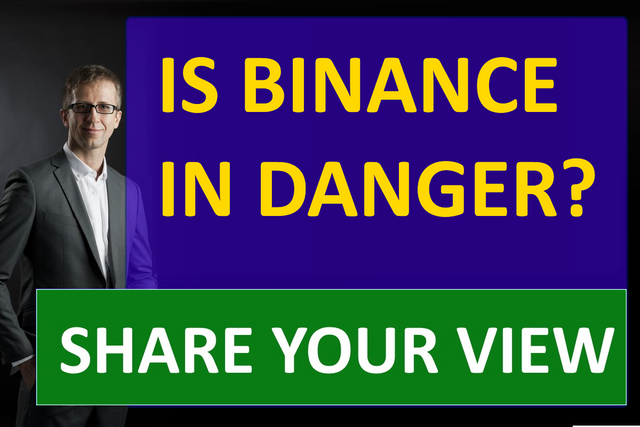 INTRODUCTION?

Today, I would like to focus on receiving your feedback on one particular topic: the upcoming future of Binance exchange. Are you fearful or calm about its future?
Recently, we have all witnessed the collapse of FTX crypto exchange, which caused many investors to lose their funds, resulting in a devastating effect on the crypto market. Following that event, tons of attention has also been directed towards Binance, an exchange which is much larger than FTX and not really much more transparent with their reserves and liabilities.
The other day CZ (Ceo of Binance) has been "grilled" during his interview in CNBC to the point that entire crypto market dropped again from $18k all the way down to $16k. Have you seen that interview? It did look quite embarrasing for CZ and there were moments where he sounded like a person who desperately wouldn't like to be the subject of such an interview.
The very next day, a friend of mine asked me if I'm concerned with the situation around Binance and if I'm worried that they will also share a similar faith to FTX (collapse caused by sudden lack of liquidity). And this is exactly what I would like to discuss with you today.
Share your own view on that topic

Before I will write what do I think about the potential threat that Binance will collapse, I would like to ask you to share your own view. Are you concerned about the upcoming future of this particular crypto exchange? Or perhaps you see it all as another FUD and nothing more than that?
My personal perspective

Right now, I think he (CZ from Binance) got himself into real war with part of the political and financial establishement in USA. And that he didn't see it coming.
At the same time, my life and business experience taught me that markets usually tank when unexpected things are happen. Those that we fear the most do not usually happen.
So in a way - I was more worried that Binance can collapse (just like FTX would) when noone expected it. Now expectations are quite high that something might break. And that makes it already unlikely to happen.
It is because absolute majority of business collapses happen because of sudden liquidity problems. If FTX would have enough time to prepare himself for liquidity shortage, then he would also survive.
Right now binance got enough time to prepare themsleves for a liquidity crunch and for some sort of 'punch back' directed at them. Which makes it unlikely for them to collapse.
Would you agree or disagree with my stance on this topic ?
Yours, @crypto.piotr
@project.hope founder
check out our PH community: https://steemit.com/trending/hive-175254