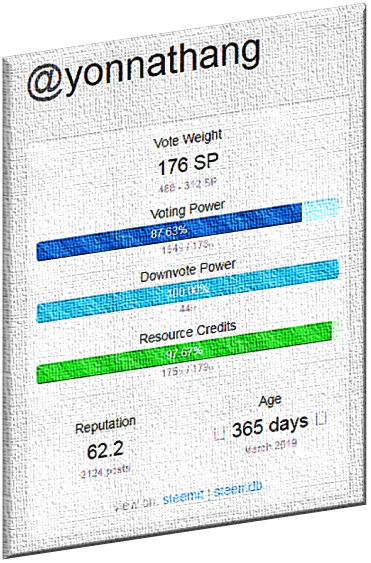 It's been a very stressful few days and it goes up and down in the emotions of each of the users of the blockchains. At this moment we can see the light at the end of the tunnel, it seems that the good news comes more and more often.
So it's a good time to sit down and write a little bit about some of the things I had planned for these days. In this case, the dynamic proposed by my friend @theycallmedan, in which he invites us to answer his generating question:
Why Am I Still Here?
Before I started, I wondered what the closest answer to reality was. Also, what can I comment on? to support my evaluations that I try to analyze at all times when I reflect on things that have happened
I set out to leave my testimony, but something stopped me and caught my attention. And that is the fact that today I have exactly 365 days since I began my participation in this wonderful world named Steem.
A year of enriching experiences from start to finish. This has led to the recognition of a series of talents that I did not know in my being. That is to say, my motivation grows daily to come and be present in all the events developed within the platform. Steem is a school that has permitted me to develop my previous abilities and to begin a community learning, of a higher level, through the necessary interaction between the users.
On the other hand, due to the precarious economic situation of the country (Venezuela), Steem has served as a support in the critical moments my family has gone through. Currently, what I receive as a monthly salary in my job as a public school teacher is below what I receive in the chain. A great reason to be here, despite the prices of our currency (STEEM).
Last but not least, in Steem I managed to find a project that, in essence, is designed to confront the world's economic, political and social system. Blockchain technology is the hope for many people who for generations have been separated and despised. This will be achieved the moment we change our minds about how we accept the concept of money, which we have let some people handle to the detriment of the majority.
Anyway, there are many reasons and more and more will invite me to stay at Steem. I am enthusiastic to be part of the paradigm change, knowing that with my contribution I am opening frontiers for the union of peoples and making every person on this planet truly human.
pd: i hope this is the first one in many years...

Creator: @yonnathang