OCD Challenge - Steem: The Honey Badger of Communities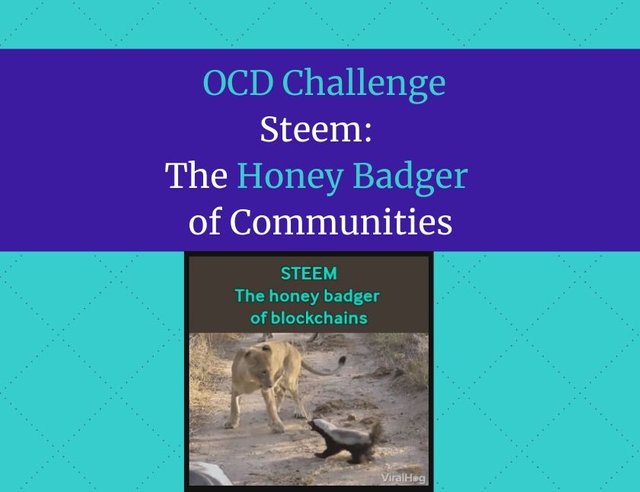 I was getting caught up on Twitter a short time ago, and found this Tweet by Thegoodwhales
https://twitter.com/thegoodwhales/status/1237707745115230208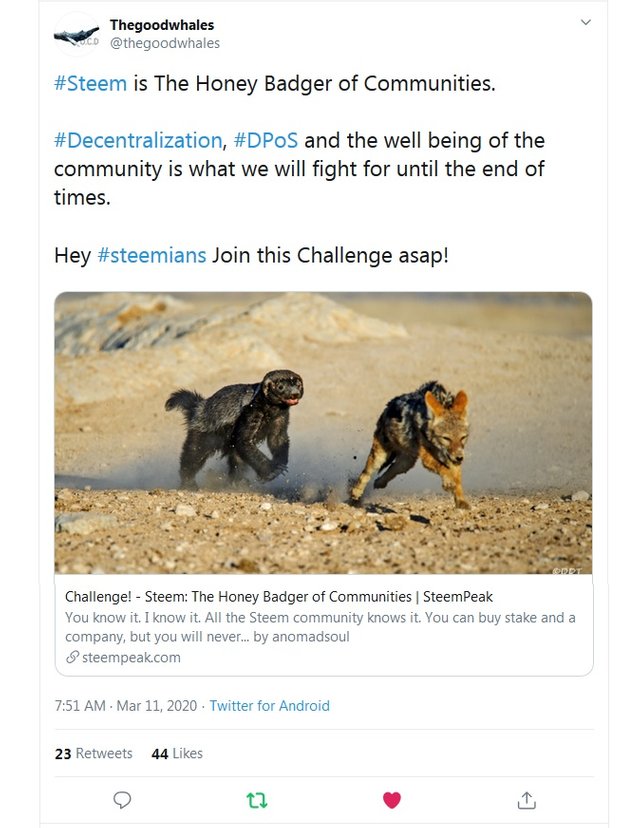 Needless to say, I immediately thought of a gif I put together last week when I saw @andrarchy's tweet -
https://twitter.com/andrarchy/status/1235283860721672193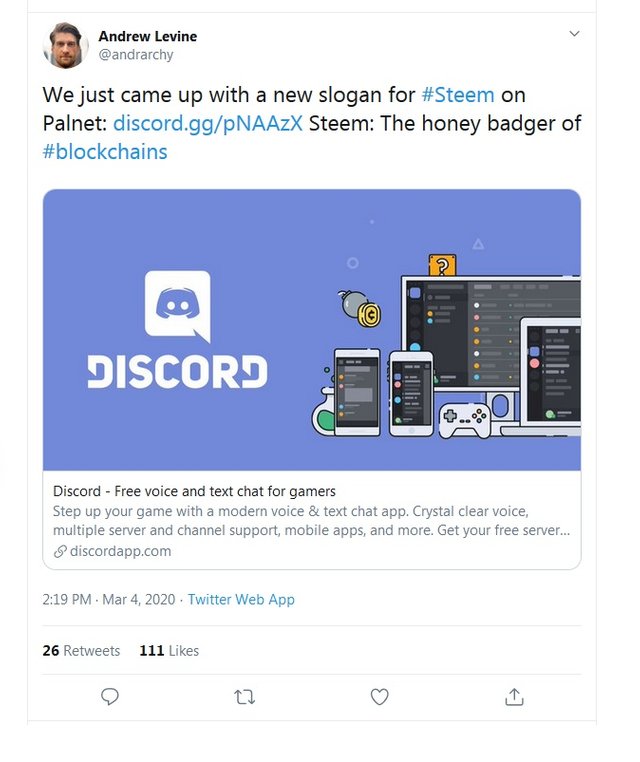 Small Twitter aside here for a moment - I was fairly certain I'd "liked" & RTed Andrarchy's tweet when I first shared the gif. Since I've been checking the #Steem tag on Twitter tag on Twitter obsessively every five seconds fairly frequently, and that tweet currently shows up on the Top list, it caught my eye a few days ago that it appeared greyed out, like I hadn't. So I did again. When I just went over to screencap, I noticed it was greyed out again. Giving another go & screencapping for later comparison...
So as of now (11am-ish on March 11,2020) -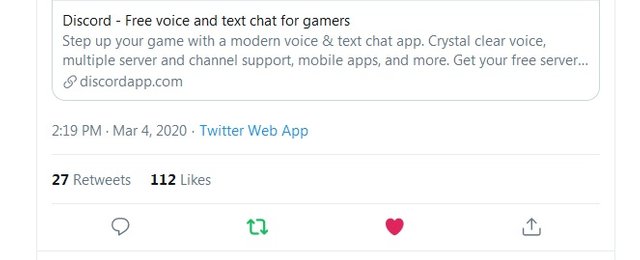 Now, where was I? Oh yeah, right - the challenge! 😂
@anomadsoul just put forth this awesomesauce challenge, which he starts off by saying (in part) -
You can buy stake and a company, but you will never buy a Community.

It doesn't matter what Blockchain we are talking about or what coin is being discussed, the community is the most important part of it. Without it, without users, there would be no point of running a Blockchain.

We have proved the crypto world that it doesn't matter the size of your wallet, the community is stronger; we have demonstrated to all the skeptics that DPoS can be attacked, but will not go out without a fight; we have showed all the Bitcoin maximalists and all the Altcoin non believers that we're organized, know how to stick together and work for a common goal and, most importantly, that as a community we are unstoppable.


We are the Honey Badger of Communities.
And the challenge itself is to -
Make a drawing, a painting, a photography, a GIF, hell you can even make a meme about this topic: Steem: The honey badger of communities, fighting to protect decentralization and DPoS.
Then post your creation here on the blockchain (using anything but Steemshit.... oops, auto-corrected, I meant #Steemit... my bad...😝 ) with the required hash tags (included in the original post), tweet it out, then share the links back on the challenge post (wow, can I make a simple thing sound complicated or what?).
Without futher ado, here is the gif I put together (which, besides sharing on Twitter, I also shared at the end of my recent post, Why I'm blowing up my Twitter feed with the #Steem #HostileTakeover)...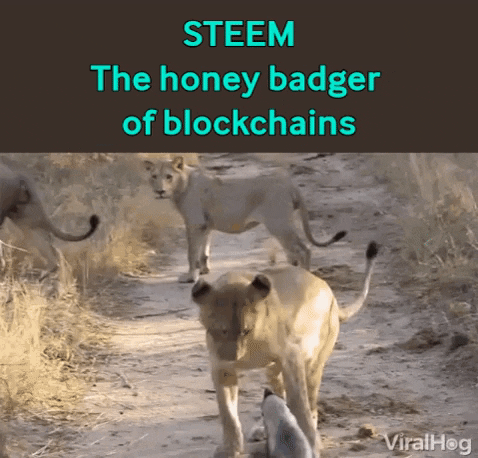 Here's the link to the GIPHY page, for anyone who wants to share it around -
https://giphy.com/gifs/ReyBuCv4qbKXcd6Cyu
I'll be keeping an eye open for challenge results I can send flying all over the Twitterverse!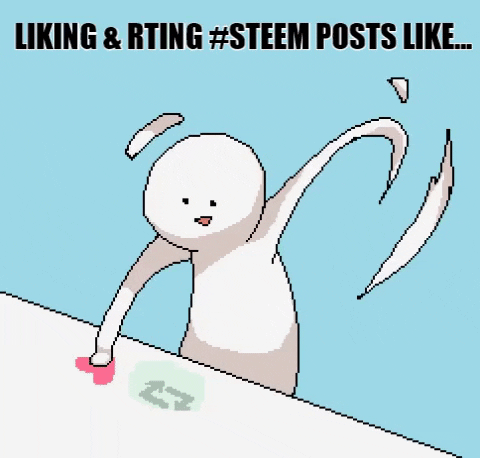 Good luck, everyone and GO #STEEM HONEY BADGERS!

Thanks for stopping by!



My posts may occasionally contain affiliate links. If you click through,
I might get a wicked small commission, with no extra cost to you.
Blog graphics created on Canva
My photographs are taken with my trusty Nikon,
sometimes utilizing my handy dandy tripod.
All words and images are mine (unless otherwise indicated),
and can sometimes also be found on my various social media sites.
Speaking of witch which...

I have one billion many homes on the interwebz.
Here are a few...