Attention grabbing UIs, UXs and metrics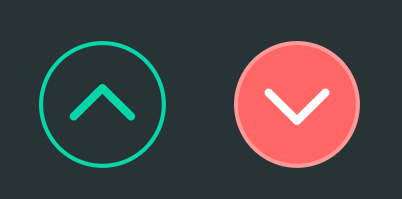 I got a new Steemitboard badge today which is relatively meaningless considering what it measures, which is the number of upvotes received. Today, I reached 500,000 upvotes. This puts me in 34th position for most upvoted. As said, it is meaningless however as number of upvotes means very, very little - since this is a Proof-of -Stake platform.
For instance, the person in 33rd position has about the same upvotes as myself, half the number of posts and has earned about 3x (200,000) more Steem. This is the way it works and early adopters into anything of value will get the largest gains. People who arrived on Steem in the first six months of the start of the chain had a very large opportunity to earn, some took, some didn't. The way of the world.

There is this interesting little metric that appeared a few weeks back on the Steemit.com interface and I was wondering what it actually measures. You may have noticed it, you may not have, but it somehow tracks downvotes. This is what it looks like on one of my posts from the other day on Cross-posting that got a fair bit of interest in it.

No, I didn't downvote myself, but I just wanted to highlight the downvote button for the image to further indicate what the driver of the metric is. However, I do not know what it actually measure - number of downvotes? Staked weight of downvotes? Some relationship to upvotes versus downvotes?

I kind of like. Although it seems useless.
One of the problems I think Steem has faced is focusing on the payout of a post, rather than the post itself. While this has its merits on a dPOS platform, it is also worth thinking about adding other rating metrics that might be more meaningful to users regardless of the payout on a post.
For example, that particular post got 20 Resteems, which is some kind of indicator of community interest and I think that in time, could be a very strong indicator once the platform user base grows significantly. I think it would also be interesting to show who has resteemed and a metric for them also and while the Steemit Reputation might not be a great indicator these days, perhaps something could be developed to provide some kind of quality-of-share rating.
Once these various metrics are able to be added and tracked, they can be used to cross-reference and give some kind of rating (for example a 5-star scale) as to whether something has community support to be read or not. While always inaccurate to various degrees, once there is a lot of participants the "wisdom of the crowd" does come into play at some point and can influence behavior. I know quite a few people who use the IMDB ratings out of 10 to make decisions when they are unsure or it is an unknown move selection.
I believe that account analytics are a vital part of building a compelling user experience for an active contributor, but I also think that these metrics can also be a highly influential part from the consumer's perspective. Due to social proof, we are generally attracted to what others have already marked as attractive and while we might not like it, because others seem to can at least make us curious enough to have a look at it, in mu ch the same way that "recommended content" will see more hits than what surrounds it.
On Steem, each interface experience can find their own ways to attract usage through UI and UX design, but it would likely be a good place to stat to see what other platforms are doing, and pay special attention to how they do it. Little things like the animation on the heart when adding a like on Twitter gives a tiny little hit of dopamine satisfaction.
One of my clients from about 15 years ago who worked at a paper company and managed specialty packaging, told me about how they design cigarette packages with two examples that stuck with me.
The first was that they increased the length of the package and added a special hologram to the tops for the Asian markets, as genuine brands were expensive and there were many fakes made. The extra length and hologram meant a man could have the packet in his chest pocket and it would peek out from the top, showing off that he could afford the real deal.
The second example was much more interesting in my opinion, as they designed the package to feel good whilst crushing it and throwing it away. They spent a lot of time on creating a satisfying feeling when discarding as it made it feel as if the smoker was accomplishing something of importance. Hacked.
While this little experiential details might seem far too subtle to make a difference, when they are grouped together, they compound against each other as well as target a larger range of people to provide an improved feeling. When people feel good about what they are doing, they will do more of it and it will add to the Time on Site metrics of a platform. Feeling good doesn't mean being happy either, a lot of angry people feel good about their experience, which is why some people are so addicted to Twitter.
While I know we have a very long way to go, what I like to see is that these small changes are happening across all of the various interfaces with varying degrees of success. Targeting the low-hanging fruit by perhaps seeing and learning about what others are doing might help, as they have teams of behavioral scientists constantly testing how they can hijack the attention of their users.
This is an attention economy after all - we should grab what we can get.
Taraz
[ a Steem original ]