I referred it as Masterpiece, as I feel it actually require work of an experience hand to transform something into a lively and beautiful artefacts. Giving a similar look to more than one piece is unbelievable.
Even God could not able to give an identical look to 2 or more person, but our handicrafts artisans make that look quite easy, with each of the different artefacts looks exactly same to one another.
Belive it or not, I was welcomed on the handicrafts artefacts stall with a set of men & women very identical looking with one another.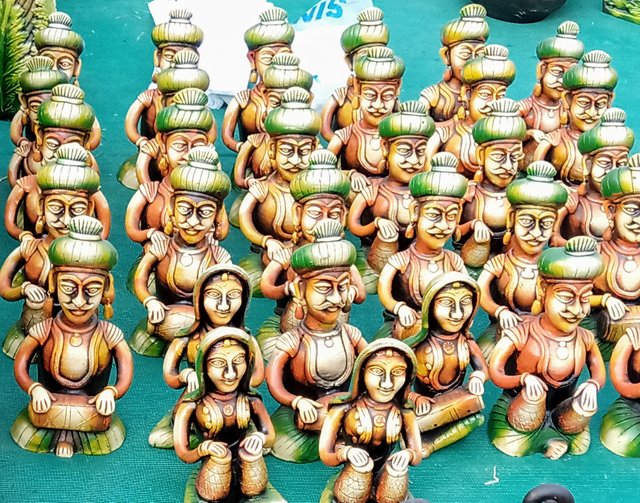 I was shocked to see so many identical faces at once, it is very hard to find any glitches or differences in any one of them. All of them were copied exactly same. As it was done on any computer screen with simple command of Ctrl- C+V (copy-paste). But in realistic, these all are hand made using clay.
@dswigle (i.e Denise) This is what I again call a stale #marketfriday before I take you on the world of "Terracotta Handicrafts". Again from the same handi crafts fair, but something very interesting and unique work of arts and crafts by magical hands.
It was stall that give a very decent look from far, as it has many artefacts displayed openly. It has all kind of stuff that could easily use for home decor. And looks a complete Art Battalion to take on the entire fair ground.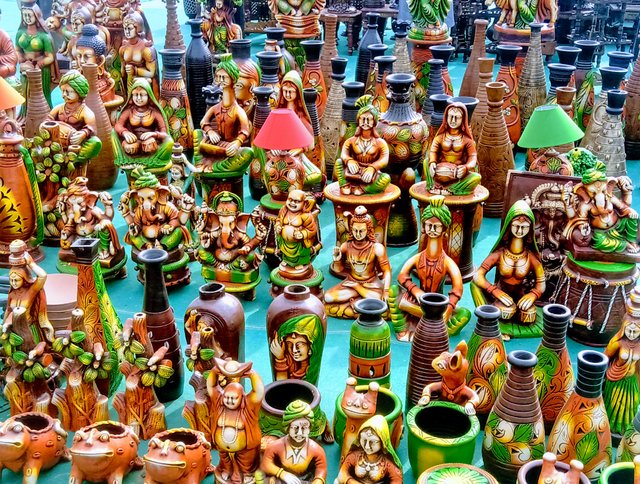 Terracotta is an ancient way of making different sculpture using mould clay. And we are watching the glimpse of modern and colourful arts in the artefacts fair.
Terracotta means "baked earth" in Italian. Terracotta is the type of clay used to produce terracotta pottery on a potter's wheel. The potter at a full tilt rotates the wheel with his hands and gives the ball of clay a shape. The pot or object, after being left to dry is kept on top of combustible materials in a pit and fired. Mostly charcoal, wood or coconut shells are used for firing and the temperatures may range from 600 to 1000 deg C. The process is complete only after the pottery has been baked for more than two hours to ensure it is hard, strong and durable.
Each of the item were perfectly displayed and standing on the ground to make an attractive way of presentation and pulling people towards them. The stall have categorised the artefacts from into two section , one for big items, and the other for small items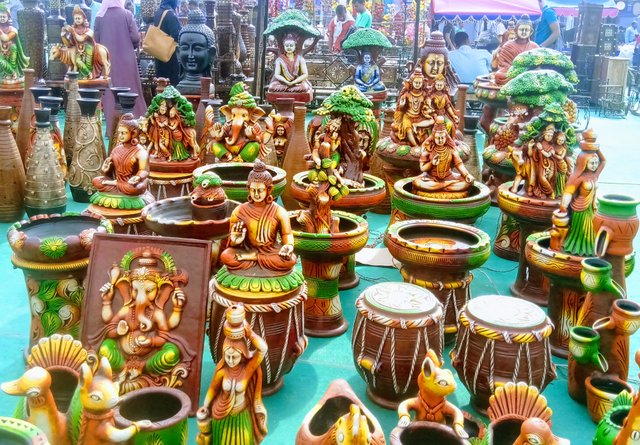 The Big sculpture is mostly of Indian Godsses including Gautam Buddha & Shiva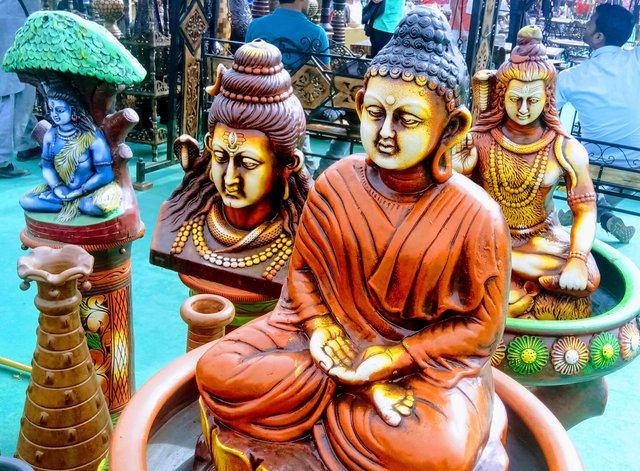 And the few of most loved Lord Krishna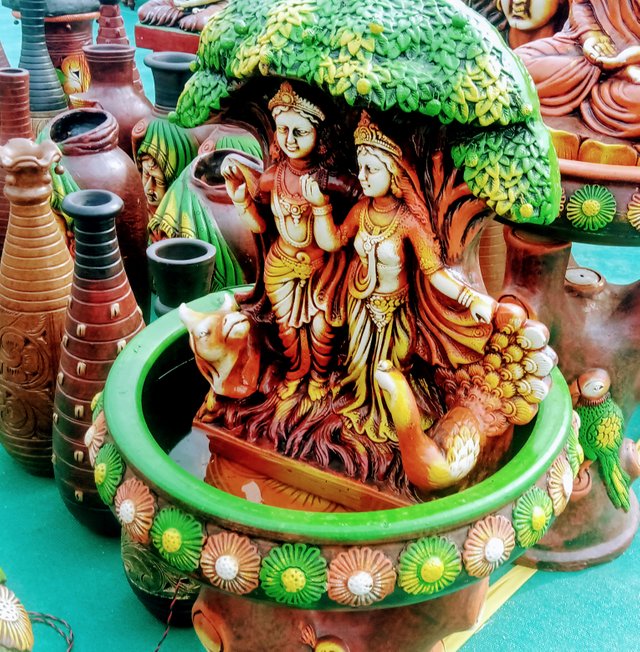 Equsitelly and handsomely made to attract anyone with the charm. Many people in India belive that keeping these artefacts at home may bring good fortune as they are the symbol of Love and Peace. So looking them everyday makes their day better. Anyway that is human mentality and faith on Vastu that people take them to home or offices.
Also these are eco-friendly way to decor the home , with not much harm to environment. All the artefacts are actually clay moulded.
From the smaller artefacts section, it was the small Green Tortoise that looks quite stunning. The colour combination is very vibrant making it a must buy object.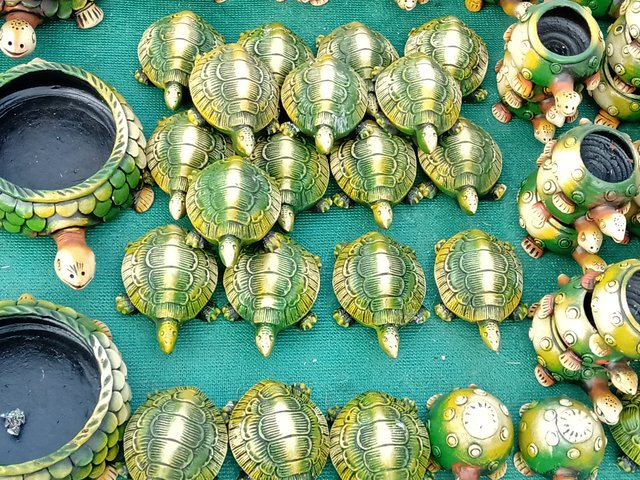 And the second most loved were the cute Lord Ganesha, that people keep them for good luck and getting evrything easier. It is also considered quite auspicious to have one at every Hindu home.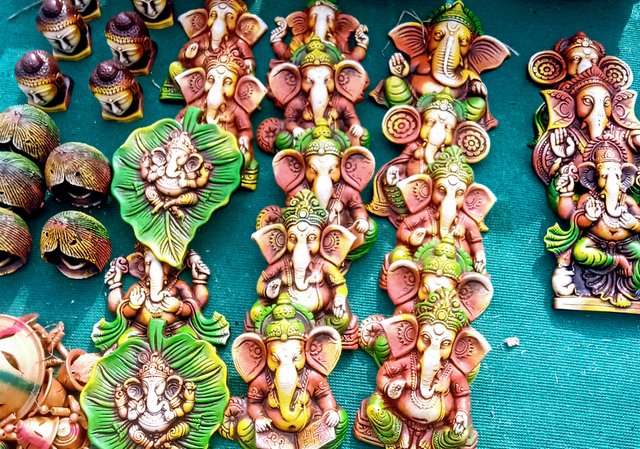 The more I see them, The more I am falling in love with each item. And more importantly every item has its exact replica, and no one is differ. Be it Ganesha or be it Tortoise. Credit must goes to the Artisans who made them without using any machine. Simply unbelievable and majestic art work that mak it ng the Fair ground quite colourful and vibrant.
They have all armoury ready for every kind of sculpture. Be it Animal figurines, or Humans, or Goddesses.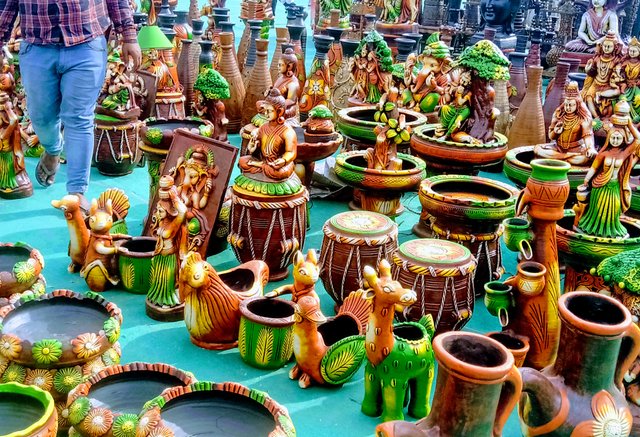 Few other picture, that I took standing in the stall and appreciating the masterpiece work by the Artisans.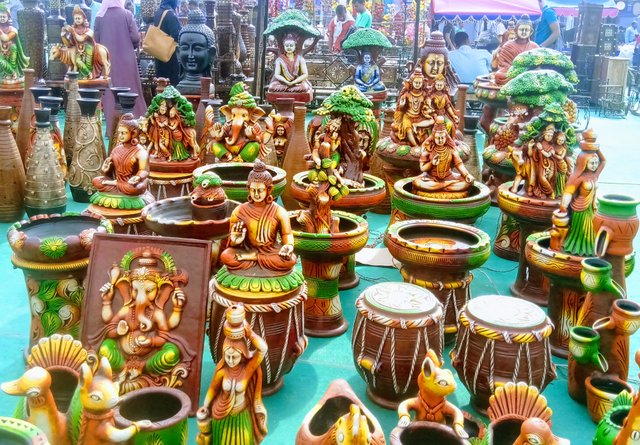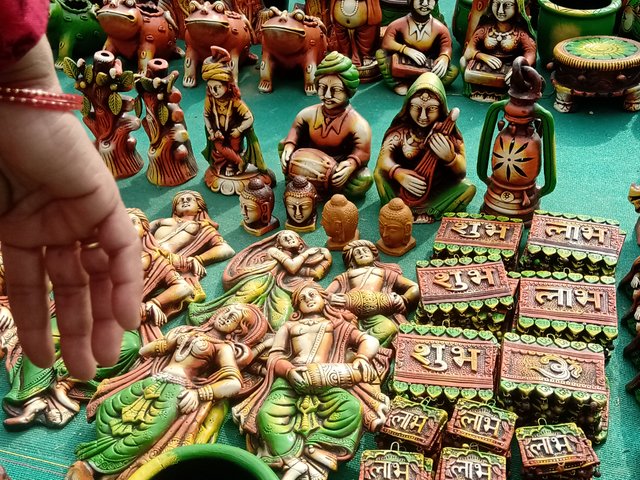 I am finding it hard to write more, my fingers is getting hard with chilled weather today. But frankly, I did enjoyed that designer artefacts stalls and witnessing the work of hand made sculpture were simply outstanding. More importantly how the artisans manages such work so smoothly and easily.
This is for today's #marketfriday and hope @dswigle must have enjoyed with all set of displayed item.
Stay Calm....
Keep Steeming...Steem On !!!