Showcase April: collection of photos from Marsalforn, Gozo Island, Malta
Hey guys,
this is my contribution to the Showcase April Initiative the purpose of which is to share the best posts you have ever created on Steem.
This one is dedicated to the natural beauty of Gozo (a tiny subtropical island that is a part of Malta) and to be more precise, its enchanting little town known as Marsalforn.
Situated in the Mediterranean Sea, just some 300 km (185 mi) north of the coast of North Africa, Malta is a subtropical country with very hot summers but if you come here in winter or in early spring, you might easily mistaken its landscape for Scotland or Ireland as the local hills are beautifully green. Especially on Gozo that is sometimes referred to as "the greener Malta". Let me show you a few photos of the picturesque natural surroundings of Marsalforn that I took a couple of years ago.
While the green hilly countryside is undoubtedly charming, there is another landmark that is even more symbolic of Marsalforn - the salt pans.
Stretching for long miles on the northern coast of Gozo, some of the salt pans are actually up to 350-year old. The tradition of sea salt production has been passed down from generation to generation for centuries here, making it one of the most important traditions in Marsalforn as well we the whole island.
Increasingly popular with tourists, Marsalforn also boasts amazingly clear sea that provides excellent conditions for swimming.
You will not find any sandy beaches in the village as the coast is almost entirely made up by limestone and rocks but there are many spots were you can access the water comfortably and enjoy some nice bath or swim, for example at the Xwejni Bay, one of my favorite places in the village. Very peaceful, isn´t it? :)
Limestone cliffs like these can be found all over the island. If you are brave enough and you check the depth underneath, you can dive from them. Some locals (and drunk tourists) do that.
If you are lucky (like us) to get an apartment with a sea view, you can also enjoy some breathtaking sunsets in Marsalforn.
We spent 6 months in this little captivating village and even though not everything was perfect there (as always in life), we have tons of sweet memories from Marsalforn and Gozo. If you plan to visit Malta, make sure not to spend all of your time on the main island and reserve at least a day or two for Gozo. I can guarantee you will not be disappointed.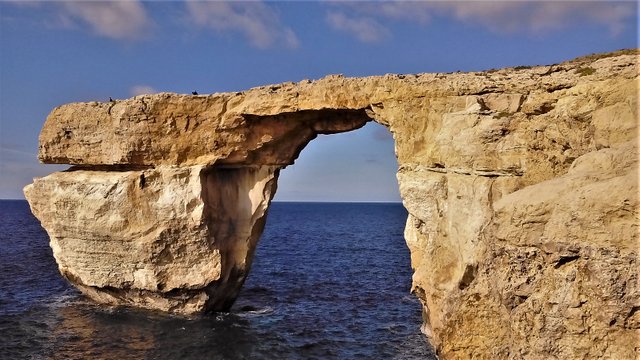 Even though the most iconic landmark of the island, the famous Azure Window (featured above), has been gone since March 2017, there are many other amazing places there to be explored and seen.
I hope you enjoyed this special photo collection dedicated to the tiny Maltese town of Marsalforn and its beauties.