My Dream of Being a Dolphin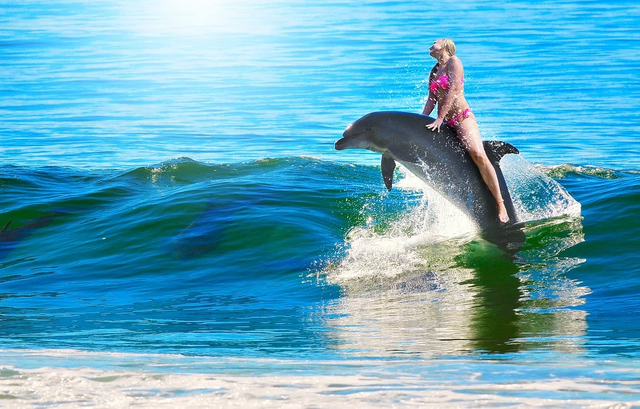 Fotografía de uso libre cortesía de pixabay
---
---
When I was a kid, I heard a question over there:
What would you like to be when you grow up?
I was not impressed by the *...what I wanted to be...but by the concept "big". Magically and instinctively, the term invited me to look at the sky and also at the sea.
To be "great" would be a challenge in my life. You can't become great without a process, I thought immediately. To become big I would have to adopt the behavior of a dolphin for example, my favorite pet.
To become big I would want to be like that aquatic animal with special characteristics within a diverse ecosystem. I would like to be a dolphin because of its great capacity to solve problems. Helping others was an anchored thought.
Dreaming of becoming a dolphin indicated a long road, full of obstacles, but one that I could intelligently get out of.
From this question, my dream became a reality. I became a mother, I nursed my calf as a dolphin does. I kept myself alert with my little one by diving into a semi-warning state like a dolphin does to protect its calf, so I did with my baby.
.
Later, with effort, studies, dedication, perseverance and persistence I got my degree in sociology, that made me a sociable and cooperative being, another attribute that the dolphin has. I learned to live in community as he does.
Throughout the years, I had to live the technology revolution, adapt to it, it was necessary. I got then an ocean where to communicate, where to continue learning the language of a dolphin to transmit my ideas effectively, to continue growing and enriching my knowledge, I got with steemit.
My dream of becoming a dolphin on this platform has become longer than I imagined, obstacles in my context have decided this. Even so I still dream of that prize of becoming a dolphin that comes closer and interacts, collaborates and shares with all the users of the network to extend a helping hand.
I want, just like a dolphin, to recognize myself when I see a mirror image demonstrating some awareness of myself about how to act with myself and others on this valuable platform.
Greetings steemit community, this is my entry to the contest that carries out @thekittygirl, if you want to participate you can visit the link