Throwback thoughts onboard Boeing 777 and the jokes after landing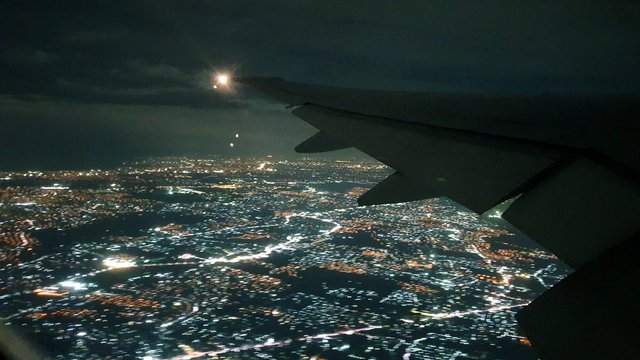 After seven years from when the idea first came about, I was finally standing at the airport one night of November 2019 and eagerly waiting for the boarding in to our flag carrier's largest fleet so far, the Boeing 777-300ER. For a little trivia here, the airplane model is the fourth largest commercial plane in the world and our flag carrier uses them primarily for long-haul flights to North America.
It was my first time flying to the other end of the Earth, alone and without my family knowing so. I went to Hong Kong alone in 2015 but I let my relatives and friends there know about it so they somehow took care of me. This time, I was sure that my mother will try to stop me and I did not want the conversation so I just kept it to myself. It was my first time buying travel insurance though. If I don't make it back for whatever reason, at least the financial expenses will be covered for my family.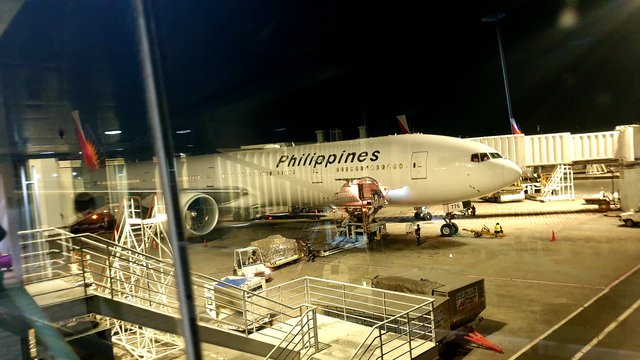 This was after seven years because the idea came about in late of November 2012. That time, my landlady needed help in booking a flight to their province to see her ailing mother. She said if I can do it, she will just pay me in cash with whatever the total cost is. I did her the favor. When I was booking online, a partnership promo between Philippine Airlines, PAL, and Mastercard flashed. It was a "Name your Dream Destination" promo and if you win, round-trip tickets will be the prize.
It so happened that I was using my Mastercard credit card and not the Visa one due to billing cut-off consideration. The promo made me realize that I did not have a dream destination after all. It took me some time to pick one. Without thinking much about the place, I picked San Francisco. I did not have a US visa that time but I did not care. I was not expecting to win anyway.
I finished the booking and forgot about the promo. Even when PAL sent me the promo codes later, I just ignored them. It's funny now that I was able to retrieve the email.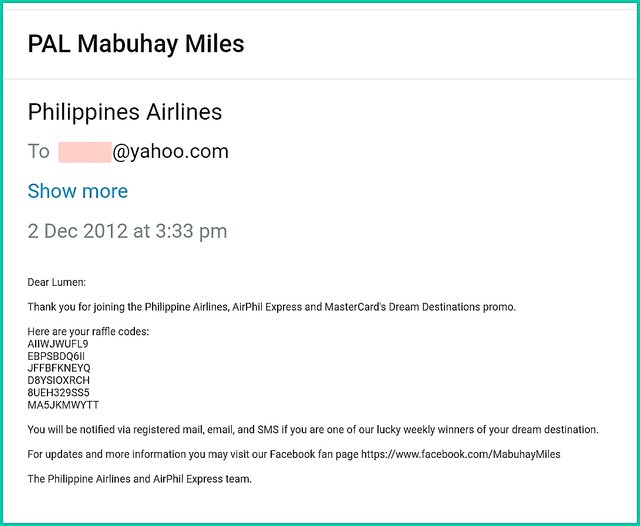 In April 2013, I received a whole letter sized mail from Mastercard. It was not the usual statement of account mail. When I opened it, the letter was saying that I won the Dream Destination promo with Philippine Airlines. At first, I did not understand what it was referring to. It took me a while to recall. Yeah, I joined the raffle from last year. And it took them months to determine the winner? Well, I did not pay attention as to how long the promo was running so it could have been in months.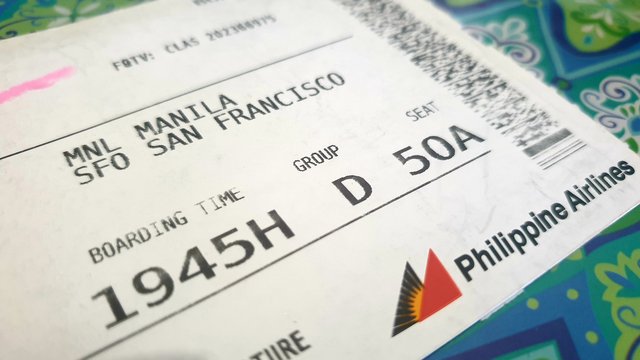 I was not keen on claiming the prize because I did not have US visa and thought that I won't use it anyway. Right before the prize was about to be forfeited if it remains unclaimed within 30 days, I went to Mastercard office to claim the prize. I was expecting rebookable plain tickets so I asked.
"I don't have a US visa so how am I supposed to avail of the prize?"
"It will be in PAL miles so you can actually use it anywhere you want. And if you use it locally or within Asia, you can even visit more places."
Halleluiah!
It must have been in the mechanics of the promo but I did not read through everything. I was so grateful that I thought of still claiming the prize on the last minute.
However, I travelled many times after that but never used the miles that I won. I was thinking I won the miles for San Francisco trip so be it. Yet again, I don't have a US visa. And I have so mamy excuses of being busy to apply for it.
In 2015, I finally "disciplined" my self from procastination and filed my application for US visa. The interview with the consul was not as scary as other applicants claimed to be. It was actually fast and easy, in less than five minutes. It reminds me of a blog about visa application that I read somewhere on the internet. It was saying that the key to approval is telling the truth. That is because the consuls are like FBI agents and would know if you are lying just from your eye movements alone. I am not sure how true that is but regardless of that, of course truth must be observed.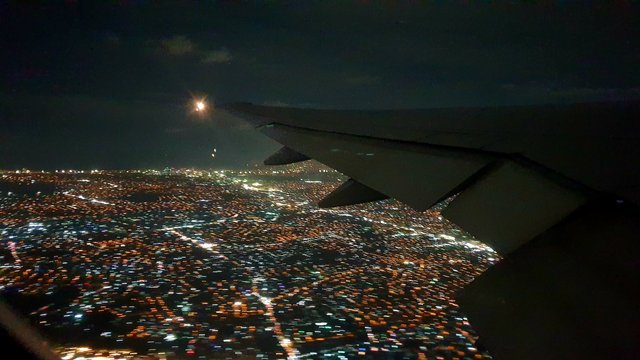 After getting my visa, I got more excuses of planning for the trip. "The visa is good for ten years anyway," was all I told myself. I did not know how to start planning for the trip until after four years when I a tour company ad flashed on my Facebook page. That makes life easy, isn't it?
Now I landed on San Francisco International Airport. Thanks to my landlady who asked for a favor that gave me back a wonderful favor.
We departed from Manila at 8:30 in the evening and landed at 4:05 in the afternoon. And I did not sleep o the plane the whole flight! I could not sleep, that was it...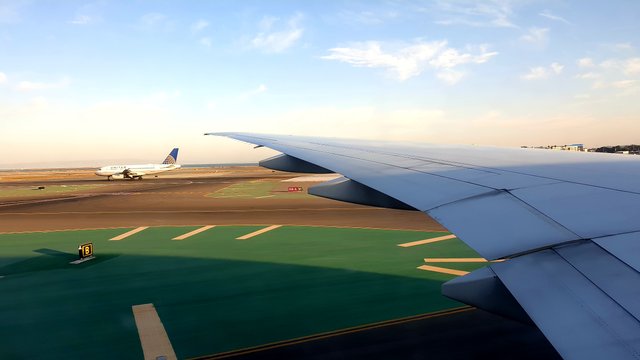 After passing the immigration officer, I checked my phone and got five missed calls from a US number. There was also an SMS message from the tour guide. I was impressed! They are really watching out for their guests, I thought. I replied to the message but the reply back gave me a question mark. I gave the details of my flight to the tour company. Why am I being asked of which terminal I am? I thought the tour guide could have meant which exit door I am so I just bypassed the question.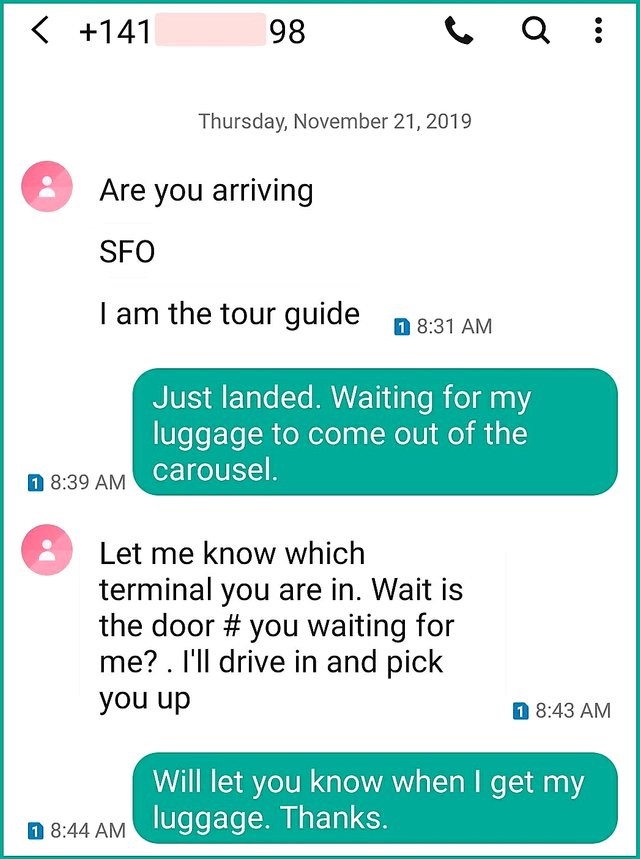 I waited for my luggage to come out, found the nearest exit and messaged the tour guide. I asked of the car details and gave my location. The next reply made me thought it is really a joke.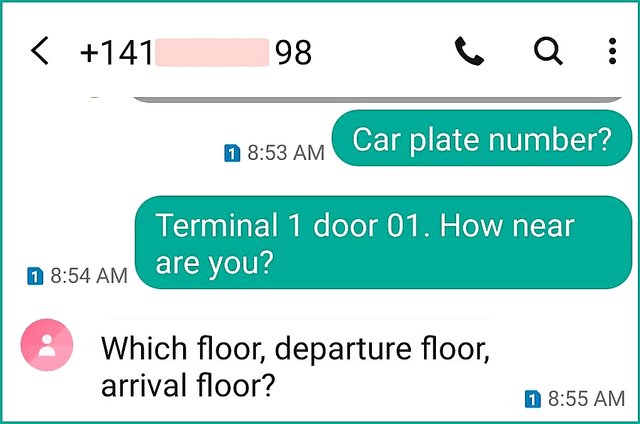 Yeah, I came all the way from the Philippines and I arrived at the departure area!
Where else will a newly arrived guest be than at the arrival area?
The next question was another joke.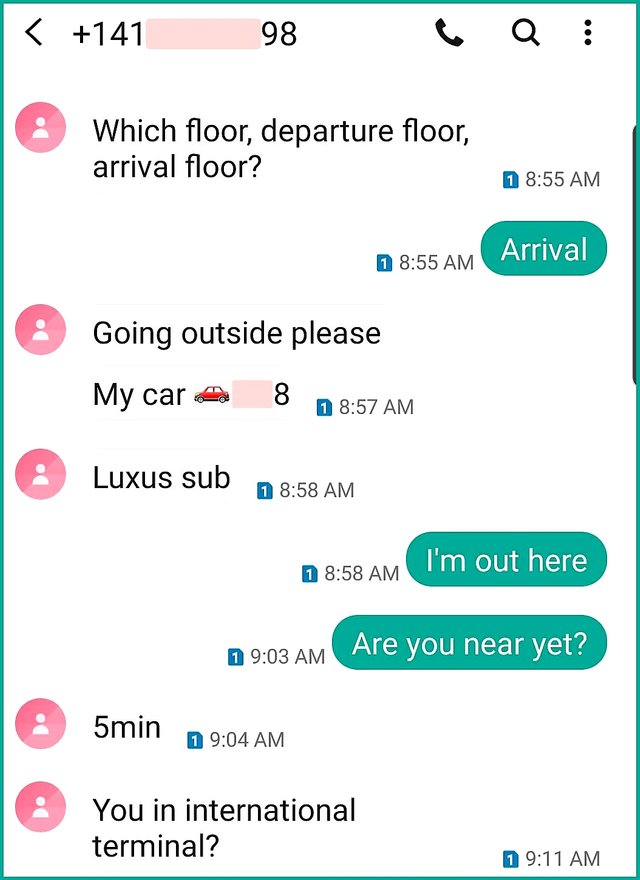 No, I am in the domestic terminal because that is where planes from the Philippines would land.
Oh, geeesss...

When the car arrived, I was surprised that the driver was a lady. She is not American by race so instead of asking where she came from...
"How long have you been here in the US?"
I thought I heard thirteen years but when I repeated it, she clarified.
"Thirty. Three zero. I came from China. Have you been to China?"
"Yes, my friends and I went to Beijing last 2013. We climbed the wall. Have you?" I meant the Great Wall of China.
She did not answer and seemed not keen about the topic. I kept quiet then. After all, I was having a hard time understanding her English. I thought our tour guide in Beijing was way much better. I wondered how this lady mingles with Americans that she is yet to get better with the accents and pronounciation even after 30 years.
She drove me to my hotel and asked for US$10 dollar tip. I almost disputed because the tour package included airport pickup but I thought otherwise. I just handed her the bill and thanked her. I tried Uber while waiting at the airport and it was $12. At least that saved me $2 and the $10 was already the tip, not the fare. She gave a few instructions for tomorrow's itinerary and left.
I thought of going out and find a place for dinner but decided against it. I have to stay put and try to sleep as much as I can because I have been awake for about 24 hours. With the sudden shift of timezone, I know sleep will be elusive. Thanks to my cracker sandwiches all the way from the Philippines. I will not end the day 1 of the tour with empty stomach. 😁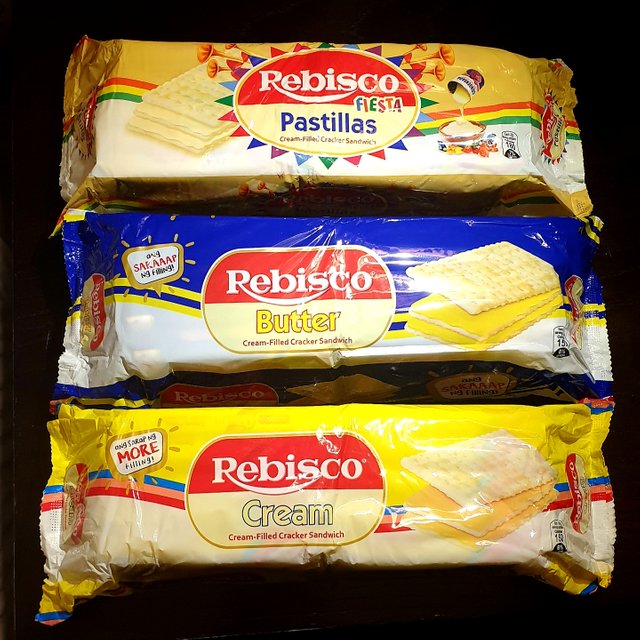 Stay tuned for my days 2 to 8 adventures...
Home quarantine due to covid-19 gave me time for this throwback. Time to dig into the archives...
This blog is also posted on hive.

Join #ccc for Guaranteed 👍 Daily Income 💵 and Payout 💸 for Newbies (2.0) 🐟 🐜 🐛 in #ccc 👣 and Follow 👣 the Honor Code 🏅 - the Creed (Conditions and Limits Inside) AND the latest update <<< please click to read.