Photoshoot with Betty B Bashful. NSFW.
Hello Steemians! Apologies for the radio silence recently. Life really does get in the way sometimes. Since my last post I am now a year older, and hurtling towards my late 30's with extreme terror in my eyes. You start questioning, have I done enough with my life so far? Have I made an impact? Should I have had kids and led a "normal" life? Should I get a more stable job?...and then comes along a photo shoot like this one and you realise how much joy your work actually brings you, and how lucky you are that you get to live this creative life. I am living a life that is true to myself, and not following someone else's blueprint.
I will warn you now, there are nipples in this post, so if you're at work, or just nipple sensitive, then click off now.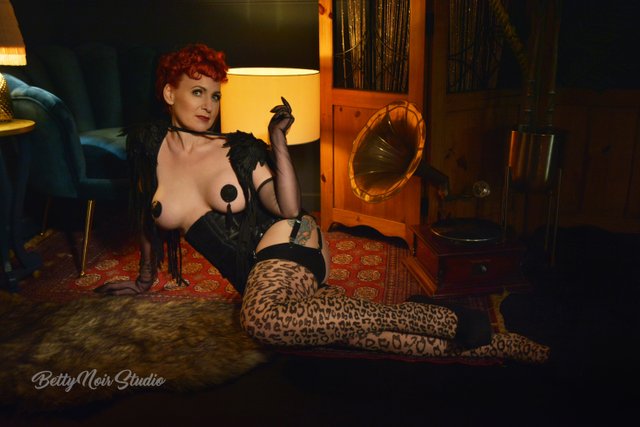 I've worked with Betty B Bashful several times over the years, and the brief she came to me with this time was to create a darker more daring pinup style, with a modern edge, but still with the class and style she had come to know and love me for. I immediately knew exactly the look I wanted to create. Betty rocked up with a suitcase of lingerie and accessories, and we got to work on her hair and makeup. Wanting to create that modern twist to a vintage look, we opted for a poodle hairstyle and I pinned the sides back to create almost the look of an undercut. Eyes were subtly smokey, and lips a more muted tone of red than my usual pinup looks.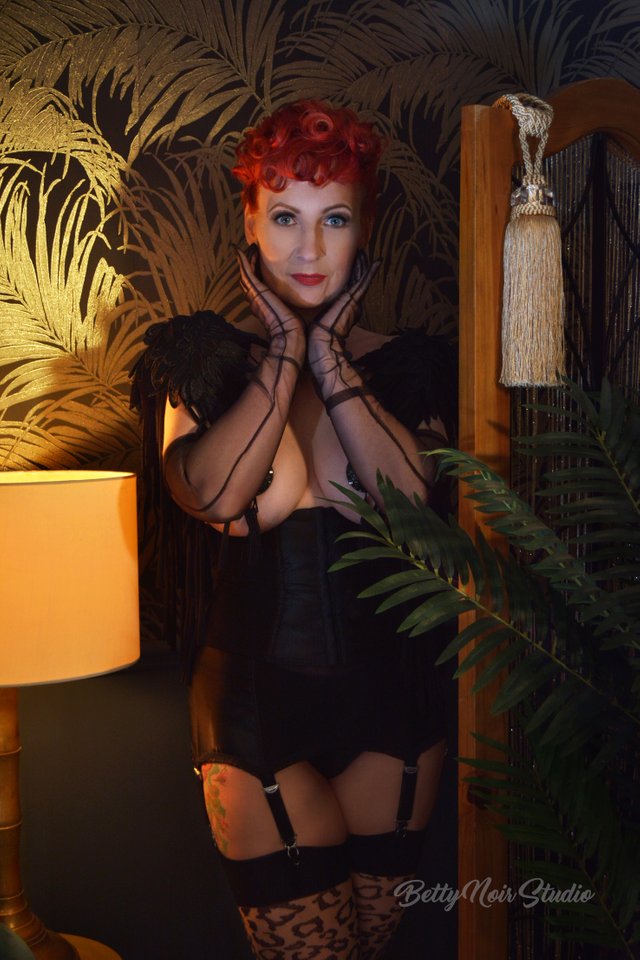 I shot with the ambient light of a couple of house lamps, and 1-2 continuous studio lights. I also wanted to shoot in HDR for this shoot. Something I haven't played about with for a few years, but I wanted to capture all those little details that usually get lost in the shadows. This meant working with a tripod and a model who knows how to hold perfectly still!!!
This was the first time I'd really done a proper, full shoot on my Art Deco set, and I think this type of lighting compliments its rich jewel colours perfectly.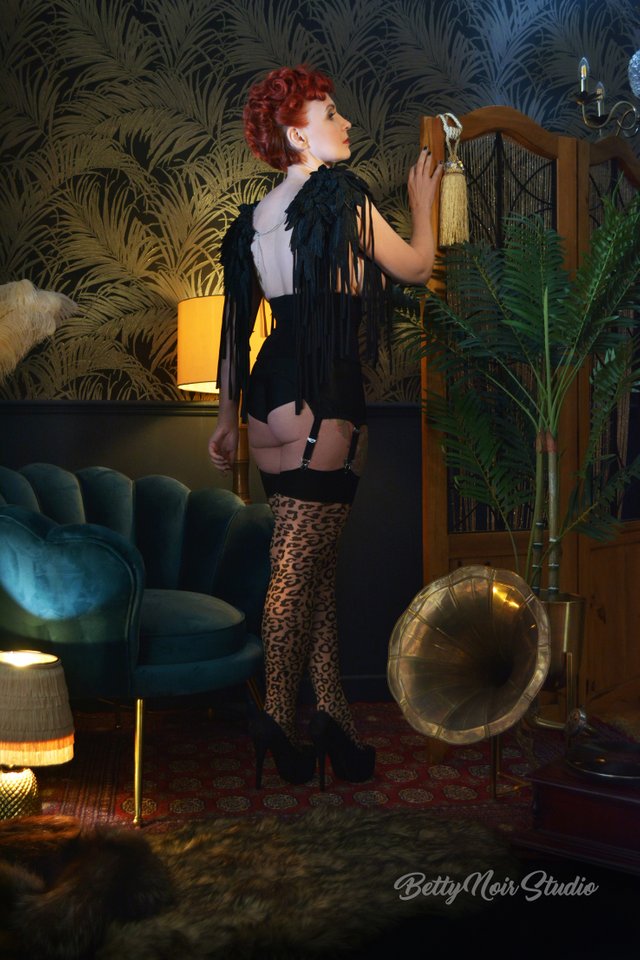 I love the orange and yellow tones that the ambient light casts, and how the colours in the set and Betty's red hair have really come to life. The strong contrast between the shadows and light were already prominant in the images, but I emphasised them even more in post processing using the soft brush tool, colour white, set to overlay, and between 7-14 opacity. Just going over some of the highlighted areas to create those stronger pops of light and colour.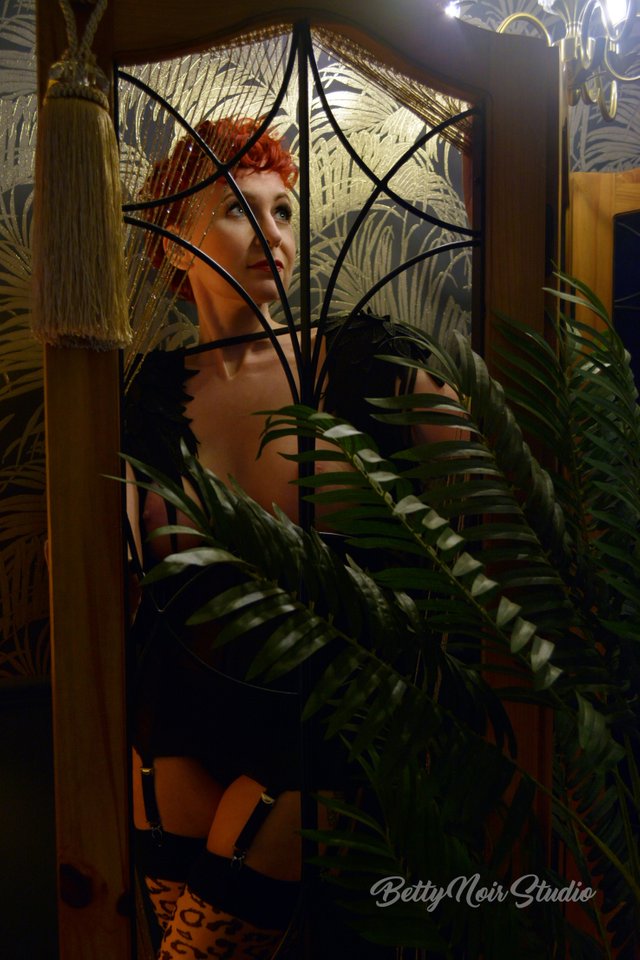 The screen in this image belonged to my late Aunty and I just love that it's now become a part of my studio. It works so well in my Art Deco set, and acts as the perfect frame in this image. The addition of the fringed curtain just adds that extra touch of luxury and mystery to the image. I initially had the curtain hanging down in front of Betty, but it just felt like there was too much going on in the image, so I asked Betty to part them and hold against the screens edge. This was one of the first images we took, and I instantly new we were on to a winner with this shoot!
Here come the nips!....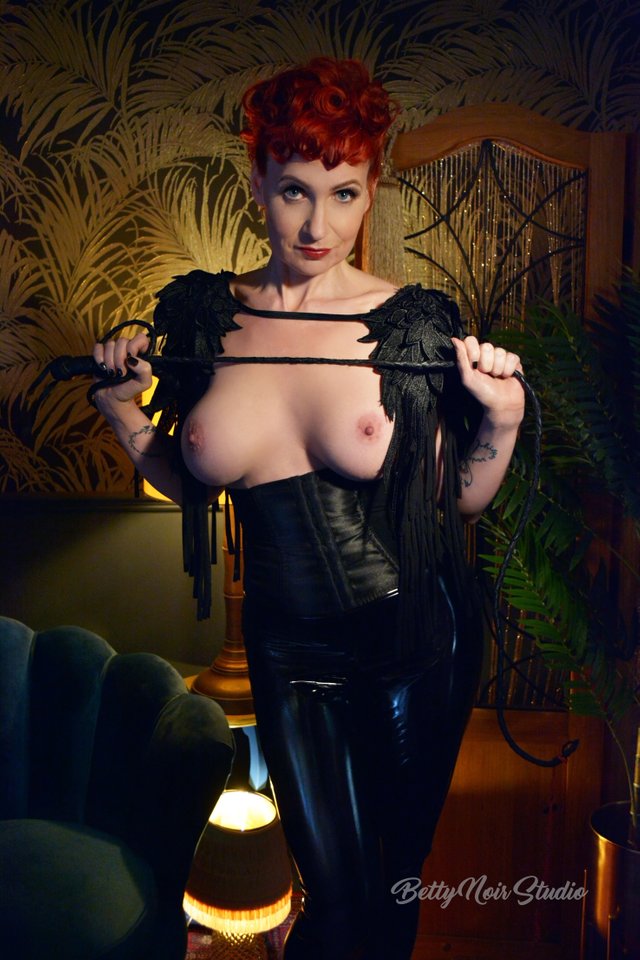 Betty wanted some images that were more social media friendly, but also wanted to get some fully topless shots too. I'm so glad that there are some platforms out there like Steemit, where I can actually share these images! They're far too beautiful to hide away in a folder on my computer!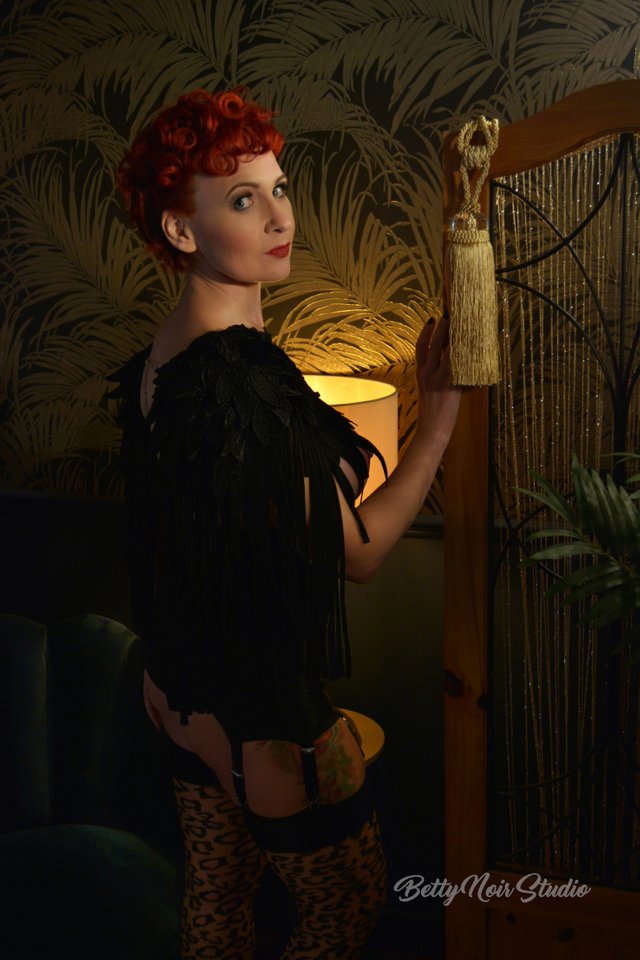 The photo above was the very first shot we took that day. I just have to take a brief moment to point out that those gorgeous embroidered feather style shoulder epaulettes that Betty is wearing, are from the UK high street store Ann Summers! Well done Ann Summers! Another modern rock twist to the shoot.
Lets take a moments silence to enjoy the rest of the images ;)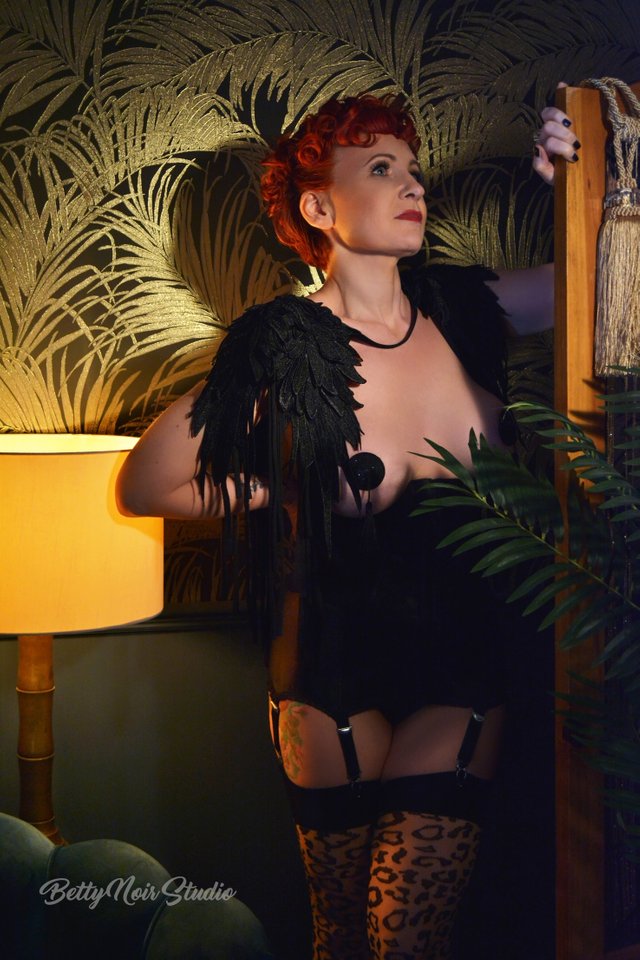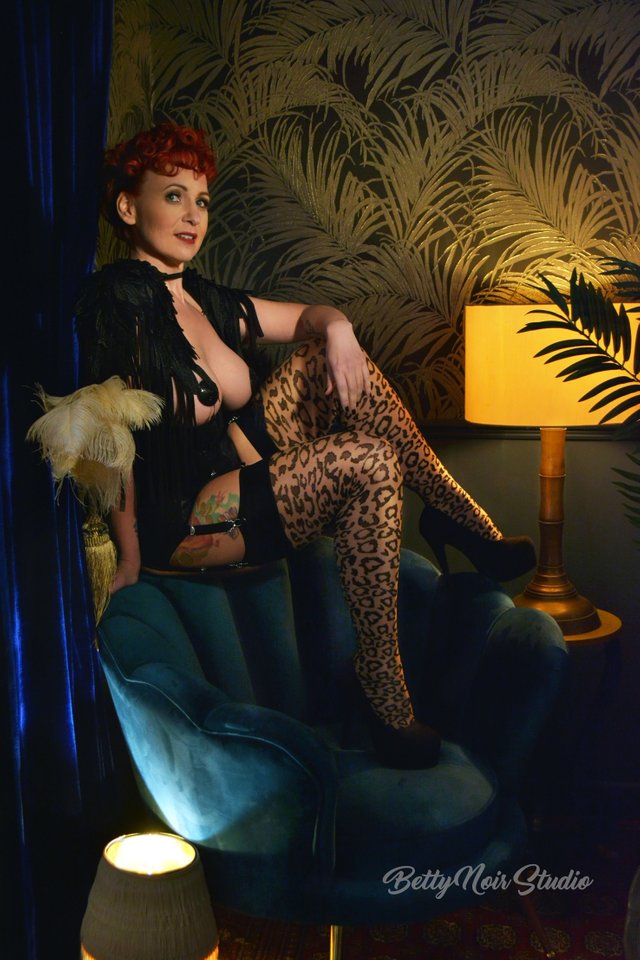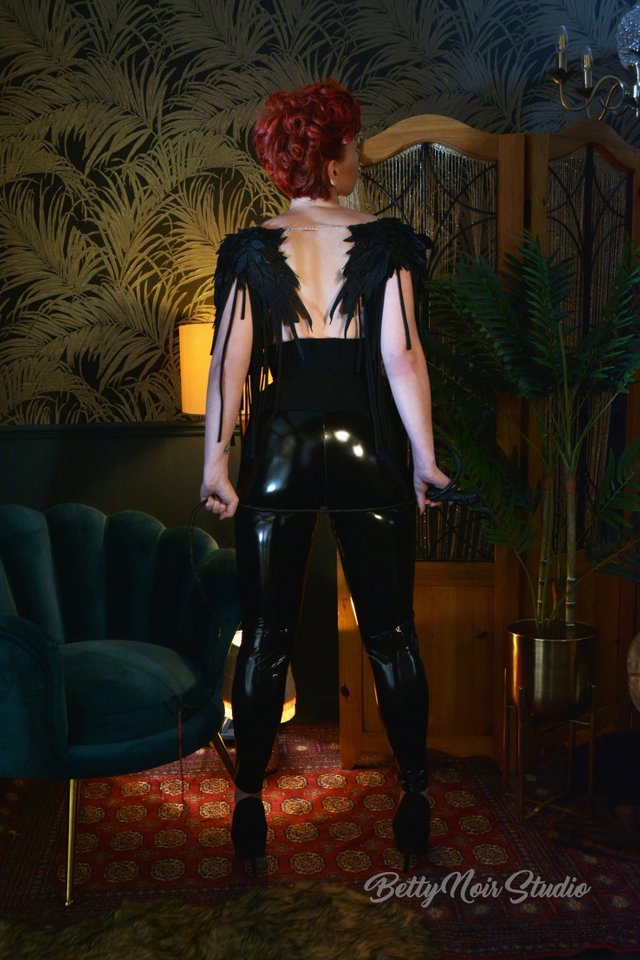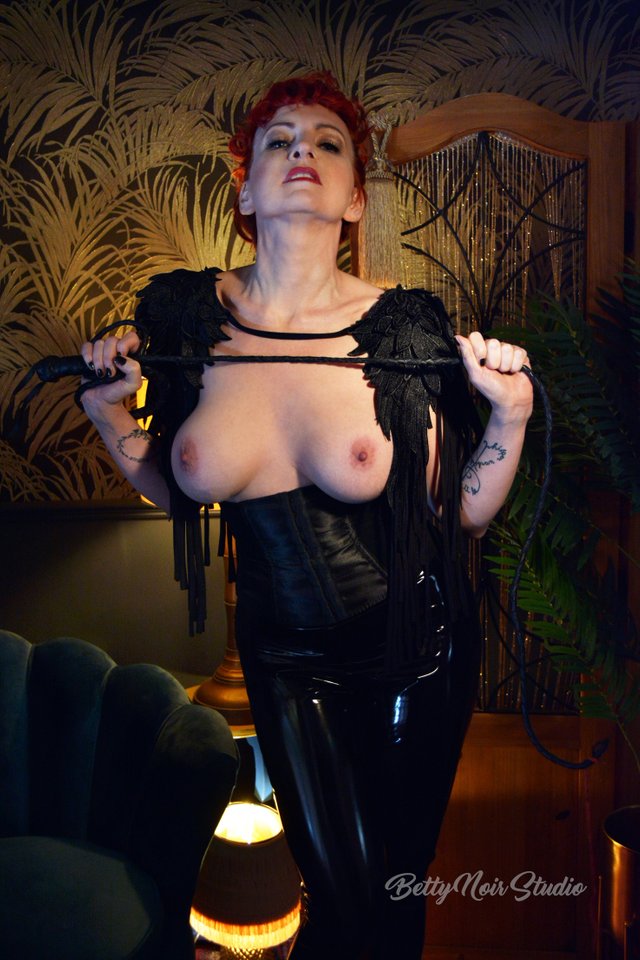 I hope you've enjoyed these images as much as I enjoyed creating them. I'm definitely going to be exploring this style some more. It seems to be really popular with my followers over on Facebook and Instagram.
I've purchased some new coloured gels for my lights, as I currently only have purple, but I'm really loving the orange tones in these images, as well as the blue light that's cast from the chair. I can't wait for them to arrive so I can get experimenting some more.
As always, all images I post are my own.