My Achievement 1-6 Tasks
Hello everyone! Greetings to you all.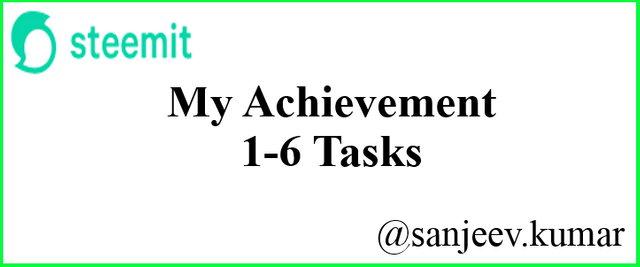 I joined Steemit on 27th July 2020. I have completed achievement tasks 1 - 6 and it was a really amazing experience.
I have compiled all links to my achievement tasks 1-6 posts below.
Achievement 1 : Introduction & Verification Post
Achievement 2 @sanjeev.kumar Task : Basic Security on Steem
Achievement 3 by @sanjeev.kumar Task : Content Etiquette
Achievement 4 by @sanjeev.kumar : Applying Markdown
Achievement 5 Task 1 by @sanjeev.kumar: Steemworld.org Review
Achievement 5 Task 2 by @sanjeev.kumar : Review Steemscan.com
Achievement 5 task 3 by @sanjeev.kumar: Review steemyy.com
https://steemit.com/hive-172186/@sanjeev.kumar/achievement-5-task-4-by-sanjeev-kumar-review-steemdb-io
Achievement 6 Task by @sanjeev.kumar: Understanding Curation and Community
Thank you @cryptokannon. And also, I would like to thanks @rishabh99946, @neerajkr03 @sapwood and @yohan2on for guidance and support.