Achievement1 by @s-m-mubashir in Newcomers' Community
Hello, it's great to be here and I'm looking forward to meeting new people and their creative ideas!
HOW DID I GOT TO KNOW ABOUT STEEMIT?
I got to know it from one of my batch mate @vvarishayy, who took the initiative of telling many about steemit and helping them to know about this platform.
MY INTRODUCTION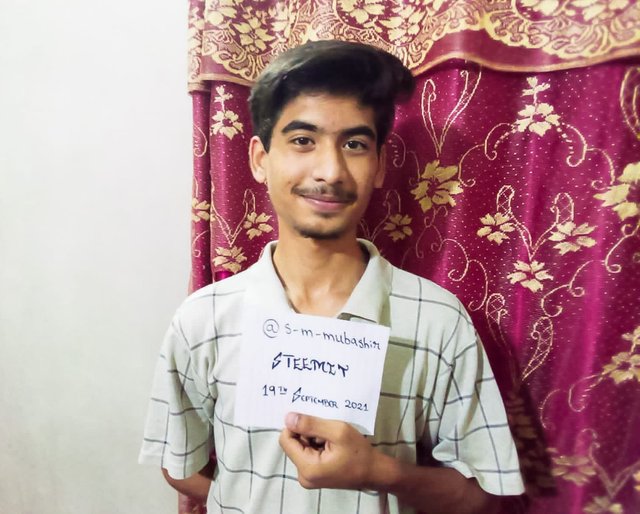 My name is Syed Muhammad Mubashir, and I turned 18 recently. I am from the great city of Pakistan, Karachi. I have two brothers and I'm the middle one.
My mother is a housewife and my dad works a private job. I am currently studying engineering in NED University of Engineering and Technology. I have opted for Computer and Information Systems (CiS) and I have developed great interest in this field.
WHY AM I HERE?
I will get to know more people here.
My writing skills will definitely improve as I will be making posts.
I will get to know the point of views of other individuals here and will also get to know their likes, dislikes, hobbies, etc.
I don't know much about cryptocurrency, so by using this platform, I can get an idea and know more about this.
I can earn a bit and start making even a little contribution in the house bills and other expenditures, as I belong to a middle class family.
My Educational Background
I finished my school in 2018 from Emmi's Institute for Learning, currently named Adamjee Schooling System, I completed my college years in 2020 from Govt. College For Men. And as I mentioned before, I'm studying in NED and I have just finished my first year. Phew.
Ah, and yes, I skipped my 8th grade because I asked for promotion and got one because of my academics.
MY HOBBIES, INTERESTS AND STUFF I LIKE
First of, I loved programming after I got to know about it.
I like to cook and just help in the kitchen. I can't cook dishes tho, just small stuff to crave on.
I love gaming, be it online, competitive, campaign mode, name it.
I love animals, just absolutely adore them. I myself have an Australian parrot that is trained and I have cats too.
Things I have interest in are: editing, digital art, soccer, poetry, writing, and many more things I want to learn and try.
So that's all for my introduction, and I'll try my best to tell the things I know, and also the things I will be learning here and in my life.
Thank you all for reading.
Looking forward for my progress here.