ACHIEVEMENT 1: VERIFICATION THROUGH INTRODUCTION, @PECKYPEACE.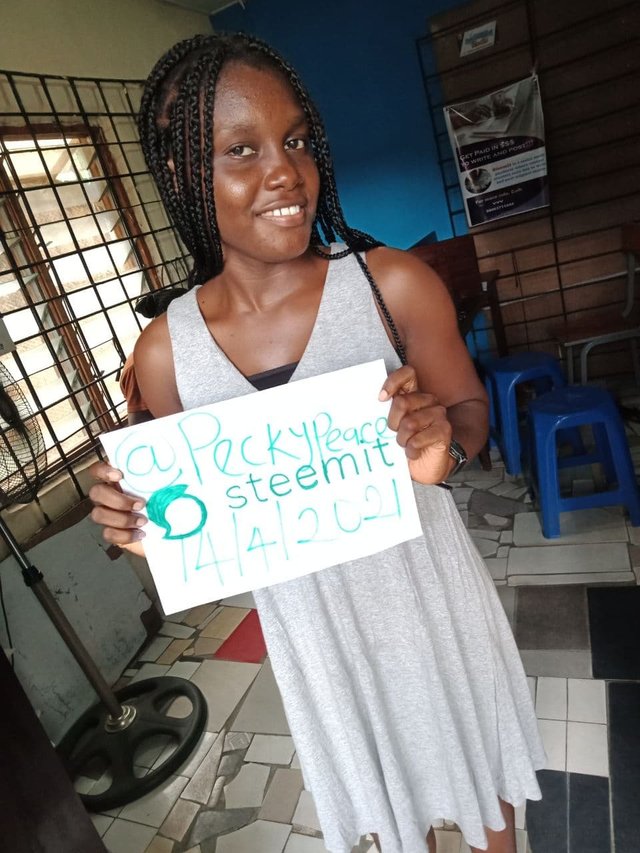 My Bio and Likes
My name is Peace and I'm really peaceful. I'll love to be called @peckypeace here on Steemit. I am a native of Ibesikpo Asutan LG Area in Southern Nigeria. I am the first of the Six children in my family. We are Four girls and Two boys. I am brief-heighted (lol), dark and beautiful woman. I smile a lot and that with my white teeth showing.
I love music, dancing, movies, cooking sleeping, talking about myself, reading and writing. Maybe I love eating too. My best food is my local Afang, Editan or Atama soup. I want to stay healthy and beautiful for my family.
My Education and Career
Education is what I really value most in my life, without education you will not be known. With the help of education you can bring change to your society. Education brings about an inherent and permanent change in the way people thinks and capacity of doing things in our society. People can have qualifications but there is no change in their life. Student can overtake courses but there is no change in the way they do things.
I graduated from Secondary School in 2018 and gained admission into the University of Uyo, to study linguistics and Nigerian Languages. In my first two years in the course, I have been exposed to Nigerian languages, how it was developed and usage. I wish I can speak at least 5 of them in addition to my native dialect.
Being the first in my immediate extended family in the tertiary university, places so much demand and expectation on me. I pray for God's preservation wisdom, knowledge to help me pursue my academic career successfully.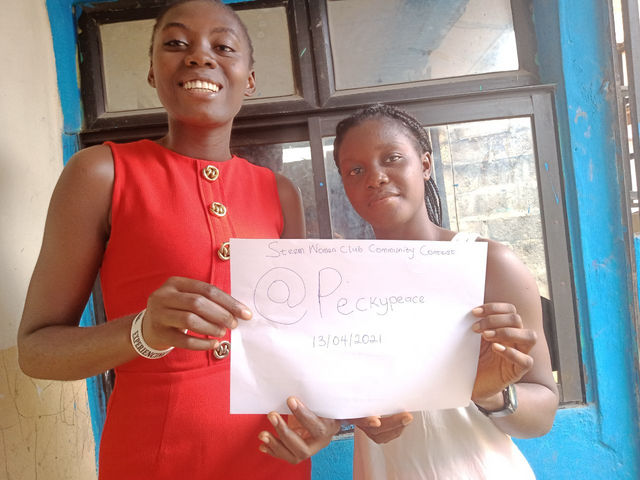 I would love to be a lecturer in future, the choice of my career arises from my childhood (during my nursery school days). I remember each time I returned from school I would rehearse and explained what was taught at school to my parent. If they are not around, I would used chairs as my pupils. At farm, I will used cassava stems as pupil teaching and beating them to talk. Sounds funny right? But those are the beautiful memories of my childhood.
Also, I want to see marriages work and be in peace (Remember, my name is peace). I would love to be a marriage Counselor.
My Faith
I am a Christian and I serve God in the music department singing in the choir and the rest. Our recent study on Spiritual gifts shows that I am an Apostle in training. I am joyful when I am in fellowship with other believers. I want to serve God with the whole of me. This is one the reasons He created me on this planet earth to represent him by doing what the Apostles did in the bible, sharing the gospel of Christ, healing the sick, raising the death, winning souls etc. This is done by complete obedience and humility. I love working in his vineyard.
My friends are mostly from my Christian family (male and female) Staying around them motivates me and helps me grow in the knowledge of God and in effective service. In all I'll achieve, I want to make God happy.
My Mission on Steemit and the beginning of my Blogging Career
Until March 2021, I never thought it possible for a student like me to be engaged in work while studying. Thanks to my pastor and other friends on my church who have encouraged me that writing on steemit would serve that purpose
I was told about Steemit and how the platform can help improve my writing skills as well as my social power meeting friends around the world, while also serving as a source of income for my education and other needs. I would be happy when my earnings here could amount to something tangible that would either pay my school fees. Already meeting may young friends who are also learning IT skills at my Pastor's office telling their success stories about Steemit. I'm motivated already.
I will love to be a part of @steemwomensclub @Steemchurch @Steemalive communities and many others where my skills would be sharpened while I build my web of friendships. Thanks to @Evegrace for yesterday's shout-out.
Today marks the beginning of my journey on Steemit. Let's fun the ride!