Achievement 3 by @nobby9bTask : Content Etiquette
Hey Steemians,
This is achievement 3 post from @nobby9b.
Plagiarism
Plagiarism is the representation of another author's language, thoughts, ideas, or expressions as one's own original work. In educational contexts, there are differing definitions of plagiarism depending on the institution. Prominent scholars of plagiarism include Rebecca Moore Howard, Susan Blum, Tracey Bretag, and Sarah Elaine Eaton, among others.
SOURCE: https://en.m.wikipedia.org/wiki/Plagiarism
Types of Plagiarism
Plagiarism takes various forms. It ranges from reusing an entire document to rewriting a single paragraph. In the end, all types of plagiarism come down to passing off someone else's ideas or words as your own.
Common types of plagiarism
Copy-and-paste plagiarism
Copy-and-paste plagiarism, also known as direct plagiarism, means using a paragraph from another source without a citation.
If you really want to include a passage from another source word for word, you should learn how to quote it.
Mosaic plagiarism
Copying and pasting different pieces of text together to create a kind of "mosaic" or "patchwork" of other researchers' ideas is plagiarism.
Although the result is a completely new piece of text, the words and ideas aren't new.
Self-plagiarism
When you use parts of your previous work (e.g. a paper, a literature review or a dataset) without properly citing it, you commit to what's called self-plagiarism.
Although it sounds a bit crazy to be penalized for plagiarizing your own work, you should know that it is done because it goes against the expectations of the readers of your paper. They expect the work to be original.
Global plagiarism
When you use someone else's paper, you are committing plagiarism because you are pretending that the words and ideas are yours.
Using someone else's work includes, for example, having a friend or family write the text for you or buying an essay from a so-called essay mill.
SOURCE: https://www.scribbr.com/category/plagiarism/
To avoid plagiarism,
you need to ensure that everything you write is in your own words. If you're using someone else's ideas, or quoting them for example, you need to ensure that you've properly cited and referenced the original author.
SOURCE:https://www.bachelorprint.eu/plagiarism-checker/plagiarism/#1588757902944-a691ff35-6382
GAME OF THRONES
Game of Thrones is an American fantasy drama television series created by David Benioff and D. B. Weiss for HBO. It is an adaptation of A Song of Ice and Fire, a series of fantasy novels by George R. R. Martin, the first of which is A Game of Thrones. The show was shot in the United Kingdom, Canada, Croatia, Iceland, Malta, Morocco, and Spain. It premiered on HBO in the United States on April 17, 2011, and concluded on May 19, 2019, with 73 episodes broadcast over eight seasons.
Set on the fictional continents of Westeros and Essos, Game of Thrones has a large ensemble cast and follows several story arcs throughout the course of the show. A major arc concerns the Iron Throne of the Seven Kingdoms of Westeros through a web of political conflicts among the noble families either vying to claim the throne or fighting for independence from it. Another focuses on the last descendant of the realm's deposed ruling dynasty, who has been exiled to Essos and is plotting a return to the throne. A third story arc follows the Night's Watch, a military order defending the realm against threats from the North.
SOURCE:https://en.wikipedia.org/wiki/Game_of_Thrones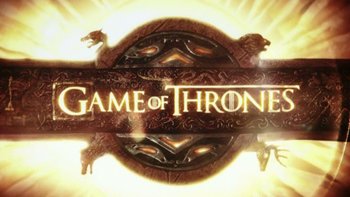 SOURCE:https://en.wikipedia.org/wiki/Game_of_Thrones
Game of Thrones attracted a record viewership on HBO and has a broad, active, and international fan base. Critics have praised the series for its acting, complex characters, story, scope, and production values, although its frequent use of nudity and violence (including sexual violence) has been subject to criticism. The final season received significant critical backlash for its reduced length and creative decisions, with many considering it a disappointing conclusion. The series received 59 Primetime Emmy Awards, the most by a drama series, including Outstanding Drama Series in 2015, 2016, 2018 and 2019. Its other awards and nominations include three Hugo Awards for Best Dramatic Presentation, a Peabody Award, and five nominations for the Golden Globe Award for Best Television Series – Drama. Many critics and publications have named the show as one of the best television series of all time.
SOURCE:https://en.wikipedia.org/wiki/Game_of_Thrones
I have read and understood the Steemit Etiquette on Steemit Community and will do my best to embrace them
STEEM ON
@tarpan
@steemcurator03