Achievement 1-introducing myself steemit @mirembes uganda
Hello steemians
Am Mirembes a student of Makerere university business school.people make fun of me because of my big eyes.Am doing a bachelor of science in Finance second year.Am proud to be a Ugandan. What inspires me to be a healthy hard working woman help students who also live with their single mothers like me cause it's too tiresome more especially when you want necessities like personal needs and tuition as well. Right now am still student pausing a degree .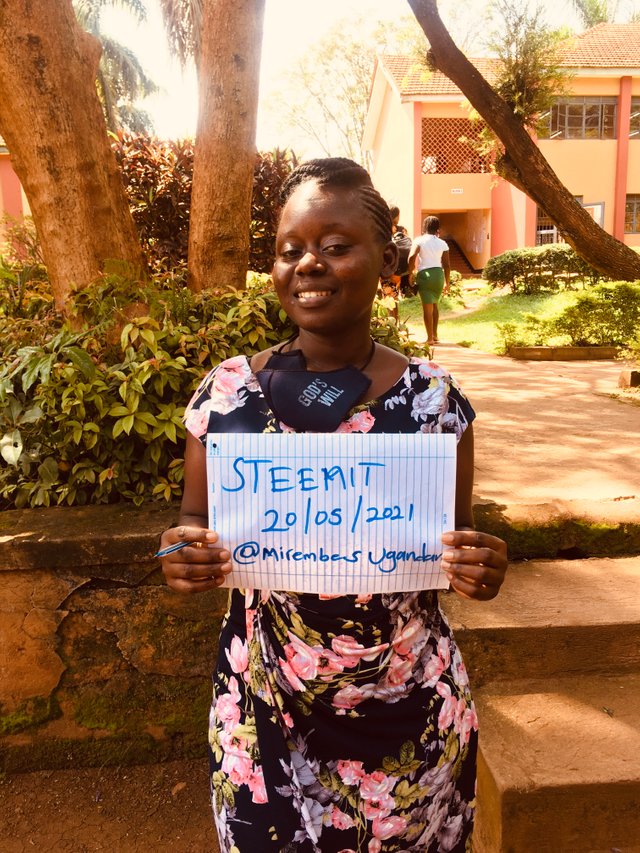 I live in Buddo , am staying with my mother. At home we have a firm of pigs and some little hens. It's the only a source of income which my Mother earns for a living.
I love socializing with people and learn from them cause I feel more happier with them.
In my hobbies are ;I love worshiping the Lord every where I go, I love watching series like there is a serry which am following every weekend it called Fear factor
this is where you're given different activities to do but are so difficult they are not easy to pass them. After you have done them perfectly then win $50,000 only one person need to win.The category of people should be six three women and three men.It's really interesting and I love it.You should also start to watching it .It's really a fear factor you can be escared of something but beneficial.Thank you
Right now am in lecture room studying principles of accounting.