Achievement 5 Task 1 by @janetf : Review Steemworld.org
Hello to all steemians,


Before i begin on what i acquired through my exploration of steemworld let me say a big thank to @yohan2on for his review articles on steemyy and steemscan which gave me more insight into blockchain. I guess i have the idea of withdrawing now Another thank you to @sapwood for his guidance on how i could go about the task 5.1 and thanks to @cryptokannon for the great achievement task post.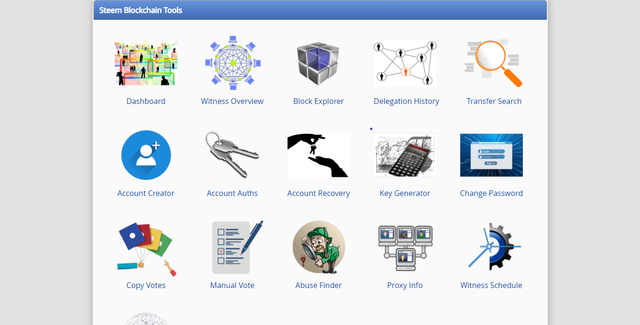 Steemworld provide steemians with many tools for various purposes. All of which may be used to find out all one can about an account. I looked at the most frequently used options and this is what i learned from the dashboard.
Dashboard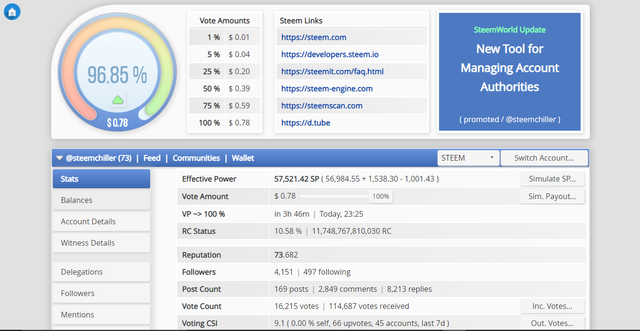 At dashboard on your upper left, you may know how much your vote is worth in terms of percentages, the vote worth changes with the overall voting power which is which is the big circle with percentage around it.
Stats
The stats options give you statistics about your account or the account you are looking at, here you can find the effective power, worth of your effective power at 100% vote, reputation of the account. followers, total number of posts written by the account, replies and comments. You can also simulate the steem power to find out how much your vote would be worth when it reaches a particular level.
To do this simply click on simulate sp as shown in the image , input the sp you intend and follow through with the prompt. You may click restore sp to take it back to the original or current sp of the account.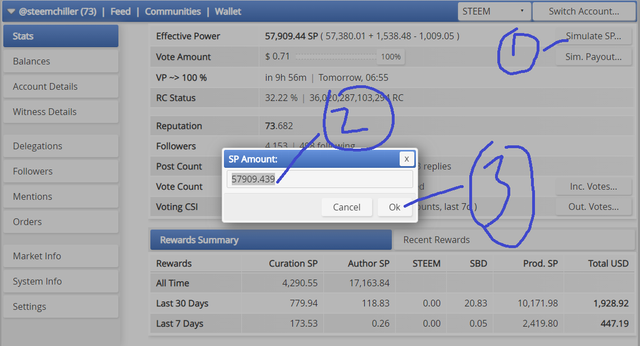 Rewards
Within the stats one may also find out the total rewards received within a stimulated time frame depending on how long the account has existed. For instance in the image below is the reward history for my account which shows i have made about 15 USD since my time here on the blockchain.


Followers and Mentions
To find out the accounts following your account you may go to the followers tab. This will reveal the accounts in order of recent followers, to see those that followed you at an earlier time just click on show more and this will reveal more accounts. If you are logged in on steemworld you may simply choose to follow them back by clicking the follow option besides the account.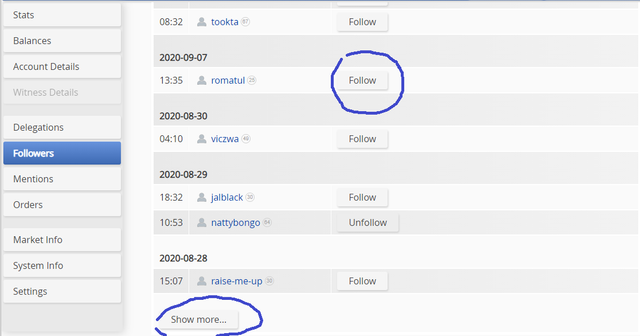 In conclusion, i can say steemworld is data summary app which makes things easier to find and monitor on the blockchain and i look forward to making good use of it in the future.