500SP Minnow Support Program: Curation List - Updated 07/01/2021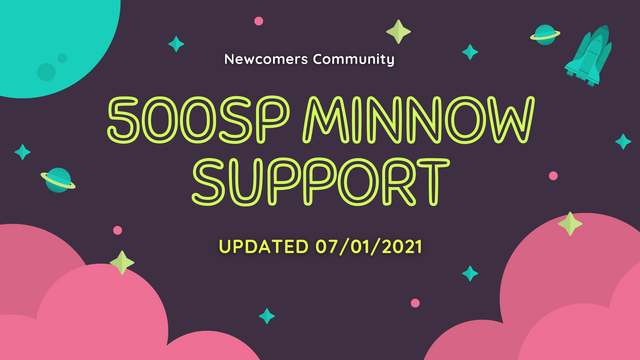 500SP Minnow Support Program
The idea of this program is to support and encourage all newcomers that have fulfilled up to achievement 4 at least till they reach 500SP in their all-time author rewards. This post will be updated weekly and it'll be pinned in the Newcomers Community.
Here you will also find a detail of all those newcomers that are under this program and here you'll find all details about this program.
---
Curation
The curators in charge will be @edlili24 and @rex-sumon. Both of them will curate at least 2 times per week, depending on how many participants the program has.
Once you have reached 500SP in your all-time author rewards, we will have you delisted from the program, but still we will visit your posts from time to time to check if you're still active and commenting on other posts. You will be added in our Proof of Dedication Steemit Users Whitelist.
If you want to find out more about the curation method @edlili24 and @rex-sumon will be using, you can find a detailed post here.
---
List of users that are currently under the program - Existing users
Details for this program can be found here.
As suggested by @steemcurator01, CR's (@nazarul, @focusnow, @radjasalman, @anroja) please help us make the dormant accounts active again. None of them are actively posting.
---
List of users that are currently under the program - Newcomers program


Details for this program can be found here.
---
List of users that have graduated from this program this week:
| No | User | All-time Author Rewards |
| --- | --- | --- |
| 1 | @mesonia | 542 SP |
---
Guidelines to participate of this program


To be eligible for this program, you should be following these rules:
Your posts and comments must be plagiarism-free and provide value to the community
Your content can be posted in any community of your interest
Support the members in the Newcomers Community by commenting and greeting the newcomers on Achievement 1
Extra upvotes will be given to those who share their Steemit post on Twitter. Please provide the screenshot and link of your tweet post on your post comment section, only apply to those who have more than 30 followers.
We will delist your account from the curation list if you have become inactive for more than 30 days.
---
If you want to apply for this program, leave a comment on this post
For both programs, it's mandatory that you have fulfilled till Achievement 4
---
Kind Regards,
The Steem Greeters Team.