My Introduce yourself post in steemit // Achievement1
How are you all doing today? I hope you're doing well. To begin with, this is my second account. Because my first acount was stolen by molly2 . And I have a lot of doubts about that account. So I created a new account and am now appealing for everyone's assistance. As a result, I'm reposting my introduction.
I'm Fahim Ashhab, and I'd want to introduce myself to you. I am a Bangladeshi man of 23 years old. My bachelor's degree in CSE was recently completed. Now I'm on the lookout for a job. My mother, father, and sisters are all present. My father is a businessman, my mother is a housewife, and my younger sister is pursuing an honors degree.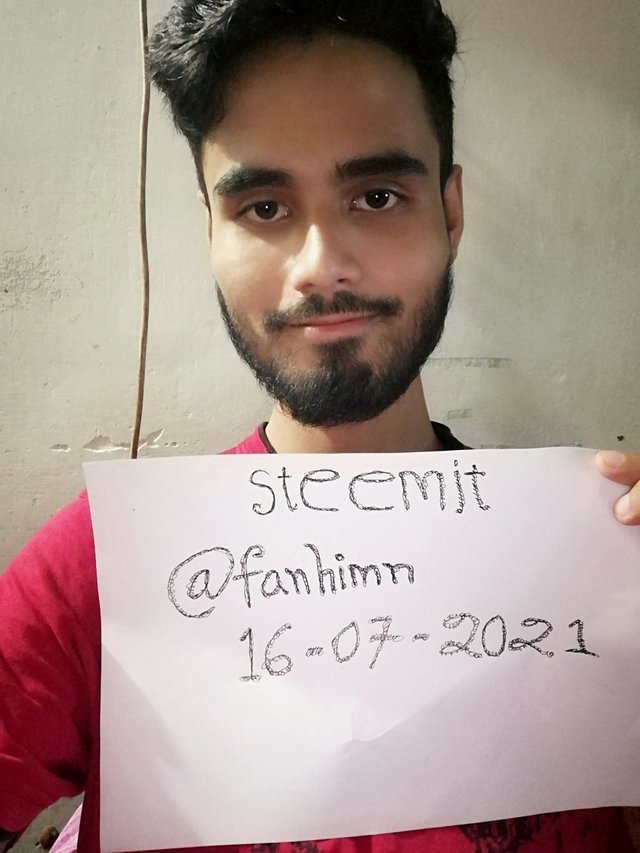 We are all stuck in lockdown. And since I'm looking for a job. So along with that, I wanted to make some income. Then I heard the name Steemit from one of my brothers toufiq777. And there are many more reasons to come here just for income. The reasons are that I want to know about the lifestyle of people from different countries and this platform will help me to know these.
Moreover, I have accounts on some crypto exchange sites. And there I trade. So I have a lot of ideas about cryptocurrencies.
I love playing games. And sometimes I love drawing too. And I like to take pictures. One of the things I dislike most is reading books. I find it very annoying to read books. If there is anything related to reading, I like coding very much. I'm pretty good at HTML, CSS, JavaScript, JQuery, React, Firebase, SQL, c++, Java, and Python.
I'm here to tell you about my coding, my lifestyle, and since I love drawing, I want to let you know in my posts every day.
THANK YOU
FACEBOOK
INSTAGRAM
My Youtube Channel