🚨 Warning ❗❗ Please Do Not Click any links for FREE STEEM ⛔🙅‍♀️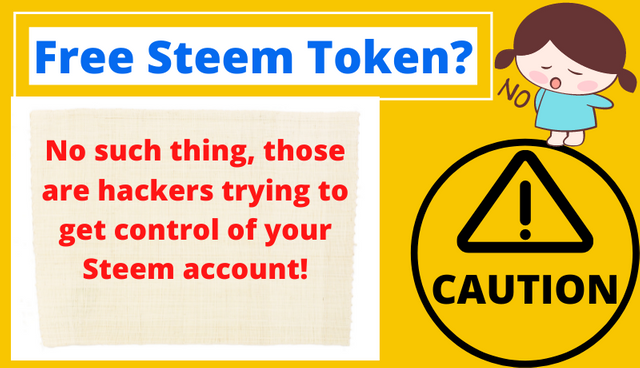 Hello Newcomers!
Lately, there is a circulation of comments going around about getting free Steem tokens if you doing something by clicking on the link they give and that link ends up asking you to authorize with your Steem posting key or active key or master password.
❗❗⛔❌Please do not click or give out your Steem Active Keys or Master Password to any of this "FREE STEEM TOKEN" promotion. I repeat there is no such FREE STEEM TOKEN at Steemit community.
You have to earn it to get Steem here either by joining contest or from the upvote you get on your post payout. Steemit or any communities here NEVER give out FREE STEEM tokens to its community members. If you see any of these advertisements or promotions going around, please notify us so we can inform Steemit so they take further action on it.
For extra precautions and how to be safe when you browsing around Steemit or to know the legitimacy of any sites that offer such offers, you may refer to these articles by @randulakoralage so you know how to stay safe and being vigilant.
The Latest Way of Stealing Your Keys ⚠️⚠️
Check the URL First, Before Submit Your Data | 5% to SL-Charity
If you reading this and you already somehow click on that link and give out your steem account active keys or master key, now please refer to this post on what to do next to save your steem account
Your Steem Account gets Hacked? What to do next?
Please stay safe and I repeat NO FREE STEEM TOKEN here, if you see one, that is usually a hacker trying to scam you.