Achievement 2 @calipo09 task. Basic Security on Steem
It's been a week since I joined steemit. After posting my achievement 1 task, I have done other posts and joined contests. However, some of this posts have paid out and others are yet to and this have got me thinking about how to redeem this tokens. In trying to figure out a way to redeem the tokens, I was schooled on how to get them and also keep my account and wallet safe.
When I was going through my signup processes, I was sent a document which was in a PDF form and it contained keys with their various uses. I saved a copies on my phone and computer and I also uploaded copies to my google drive and my WPS office cloud which I am the only one who has access to. After doing all this I finally printed out a copy which I have placed in a very secure area where no one has access to as well. I think in doing this there is no way I will lose them as well as someone gaining access to them.
I know my keys and after I went through their functions I now know how, when and where I will have to use them if the need arises. I was able to retrieve four private keys and others.
These private keys are;
Private posting key: This key is used to login to my steemit account and perform actions like commenting, posting and voting of posts. The posting key can also perform other tasks but it makes it prone to be compromised. However, if the private key is ever compromised it will have no effect on the wallet since it can't perform wallet related functions.
Private memo key: This key is used to decrypt private memos and its function is more limited to only decrypting of messages and memos that has been sent.
Private active key: This key is used only when dealing with the wallet. Wallet related activities like, powering up steem, conversion of steem to SBD and vice versa and transfer of funds cannot be done without this key. Its function is similar to that of a key to a bank vault. There can be very serious implication if this key is ever compromised.
Private owner key: This key serves as my only backup if my keys are being compromised in any way. It is used to reset the private posting, private memo and private active keys and it has to be offline because if this key is compromised, I can't recover my account since that will be what I will be using to recover the account within 30 days at https://steemwallet.com
My plan on keeping my master password is already set and done. I have copied and saved it on a word document which I have encrypted and have uploaded to my google drive which is where I save my passwords and other relevant stuffs.
I do know how to transfer tokens to another steemer's account and this is how I go by it;
I login into my steemwallet account using my user name (@calipo09) and my private active key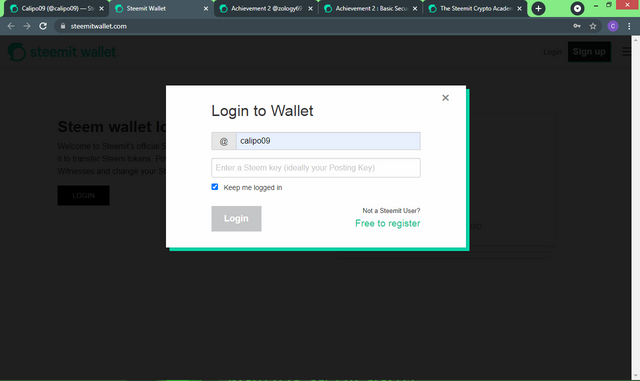 I then click on steem and select transfer from the dropdown menu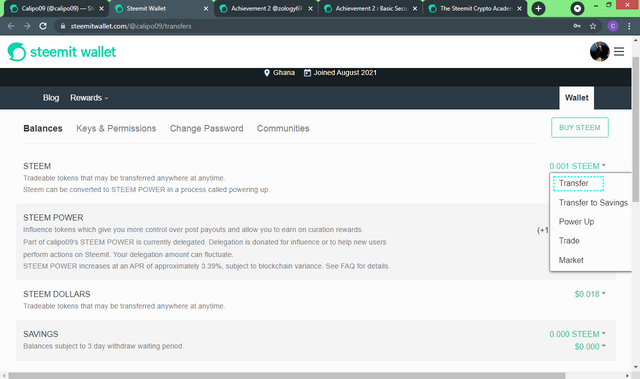 I go on to enter the user name of the receiving steemian and the amount I will like to send and click on the next button.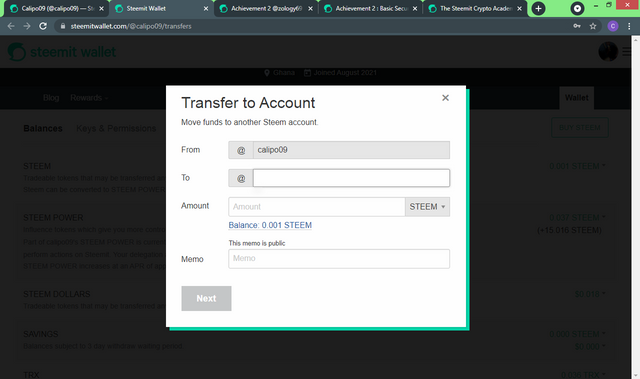 Powering up is very necessary in my steemit growth so I learnt how to power up and this is how I do it
After logging into my steemitwallet, I click on steem and select power up from the dropdown menu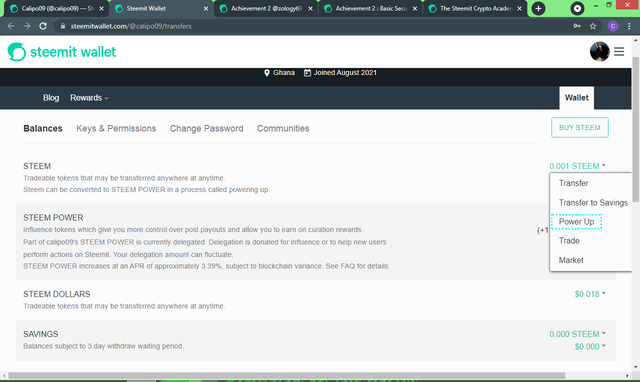 I then input the amount of steem I will be using to power up and finalize everything by clicking the power up button.

I am very well assured that my account and wallet are safe due to the knowledge I have acquired and the steps I have taken. I appreciate @cryptokannon for the guidance given to me to complete my achievement2 task. Also, I will use this opportunity to thank @njaywan for reviewing and verifying my achievement1 post, I hope you will do same to this one to.