Contest from @slon21veka! #GRAFFITI OF MY CITY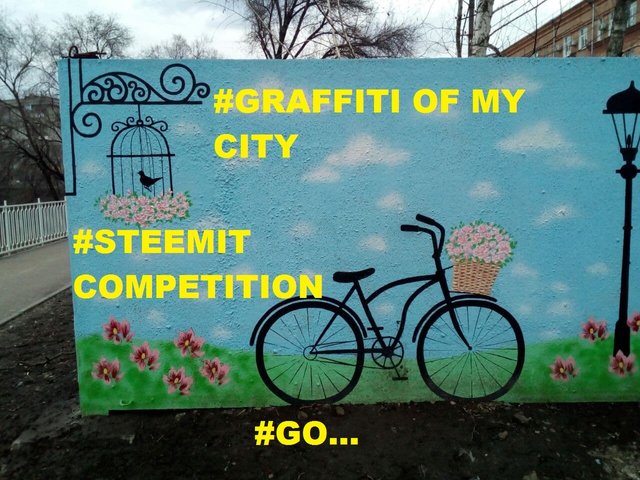 Good day, friends!
Starting today, I will launch a new weekly contest!
"Graffiti of my city"
Everything is very easy and simple, but ...
You will need to find graffiti in your city and ...
And take a picture or video ...
Then, you just need to tell ...
In what city is this all happening ...
On which street ...
What do you see on the graffiti ...
How many photos can you post in a post?
It all depends on your desire, but I am for creativity!
And further ...
Once a week, you can link one post!
And yes, in order to attract as many users to this competition as possible, I suggest at least three people from different countries!
I am launching this competition in order to know the world!
After all, not every one of us can fly or walk around the world!
But thanks to such competitions, you can see and know this wonderful world!
I almost forgot!
The best works will receive prizes!
And this:
1st place - 3 steem
2nd place - 2 steem
3rd place - 1 steem
At the moment, the prize fund is 6 steem!
But big changes are also possible!
Everything depends on you!
Now the rules!
Rules:
One post - once a week!
You can write a post in a language convenient for you!
The message must be original, not contain plagiarism. The photos used in the post must be you.
At least 100 words.
5.Use the #steemgraffity tag and include your country in the tags
Invite three friends or acquaintances from different countries, just mention them in the post with @
In the title of the post write # GRAFFITI OF MY CITY and something of your own!
Be sure to tell us where and in what place this graffiti is located!
9.Post must be written in Steem-BRU (BY-RU-UA)
Be creative!
Timing
March 30 - April 6!
On April 6 at 23:59 Kyiv time, the competition ends!
April 7 review post and awarding the top three of the best!
I would be very grateful if @steemcurator01, @steemcurator02, @steemitblog, @booming01, @booming04 support this competition!
And I will also be extremely happy to see all users of the steemit super platform in the competition!
I will also be grateful to all representatives of the countries for the informational support of the post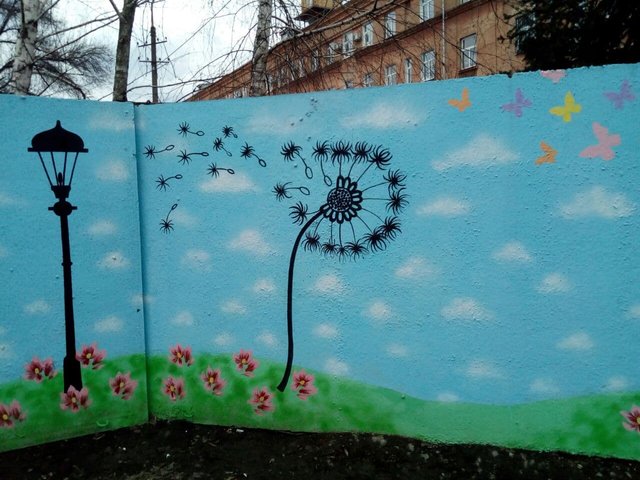 Доброго времени суток, друзья!
С сегодняшнего дня, запускаю новый еженедельный конкурс!
"Граффити моего города"
Всё очень легко и просто, но...
Вам нужно будет найти граффити в вашем городе и...
И сфотографировать или заснять на видео...
Потом, вам нужно будет просто рассказать...
В каком городе это всё происходит...
На какой улице...
Что вы лично видите на граффити...
Сколько фотографий можно поместить в посте?
Всё зависит от вашего желания, но я за креатив!
И ещё...
Один раз в неделю, вам можно будет разместить один пост!
И да, чтобы привлечь как можно больше пользователей на этот конкурс, я предлагаю позвать как минимум трёх человек из разных стран!
Я запускаю этот конкурс ради того, чтобы познать мир!
Ведь не каждый из нас, может летать или ходить по миру!
А вот благодаря таким конкурсам, можно увидеть и познать этот прекрасный мир!
Чуть не забыл!
Самые лучшие работы, получат призы!
А это:
1 место - 3 steem
2 место - 2 steem
3 место - 1 steem
На данный момент, призовой фонд составляет - 6 steem!
Но возможны и большие перемены!
Всё зависит от вас!
А теперь правила!
Правила:
1.Один пост - один раз в неделю!
2.Вы можете написать пост, на удобном для вас языке!
3.Сообщение должно быть оригинальным, не содержать плагиата. Фотографии, использованные в публикации, должны быть сделаны вами.
4.Минимум 100 слов.
5.Используйте тег #steemgraffity и укажите в тегах свою страну
6.Пригласите троих друзей или знакомых с разных стран, просто упомяните их в посте с @
7.В названии поста напишите #GRAFFITI OF MY CITY и что-то своё!
8.Обязательно расскажите, где и в каком месте это граффити находится!
9.Пост должен быть написан в Steem-BRU (BY-RU-UA)
10.Будьте креативными!
Сроки
30 марта - 6 апреля!
6 апреля в 23:59 по Киевскому времени конкурс завершается!
7 апреля обзорный пост и награждение тройку лучших из лучших!
Буду очень благодарен, если @steemcurator01 , @steemcurator02 , @steemitblog , @booming01 , @booming04 поддержат этот конкурс!
А также буду безумно рад видеть в конкурсе всех пользователей супер площадки steemit!
Также буду благодарен всем представителям стран за информационную поддержку поста:
Cameroon (@njiatanga, @saxopedia), Ghana (@njaywan, @oppongk), Nigeria (@focusnow, @bright-obias, @whitestallion), Uganda (@yohan2on), Mexico (@leveuf), Argentina (@belenguerra, @fendit), Venezuela (@adeljose, @anasuleidy, @edlili24, @mariita52, @tocho2, @albenis, @inspiracion, @wilmer1988), Bangladesh (@tarpan, @toufiq777), India (@neerajkr03, @rishabh99946, @sapwood), Indonesia (@anroja, @ernaerningsih, @nazarul, @radjasalman), Japan (@cryptokannon), Pakistan (@rashid001), Sri Lanka (@besticofinder, @randulakoralage), Italy (@girolamomarotta), Russia (@filinpaul, @knopka145), Turkey (@alikoc07), Ukraine (@antorv, @kiwiscanfly).