Steemit Philippines Community Major Contest of the Week: My Christmas Preparations - Caroling, Decors and etc. (11-28-2021)
A Blessed Day to All Steemit Philippines Members!!!
The month of December will officially begin next week, and for us Christians, it has been our tradition since our forefathers to prepare and do something for the stated significant day for all of us.
Now, in accordance with this, the Steemit Philippines Community will be holding our major contest of the week, which will display all of us our personal Christmas Day preparations or anything else that we do. Everyone is welcome to take part and demonstrate their creativity. It is also one way for us and every one of us to get to know each other better, and we hope that everyone will share their happy moments during their preparations.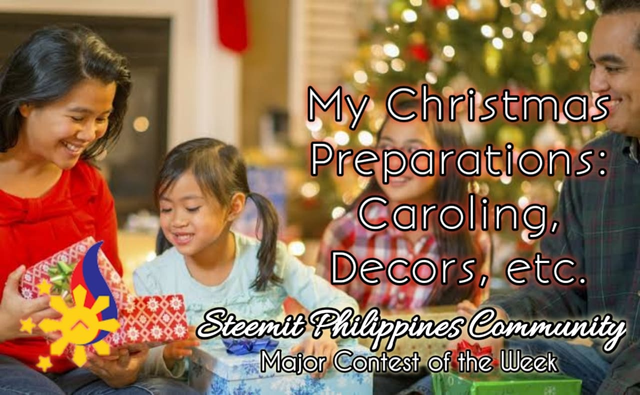 Christmas Preperation Image Source: blog.remitly.com
Now, a reminder to everyone who will be participating in our featured contest: all of our featured contests should always be a #steemexclusive post, so your post has a fair possibility of being chosen by the moderator for the top 3 posts of the day and must set our community curation account as a 20% benefactor.
Last but not least, all members must be fully verified, which means they must share their verification post in the community and have a verification badge, as well as those who are committed to the Steemit Team's newly launched #club5050 initiative, are highly recommended.
To be fully verified, here is the link to follow.
Steemit Club Tags ( #Club5050, #Club75 and #Club100 Checker, Click Here)
Our Contest Reward
To honor our members who will win the contest, here are the rewards to be given.
1st Place: 15 Steem
2nd Place: 12 Steem
3rd Place: 8 Steem
4th Place: 6 Steem
5th Place: 4 Steem
This means that we have a total of 45 STEEM to be given to the winners and to all those who do not win will still have consolation prizes of 0.5 Steem each for consolation prizes.
Judges:
Rules and Regulations to follow:
Let us start to share the fun and be sure to follow all the important rules and regulations for your entry to be qualified be and included in the Official entries.
---

---
If you want to help our Community by delegating and curating, you can do the following.
1. Quick Link
I've created an easier way to be able to delegate just select at the link below.
Delegate 50 SP | Delegate 100 SP | Delegate 150 SP | Delegate 200 SP | Delegate 250 SP | Delegate 300 SP | Delegate 350 SP | Delegate 400 SP | Delegate 500 SP | Delegate 750 SP | Delegate 1000 SP
2. Delegate to how much you want.
To be able to delegate use the link.
---
3. Use Steemworld.org
Go to https://steemworld.org then log in. Just follow these simple steps.
Go to the Delegations Option


In Delegations, go to Delegate so you can delegate.


Type steemitphcurator and the amount of SP how much you want to delegate.

Then use the Active Key to make the delegation successful.
---
For the full Tutorial on how to delegate and follow the curation trail of the @steemitphcurator community curation account, please go to @loloy2020's Tutorial. Please Just Click the link below.
---
Hopefully, it will go through and be supported by the Steemit Team and Curators. Many thanks to the Steemit Team for their support, especially to:
THANK YOU TO EVERYONE WHO SUPPORTED OUR STEEMIT PHILIPPINES COMMUNITY

GIF Footer Credits to @baa.steemit
Many Thanks to all and God all the Praise and Thanksgiving !!!