My Application as Community Curator for April 2023
Have a Blessed Day Everyone!
Greeting to all Steemit Team and all Steemians! First of all I would like to thank God for all the blessings He give to me this month as I was chosen to be one of the community curator for the month of March together with my team members from different countries. It was indeed a great opportunity and experience for me having that role for the first time and now, I herr again to submit my application to be one of the community curator for the coming month of April 2023.
As I read the announcement of new community curator for March, I am very happy and excited to do my duties and I would like to thank also my team members leaded by @steemdoctor1 who helped and guide of all the things I need to know since it was my first time. Now, If ever given the opportunity again, I will make to do my duties and responsibilities the best I can for the benefits of everyone and the Steemit platform as a whole.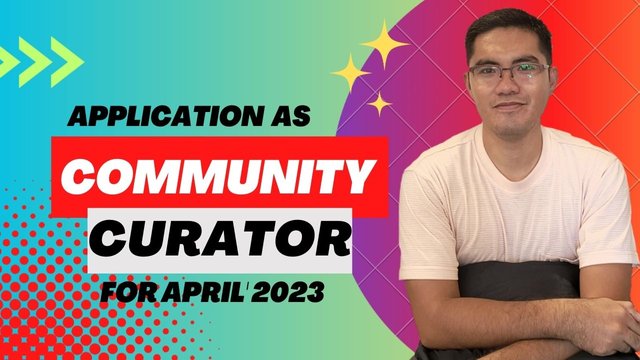 Hoping for your kind consideration of my second application as Community Curator for April 2023.
BRIEF HISTORY OF MY HISTORY HERE ON STEEMIT
I am @loloy2020, a Filipino currently living in the Philippines specifically in the province of Misamis Oriental and doesn't have any plans to go abroad. I started joining Steemit way back July 2020 when I search something on the internet that would allow me to earn without any investment needed. This caught my attention knowing that I also like to express myself through writing and that I started creating my account without any idea about the platform but as I want to know more about the platform, I search it more and slowly I learned what the platform all about is. As days, weeks and months goes by, I learned a lot on what really is the platform all about and I even meet more friends within the platform and most of them are Filipinos.
Though I don't have enough experience on building and running a Community here in Steemit, I have been encourage by some of my fellow Filipinos to manage and build a Community for the Filipino Steemians, and that the Steemit Philippines Community was officially founded by myself at that time with the help and guidance of some of my mentor and whom I trusted the most. Steemit Philippines now then acknowledge by the Steemit Team as the official community for the Philippines.
DETAILS OF ROLES AND RESPONSIBILITIES HERE ON STEEMIT
Here are the lists of Roles and Responsibilities here on Steemit.
| COMMUNITY | ROLE | RESPONSIBILITIES |
| --- | --- | --- |
| Steemit Philippines and other related Filipino Communities | County Representative | To help, guide and encourage every Filipino Steemians and all Filipino related Communities |
| Steemit Philippines | Founder/Admin | Overall Management of the Community |
| Steemit Travel | Team Support PH | To help, guide and encourage every Filipino Steemians and other Steemians within the Steemit Travel Community |
| Different Communities | Community Curator (@steemcurator07) | Visit and evaluate different posts from different communities and curate them based on the evaluation given and the club status |
Currently, I was selected as one of the Community Curator for the month of March 2023 under Team 4 and I thank God for my experience as a curator really helped and gives me more experience in the Steemit platform.
I am currently living in the Philippines and can talk and write fluently in English, Tagalog and Visayan Languages. I am a full time Pastor in real life and that I don't have any secular, so that I do have more time in Ministry works as it is my passion also to be used by God for His glory. We've been doing Campus Ministry in different Schools here in my place and I thank God for that opportunity to teach and encourage Students through the Words of God. We've also been partnered by one of the Department of our Country, the Department of Social Welfare and Development (DSWD) as their Resource Person for their program and services for our countrymen.
ABOUT MY KEYS STATS (Own SP, CSI, Reputation and Delegation)
Here the details of my Keys Stats for the full information about my Account.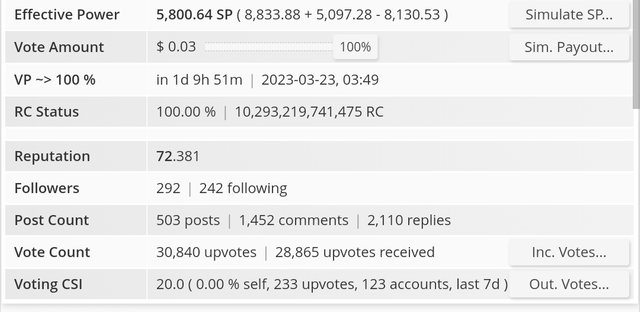 1x Dolphin with more or less 8.8k SP 🐬 (Soon to become 2x Dolphin 🐬🐬)
Owned Steem Power: 8,833.88 SP
Club Status: #Club75
Voting CSI: 20.0 ( 0.00 % self, 233 upvotes, 123 accounts, last 7d
Reputation: 72.381

Mostly of my delegation are to the communities that I supported most especially the community that I manage, the Steemit Philippines Community to gain more Steem Power to support the members and visitors of the community.
SUBJECT I CURRENTLY ENJOYED CURATING
What do I like to curate are most likely about Diary Game, Travel Escapades and about writing skills and lifestyle as it was also the themed of contents I usually posted in Steemit Philippines and to other communities I am supporting with.
This will be my second attempt to apply for this position as I believe in my self that I have done my duties and responsibilities the best I can do as community curator for the month of March and if given a chance to be selected again this month of April, I will do my very best I can to fulfill my duties and responsibilities for the role.
This would be all for my application and I am looking forward for the announcement soon and hopefully be given the chance to become one of the curator this month of April 2023.
To God be all the Glory! 😇
@LOLOY2020 - CR Philippines🇵🇭
Achievement Task 1 | Facebook | Twitter