Achievement Task #1: Introducemyself by @loloy2020
Hello there Steemians all over the World!
It is my pleasure to share with you all my introduction post as my verification here in the Newcomers Community.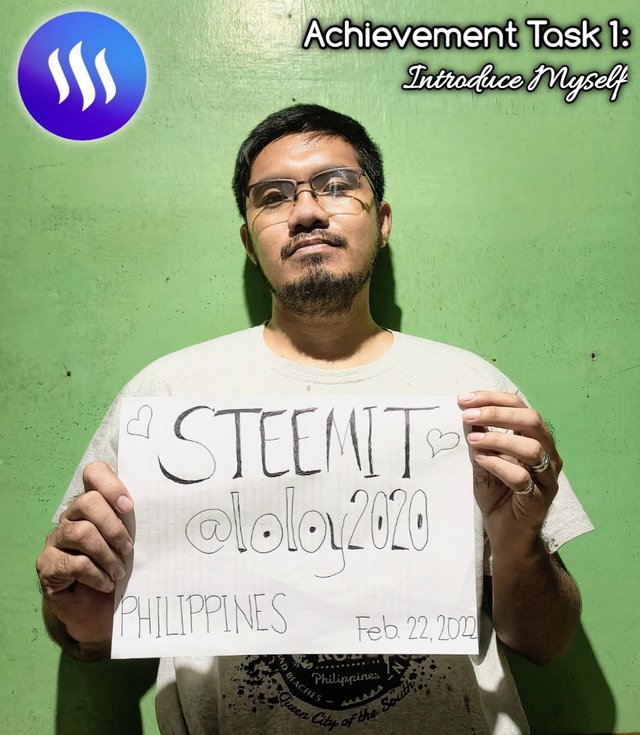 Actually, I've been here on Steemit for almost 2 years now since 2020, I became more active and I thank God it continued until the present year 2022. I just found out that I am not verified here in the Newcomers Community and I thank @juichi for encouraging me to verify myself in doing the Achievement Tasks. Currently, I am the Admin and Founder of the Steemit Philippines Community and as a good model for our upcoming members, it is my duty to be verified here.
Now, here is my Achievement Task 1: Introduce Myself.
I am Romel Jaudian, 30 years old currently residing at Paniangan, Manticao Misamis Oriental Philippines. I was graduated last 2018 with the Degree of Bachelor of Science in Information Technology at Mindanao State University at Naawan. I am a servant of God as a Pastor for 2 months already for I was ordained last December 2021.
My experience with Cryptocurrency started way back 2017 when I search something in the internet on how to earn for free and the word Bitcoin was what I've found in which I don't have any ideas about it at that time but because of my curiosity about it, I tends to search more about it then suddenly I learned more about it and to what is this blockchain technology is. As I found it more interesting, I've then search this blogging platform Steemit in which as I explore the platform, I really learned a lot that catches my attention to learn more about cryptocurrency, Blockchain technology and the Steemit Platform itself. I am still learning about this field and this blogging platform Steemit is one of reason I've pursue my journey here in the Crypto World.
What I really love to do is to share the goodness of God that is why almost all of my posts were talking more about my daily life as a Christian. My hobbies are singing praises and worship to God. I also love to travel though it is hard for now to travel into the other provinces, we have also some tourist spots here in our place that we've already visited. I would also like to see from others their own travel escapade that I might I also like to visit in God's perfect time. Another field I would like to share and see is more about food as we Filipinos loves to eat and here in the Philippines, we have lots of delicious delicacies to offer to the World.
I have also started sharing Steemit here in my place as I found this platform really helps us not just financially but also a good platform in sharing the goodness of God through Him Words.
This would be all for my Introducemyself post here in the Newcomers Community and thank you for the opportunity.
To God be all the Glory! 😇
Best Regards,