Steemit Philippines Christmas Series Contest: Christmas Carol - Oh Holy Night Cover by @jurich60
Hello everybody,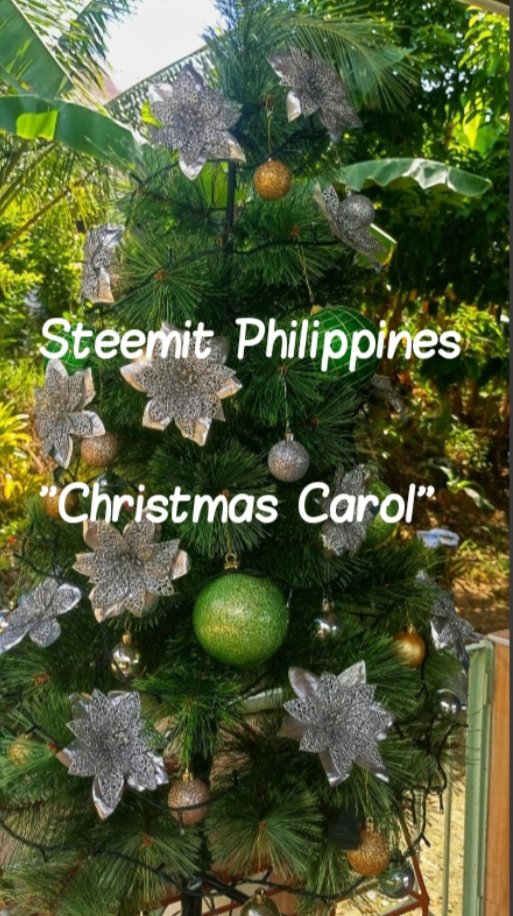 Last night while drafting my Diary game post about past 10 pm, I read the posted link about this Christmas Carol Contest in one of the Group Chat where I belong. I find it exciting to sing Christmas song. I hurriedly finished my Diary Game blog and posted it past midnight already. I still can't sleep so I decided to video myself and record the song Oh Holy Night, timing my patient, hubby, was asleep already.
I chose my wardrobe first, the crocheted purple headcover and the off shoulder top but behind the scene, sweat to chose what to wear. When everything was ready, I went outside the house and started singing with headset. Ho my gosh! Our dog cried a mournful cry! I was a little afraid, it was good our surrounding was well lighted, when I checked the time oh my it was almost 2am already. But, I must record this song, so I went on, take two. This time I was stopped again because the 8 puppies surrounded me and licking my feet, very noisy. Mama Mia! I got our pellet gun and pulled the trigger, they all ran away. Take three! In between recording, the geckos (tuko) sounded, hahaha! My funny moments, I almost quit. Take 4: this time I was sleepy already. I open my eyes wide open then record again. Whoa, I finished the song without interuption! Success! What a night, really a holy night, ajejeje!
Here is my Christmas Carol dedicated to you all my Steemian friends.
Let me include here my wish for Christmas 2022. I WISH my sons and daughters together with their wife or husband and children can have a get together. As you may know, we have 8 adult children. The eldest daughter with one son, youngest daughter with one daughter and one son - our first son are staying in Olongapo City. Our 2nd daughter is in Lapu-Lapu City with two daughters and 1 great granddaughter. Our 2nd son a widow with one son on his 2 nd wife is in La Union then his two sons and 1 daughter of his first marriage is living also in Olongapo City to his deceased wife family. Our 3rd son(single parent) is with us together with his son. Our 3rd daughter is in Morong, Bataan living together with her 5 children while our youngest son is living in Bulacan. You see they are scattered. As a mother am like a hen loves that all her chicks stays under her wings. This gathering will be costly but still praying that we can find ways so that my Wish will be granted.
Thank you Steemit Philippines for this Christmas Series. I am inviting @aideleijoie @adajamaima @jewel1989
Thanks for dropping by...