Top 4 Posts of the day (03/8/2022) for Booming Support from Steem India Community (@steemindiaa)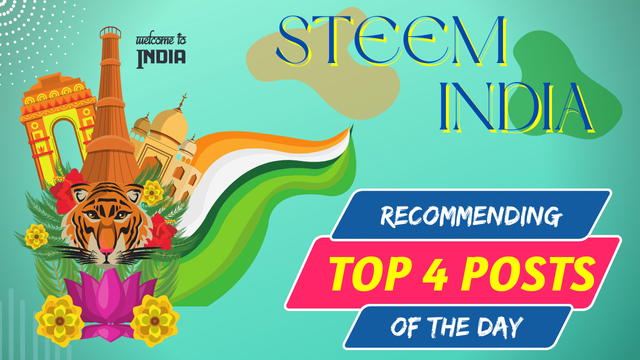 ---
Namaste Steem India Family,
The Steemit team has given SteemIndia an opportunity to receive Booming Support as part of its community support program. As we are placed in tier 2 of the support program, we get the opportunity to forward 4 posts every single day from our community in order to receive Booming support on the posts we forward.
Our SteemIndia community is composed of members primarily from India, but we also have members from other nationalities present as well, and as such, we would like to extend a warm welcome to everyone to this recommendation report that we have put together for all of our members as well as curators from various communities and teams to see. We have created this report in order to showcase individuals who have written exceptional articles, and we believe that it is necessary for these articles to be recognized and supported in the future.
It is our sincere pleasure to extend our heartfelt thanks to members of our community whose delegation has been supporting our community for quite a while now, and we would like to thank them for their support.
It is therefore our responsibility to ensure that we support those who support us, since our success is due to our loyal members who have helped us reach this point.
---
Due to Steem India being our home community, we would like to make sure that it is a truly trustworthy and supportive place for all Indians and anyone else around the globe that is looking to contribute. Therefore, it is our pleasure to extend our invitation to all authors to submit their articles for consideration.
---

Subscribe & Join Our Community
Telegram ----- Discord

---
Delegate to Steem India Community (@steemindiaa)
---